3 Ways To Get Low Loan Rates as a Military Member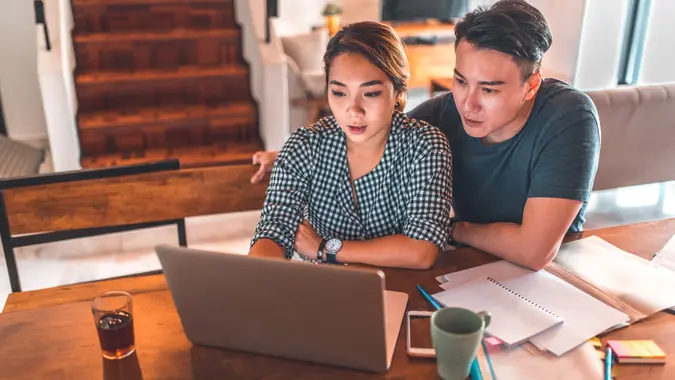 AzmanL / Getty Images
Service members have access to several special low-interest loan programs that are frequently overlooked.
You may be familiar with the VA loan, the government-backed mortgage program that started out by helping World War II veterans buy homes in the 1940s and 1950s. That program continues to provide mortgages with competitive rates for service members and veterans, and has recently been expanded with higher maximum loan limits to keep up with rising housing prices.
There are several lesser-known loan programs for service members, too, including legal protections that reduce some loan rates to 6%, and low interest loans and grants from military aid societies.
Support Small: Don't Miss Out on Nominating Your Favorite Small Business To Be Featured on GOBankingRates — Ends May 31
1. No Down Payment Mortgages
VA loans, which were created in 1944, continue to be a valuable benefit for service members, veterans and surviving spouses. These loans offer low interest rates and a break on closing costs, and they can be easier to qualify for than traditional mortgages — especially since many lenders tightened their requirements after the 2008 financial crisis.
But the biggest benefit of the VA loan is that you can buy a house with no down payment without having to pay for private mortgage insurance. With most other mortgages, home buyers who don't make a 20% down payment usually have to buy PMI, which tends to cost 0.5% to 1.5% of the loan amount. Not having to make a down payment can help young families buy a house without amassing the savings for a large down payment, especially as housing prices (and down payment requirements) have been rising.
Exclusive: Nearly Half of All Americans Missed Rent or Mortgage Payments Due To COVID-19, Study Reveals
In the past, maximum VA loan amounts hadn't always kept up with rising housing prices. However, the size of the maximum VA loan has increased significantly over the past several years. Closing costs for VA loans can be lower than traditional mortgages, and you can ask the seller to pay some of your closing costs. These mortgages have a VA funding fee, but the fee may be waived if you have a service-connected disability. You usually must have an extra appraisal on the house before you can use the VA loan.  For more information, see the VA's purchase loan information page.
If you can afford to make a 20% down payment and have a strong credit record, however, compare the interest rates and other costs with the VA loan with a traditional mortgage — the difference in rates and overall costs can vary.
For more information about VA loan eligibility, see the VA's eligibility requirements page.
In the News: Mortgage Rates Plummet — Is Now the Time To Buy a Home?
If you already have a VA loan, you may be able to lower your mortgage rate with an interest rate reduction refinance loan, which can be a great way to reduce your payments or pay off your loan earlier with today's low interest rates. See the VA's IRRRL fact sheet for more information.
2. Loan Rates Reduced To 6%
The Servicemembers Civil Relief Act provides legal protections for members of the military, and one of the most valuable benefits is a 6% interest rate cap for loans taken out prior to military service, including mortgages, credit cards, car loans, student loans, home-equity lines of credit and business loans. The cap only applies to loans you took out before you were on active duty, so it can be most helpful for new service members who had high-interest loans before they joined the military and members of the Reserves who are called to active duty.
It's usually easy to get the loan rates reduced. Contact your lender and ask about the steps to take to get the SCRA rate reduction — most banks and other lenders have an SCRA form to submit with your military orders. See the SCRA pages at Navy Federal Credit Union and Bank of America, for example. The rate is reduced to 6% while you are on active duty, not just delayed.
Discover: All You Need To Know About the Economy and Your Money
The legal affairs office on base can answer SCRA questions, or you can get help from the American Bar Association's Military and Veterans Legal Center. For more information, see the Consumer Financial Protection Bureau's SCRA page.
3. Low-Interest Loans and Grants From Military Did Societies
Every branch of service has a military aid society that provides grants and interest-free loans to help service members and military retirees with emergency expenses. These loans and grants can help pay for emergency travel, home and car repair expenses, and basic living expenses such as food, rent and utilities. They're frequently used to help with extra expenses from a military move that aren't already covered by the military, such as security deposits and temporary lodging, and disaster relief (often converting loans to grants after insurance pays its part). The most common loan from Army Emergency Relief is $1,500 for 15 months.
Did You Know: What Income Level Is Considered Middle Class in Your State?
The military aid societies all offered special programs for COVID-19-related relief, too, such as help paying child-care costs when schools were closed, help covering expenses when a spouse was laid off and emergency living expenses when military moves were halted because of COVID-19.
You can apply for military aid society loans and grants through the community service office or family readiness center at a nearby military base or through the American Red Cross, or you can fill out most of the applications online. For more information, see the Air Force Aid Society, Army Emergency Relief, Navy-Marine Corps Relief Society and Coast Guard Mutual Assistance.
More From GOBankingRates
Last updated: May 13, 2021