Nearly a Quarter of Americans Have Taken Out a Personal Loan – Should You?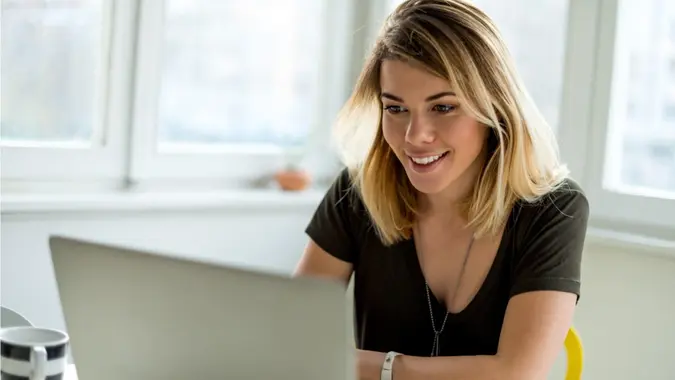 ©iStock.com
Personal loans seem to have become a mainstream financial tool — a recent LendingClub report found that 24% of consumers in the U.S. have used a personal loan, making it the second-most-popular type of unsecured credit product after credit cards.
Read More: $1M Is No Longer the Standard Nest Egg — Here's How Much Most Americans Think You Actually Need To Retire
Timely: The Best Holiday Shopping Strategies for Your Wallet
A separate survey conducted by American Express dug into what consumers are using these loans for and found that 46% of consumers are considering using a personal loan for home improvement-related projects currently or in the future, and among millennial consumers, 31% ranked credit card debt consolidation as the top reason to take out a personal loan.
See: Gen Z Begins to Emerge from Pandemic Wiser About Money — Here's What They're Learning
Before you decide to take out a personal loan — for a home improvement project, debt consolidation or another purpose — it's important to understand the pros and cons.
Benefits of a Personal Loan
There are several pros to taking out a personal loan.
Low Interest Rates and Fees
Many personal loans have low interest rates and zero fees, which can make them an affordable lending option. According to Forbes, personal loan annual percentage rates (APRs) typically range from just 3% up to 36%, with the lower APRs reserved for people with high credit scores.
Discover: 5 Steps to Avoid Stress and Debt This Holiday Season
Can Help You Build Credit
If you have a lower credit score, taking out a personal loan can help you build credit. Personal loans require you to make a fixed monthly payment, which lenders typically report to the three major credit bureaus. Making these payments on time can help build your credit score, as payment history accounts for 35% of your FICO score, Forbes reported.
Allows You To Pay for Large Purchases Over Time
With a personal loan, you agree to a repayment plan with the lender that allows you to make monthly payments. This can be very useful when making large purchases or when paying off existing debt.
Did You Know: 8 Work-From-Home Companies That Will Help You Pay Off Your Student Loans
"If you find you have trouble budgeting each month, a personal loan could be a good tool to pay down existing debt since these loans have fixed monthly payments with specific due dates," said Kristen McGinnis, vice president, US personal loans at American Express.
Versatile Usage
In addition to debt consolidation, personal loans can be used to finance a variety of purchases.
Keep Up With the Latest: 11 Best Lucrative Side Hustle Ideas to Earn More
"Personal loans are a great way to get funds for big-ticket items such as a home improvement project or a car repair, to pay off a medical bill, finance a wedding and more," McGinnis said.
Quick Access To Funds
Depending on the lender, you may be able to access funds very quickly, which can be useful if you need a large sum of money on a tight deadline.
Disadvantages of a Personal Loan
A personal loan may not always be the best option, depending on your specific circumstances.
Not All Lenders Have Good Offerings
As with any form of credit, not all personal loan offerings are created equal, and it may require you to do some extra research to find a lender that fits your needs.
Find Out: 12 Realistic Ways to Make Your First $1 Million
"Deciding where to get a loan can be daunting," McGinnis said. "Most people know to look for the best interest rate, but there's actually a lot more to consider. Consumers need to watch out for fees and penalties. They should look for an easy application process because not all of them are simple or fast. They should make sure their lender is someone they trust to provide great service and support."
The Application Process Is Not Always Simple
As McGinnis stated, some lenders have more complex applications and longer processing times, which can make getting a personal loan more difficult than opening a credit card or other line of credit in some cases.
Read: Is an Unpaid Internship in These Top Fields Worth It?
"Some may be intimidated by applying for personal loans," McGinnis said. "Our Amex Trendex recently found that 49% of millennial consumers agree that the personal loan research process is overwhelming, and 48% are overwhelmed by the application process."
They Can't Be Used for Everything
Lenders often have some limits on permitted personal loan usage.
Learn More: What To Talk About With Your Partner During Your Monthly Financial Check-Ins
"While personal loans have a lot of versatility, there are some things you can't use a personal loan for," McGinnis said. "[American Express, for example,] doesn't allow personal loans to be used for things like vehicle payments (other than a down payment on a vehicle), student debt, real estate purchases, or to pay down or consolidate balances on American Express-issued cards."
Some Fees May Apply
If you are someone who has trouble keeping up with payments, a personal loan may not be your best option.
Find Out: The Biggest Money Mistakes Women Make in Relationships
"A loan is a responsibility," McGinnis said. "If you're considering taking one out, make sure you can make payments on time to avoid late fees."
More From GOBankingRates