How To Refinance a Mortgage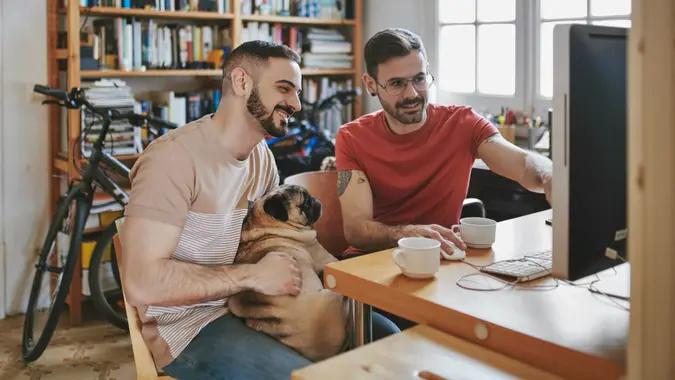 xavierarnau / Getty Images
If you are a homeowner and currently have a home mortgage, you may be looking for ways to save some money on your living expenses. Perhaps you have considered refinancing your mortgage loan as a way to maximize your household savings.
Whether you are ready to refinance right now or not, the information in this article will help start your mortgage refinancing journey.
What Is Refinancing a Mortgage?
When you refinance your mortgage, you pay off your existing loan and replace it with a new one. One of the most common reasons why homeowners choose to refinance their mortgages is to lower their interest rate and reduce their mortgage payments. The result could be saving thousands of dollars in mortgage interest paid to a lender over time.
You can also get a new type of loan or change the term of your existing loan when refinancing. Ultimately, you may even pay off your house early.
See: Should You Refinance Now With the Low Interest Rates?
Qualifying for a Refinance
If you decide that you want to refinance your home mortgage, you should first determine if you actually qualify for a loan refinance. Before you apply, think about what your goals are for refinancing your mortgage.
Do you want to:
Withdraw from your equity?
Lower your interest rate?
Change the term of your loan?
Lenders investigate certain factors when you apply for a refinance loan. Once you have identified your goals for refinancing, keep the following criteria in mind when you apply.
Your Credit Score
In most cases, you'll need a minimum 670 credit score to refinance your mortgage with a conventional loan. The Fair Isaac Corporation, or FICO score, is one type of credit score that assesses a borrower's risk. This credit is one the most widely evaluated by lenders.
Some factors that determine the exact credit score you'll need are the type of loan you're applying for and your loan-to-value ratio, or the amount of money needed compared with the value of your home.
Your Home Equity
Home equity is the value of the interest in your home. Essentially, it's your home's current market value minus any liens you have on the property. If your refinancing goal is to take cash out of your equity, you should contact your current lender to find out your equity's balance.
Your Debt-to-Income Ratio
Your DTI is the percentage of your gross monthly income used for your regular living expenses.
How To Calculate Your DTI
Simply divide your monthly payments by your total monthly household income. If your DTI is 50% or higher, consider reducing your debt before applying for a refinance loan.
6 Steps to Refinancing Your Mortgage
1. Check Your FICO Score.
Having a good credit score of at least 670 increases your chances of a lower interest rate than that of your existing home loan. You can usually check your credit score for free with your credit card issuer.
2. Determine Your Interest Rate.
Mortgage interest rates change frequently — often several times a day. It's important to determine your target interest rate and keep up with the fluctuations by visiting mortgage lenders' websites daily.
3. Find a Qualified Lender and Apply for the Refinance Loan.
No two lenders are the same when it comes to setting interest rates. One may offer a lower rate than another based on your qualifications. Closing costs also vary by lender, so be sure to shop around.
4. Gather Your Financial Documents.
Generally, you will need your pay stubs, federal income tax returns for the past three years, bank statements, credit report, homeowners insurance, recent mortgage statements and other financial documents that your mortgage lender requests.
5. Get an Appraisal.
In most situations, an appraisal is required by law. An appraiser assesses the value of your home and reports it to the lender. It's important to know what the appraiser is looking for, given that you may have to pay mortgage insurance if your requested loan amount is higher than the appraised value of your home.
6. Attend Your Closing.
You may be required to come to the closing table with cash. If owed, your lender will reveal this amount in the closing disclosure and loan estimate documents. You will also need to bring a state-issued photo ID.
Explore: 15 Mortgage Questions to Ask Your Lender
Pros and Cons of Refinancing a Mortgage
If you've been in your home for a while, now could be the perfect time to consider refinancing your home loan. Before you fill out an application with a lender, explore your options and the pros and cons of refinancing before making your final decision.
Pro: Free Up Money In Your Monthly Budget
If you find yourself strapped for cash due to, for example, an unexpected increase in your cost of living or a decrease in your income, you might decide to refinance your mortgage for financial relief. In these situations, refinancing might prove advantageous for you.
Con: Beware of High Lending Fees
Mortgage lending fees vary by lender and some are higher than others. Be sure to carefully read your loan disclosures when you apply. Some common mortgage refinancing fees include:
Appraisal fees
Insurance fees
Escrow and title fees
Origination fees
3 Mortgage Refinancing Options
There are three types of mortgage refinance loans — cash-out, cash-in and rate-and-term. Rates vary among the three loan types. Examine the information in the following table to determine which mortgage refinance type is best for your situation.
Type
Goals
Description
Cash-out
Tap into your equity
You take a loan out against the value of your home. Your new balance is larger than what you currently owe.
Cash-in
-Lower interest rat
-Shorter loan term
-Cancel mortgage insurance premiums
You bring cash to closing to pay down your loan balance.
Rate-and-term
Save money by paying less monthly–mortgage payment and interest
You change your existing loan's mortgage, loan term or both.
Where Should You Go To Refinance Your Mortgage?
You have several options when looking to refinance your mortgage.
Sources To Consider:
Ask your current mortgage lender: If you are in good standing with your current lender, you may be entitled to simple refinancing programs and promotions offered only to current customers.
Ask your friends, family and business associates: Word of mouth can be a powerful tool when looking for a mortgage lender who is fair and will consider your needs.
Search the Internet: You can investigate many mortgage lenders at the same time using an internet search. Certain websites compile information and quotes for you from multiple lenders through queries of specific search criteria.
Consult mortgage brokers: These entities have access to many banks and other lending sources at their fingertips. They can recommend several lending programs for you to choose from that fit your lending needs.
Check your local bank: A bank in your local area or community likely offers mortgage loans. If you bank locally, schedule an appointment with a mortgage loan officer at your branch. As with your current mortgage lender, the bank may have special programs and incentives for existing customers.
Check Out: What To Consider When Choosing a Mortgage Lender
Final Take
Here are a few things you should keep in mind.
Closing Costs
You may have to pay closing costs when refinancing your mortgage. If you have moved into your home within the last year, refinancing may not be financially beneficial to you. Closing costs typically range between 2% and 6% of the amount you borrow.
Review Your Credit Report
When checking your FICO score, it is also a good idea to check your credit report for any inaccuracies. Be sure to dispute any incorrect or fraudulent entries with the credit reporting agencies prior to applying for a refinance loan.
Mortgage Payments
Finally, be aware that when you refinance your mortgage, you might be able to skip a month or two of mortgage payments while your new loan is being originated and processed.
Frequently Asked Questions
Even after reading this article, you may still have some questions about how to refinance a mortgage. Here are some of the most common questions that homeowners have about refinancing and the best answers according to refinancing experts.
Can I get extra money at my refinance closing to pay off other debt?
Yes. If you have sufficient equity built up in your home, you can pay off your existing mortgage and, in some cases, get a lump-sum cash payout of some of your equity at closing to pay off other debt.
If I apply for a refinance loan with more than one lender, will it hurt my credit score?
No. If you submit your applications within two to six weeks, credit scoring models will typically combine multiple loan application inquiries without negatively affecting your credit score.
What determines whether my refinance loan is approved or not?
Mortgage underwriters review your loan application and evaluate your information based on:
Your credit score
Credit history
Assets
Liquidity
Employment history
Current income
Do I have to go through the full loan mortgage application and approval process to refinance my mortgage?
Yes. When you apply and are approved for a mortgage refinance loan, you are creating an entirely new home loan with new loan terms.
John Csiszar contributed to the reporting for this article.
Our in-house research team and on-site financial experts work together to create content that's accurate, impartial, and up to date. We fact-check every single statistic, quote and fact using trusted primary resources to make sure the information we provide is correct. You can learn more about GOBankingRates' processes and standards in our editorial policy.