The 5 Steps I Took To Refinance My Mortgage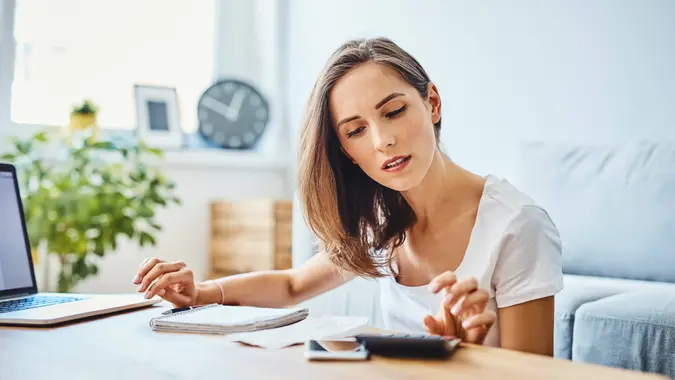 BartekSzewczyk / iStock.com
The growth of median house prices has been remarkably consistent over the past 50 years, with no major declines except the one immediately preceding the Great Recession, from which the market has long since recovered. As a result, anyone who bought more than a few years ago may have accumulated significant equity in their home. That equity is a valuable asset and the key to refinancing your mortgage.
How Much Equity Do You Need To Refinance?
The days of 115% loan-to-value conventional refinance loans are long gone, but you don't need an exorbitant amount of equity to refinance your mortgage. Freddie Mac and Fannie Mae allow as little as 5% for conventional rate-and-term refinance loans and 20% for a cash-out refinance. Refinancing a second home or investment property requires 15% for a rate-and-term refinance and 25% for a cash-out. If you're refinancing a VA loan, you don't need any equity to qualify.
You'll usually need to have your current mortgage for at least six months for a cash-out refinance, and some loans require as much as two years, according to Experian.
Why Refinance?
Refinancing might make sense for you if the new loan will achieve one of the following:
Reduce your interest rate or shorten your loan term so you pay less interest over time
Extend your term to reduce your payments
Provide you with a cash payout to cover a major expense
Switch you from an FHA loan with a lifetime mortgage insurance premium to a conventional loan with no private mortgage insurance
Move from a fixed rate to an adjustable rate, or vice versa
The 5 Steps I Took To Refinance My Mortgage
GOBankingRates spoke with finance professionals who recently have refinanced their own homes. Their insight into how the process works could help you with your own refinance.
1. Define Your Goals
Before you make a move, define your goals so you can evaluate whether refinancing makes sense.
Tim Melia, a financial planner with Embolden Financial Planning, has personally invested in real estate for the past 20 years. He told GOBankingRates that he has completed about 10 refis for various purposes, including to obtain a lower rate, get rid of FHA mortgage insurance and draw equity to use as a down payment on another investment property. "And I have refinanced to access cash for other needs and to open up a home equity line of credit at the same time," he added.
Lauren Mendoza, a CPA and co-founder of Bank Standard, a business loan marketplace, also considered her goals before refinancing. "The main reason I chose to refinance was to take advantage of a lower interest rate. This change reduced my monthly payments, freeing up more of my budget. Given my steady income and the increasing value of my home, it felt like a smart move."
2. Decide on the Best Type of Loan for Your Goals
You have several options regarding loan types. If you want to extend the term of your loan to make it more affordable, you might choose a rate-and-term refinance. To draw a lump sum for a major expense, a cash-out refinance is the way to go. And regardless of the type of loan you choose, you'll have to decide between fixed and adjustable rates and various loan terms.
"In most cases, I chose a 30-year mortgage to lock in the interest rate," Melia said. "Over the last 20 years, we have had historically low rates, and I presumed they would be going up at some point. For most of that time they did not, so it didn't make a big difference, until now, with higher interest rates."
Melia said he appreciates having made those moves in the past, but if he were to refinance today, he would "give serious consideration to an adjustable-rate mortgage, depending on the rate spread compared to a 30-year mortgage."
Mendoza also based her decision to go with a fixed-rate loan on market rates. "At the time, interest rates were at historic lows, and the fixed rate gave me peace of mind knowing my payments wouldn't change over time. This consistency helped with budgeting."
3. Shop for Lenders
Interest rates vary from one lender to the next, so it's important to shop around. However, rates might not be the only factor you consider.
Melia reached out to his real estate agent for recommendations because they have dealt with a lot of lenders and knew who was the best to work with and able to deliver on time. "I also went through the pre-qualification process with a couple of lenders to see how rates compared," Melia noted.
Mendoza cast a wider net, comparing offers from various lenders, both locally and nationally. "I eventually chose a lender known for their excellent customer service and competitive rates, ensuring I would have a good experience throughout the refinancing process," she said.
4. Evaluate Loan Details Before You Sign
Once you've been preapproved by your chosen lender and have a loan estimate, you'll have decisions to make regarding loan details. For example, you can lock in a great rate if you think rates might increase before closing, or reduce the rate by purchasing points upfront. These decisions stay with you for the entire life of the loan, so it's worth the time and math to get them right before you accept the loan.
Melia said he usually locks in a rate for fear rates will change, and he has, at times, purchased points. "The beauty of doing that is that it is a math equation to figure out the break-even point; if I was going to hold on to the loan for a long period of time, I would know that it makes sense to buy down the rate at that point in time."
Mendoza used the same logic to make decisions about her loan. "I decided to lock in my rate right away to benefit from the low interest rates at the time," she said. "I considered buying points, but after crunching numbers, I found that the time it would take to break even on that cost was longer than I planned to have the mortgage."
5. Prepare for Closing
A refinance loan usually takes 30 to 45 days to close, according to Rocket Mortgage. During that time, the lender might have your home appraised, and it might ask you for additional financial documents as it works through the underwriting process to issue your final loan approval. Your role at this point is to facilitate the process by presenting your home and your finances in a favorable light.
Melia recommends giving the appraiser a one-page document with a few comparable sales along with a list of money you've invested and projects you've completed to maximize the value. "Appraisers sometimes appreciate the information, and some don't even look at it," he said.
In preparation for closing, Melia stopped all major money transactions. "No new purchases, no unusual inflows of cash, etc. All of that raises red flags with lenders and complicates the lending and underwriting processes."
Mendoza took similar steps to prepare for her closing. "To ready myself for the appraisal, I made a list of home improvements I'd made and looked up similar home sales in my area." She also made sure she had enough money on hand to cover closing costs. "The underwriting process went smoothly thanks to clear financial records and open communication with my lender."
Before You Apply
Refinancing your mortgage loan can further a variety of financial goals, including reducing interest, making payments more affordable or switching to a more favorable loan type. With enough equity, you can even draw out cash to use for nearly any purpose you want. Run the numbers to make sure any refi you're considering will produce the benefit you're looking for. And remember that interest rates vary from lender to lender, so it's important to shop around to find the best deal on the right loan for your needs.
Our in-house research team and on-site financial experts work together to create content that's accurate, impartial, and up to date. We fact-check every single statistic, quote and fact using trusted primary resources to make sure the information we provide is correct. You can learn more about GOBankingRates' processes and standards in our editorial policy.