How Gen Z's Future With Student Loan Debt Looks Compared to Millennials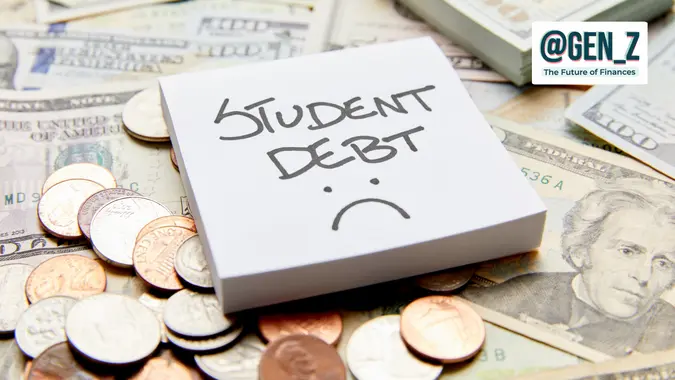 TheCrimsonRibbon / iStock.com
The income gap between those with college degrees and those without has been growing since the oldest millennials were born — and it has only widened since Gen Z arrived on the scene. 
Fact Check: Is a Fourth Stimulus Check Going to Happen?
Stimulus Update: States Give Out Thousands of Bonus $1,000 Checks – Will You Get One?
"Both generations have grown up with a two-generation-old 'requirement' to get a bachelor's degree for jobs paying above hourly wage," said Dan Rooker, CFP, CSLP and consultant at Student Loan Planner.
The result is a country with $1.57 trillion in student debt, according to EducationData.org. Millennials average about $38,877 in student loan debt per borrower. With the oldest Gen Zers already out of college and entering the workforce loaded up with student debt of their own, will they fare any better than their older millennial siblings? GOBankingRates asked the experts.
See: Can You Afford Education in America at These Prices?
As a Group and as Individuals, Gen Z's Debt Is Manageable — For Now
Millennials hold nearly one-third of America's 13-figure student debt. Gen Z, on the other hand, is responsible for only a little over 7%. That's not a particularly telling statistic considering that the youngest Gen Zers aren't even 10 years old. 
But as individuals, the average Gen Zer holds just $17,338 in student loans compared to just under $39,000 for the average millennial. That statistic is telling — it reveals that, on average, Gen Zers owe less than half that of their millennial elders.
But will that trend hold up over time? 
Their Impact on Money: Gen Z: The Future of Finances 
Festering Loans Are Forcing Tough Career Choices on Young Grads
According to the EducationData report, Gen Z is on track to become the most educated generation in history. But the report also states that Gen Z is less likely to be part of the workforce, which will certainly delay repayment on their loans. But as lenders grow more impatient, the oldest Gen Zers are already having to compromise on their careers. 
"Student loan debt is a significant driver in Generation Z career choices, with the majority of students reporting that they will be graduating with student loan debt," said Olivia Tan, a personal finance coach and co-founder of CocoFax. "That's a trend I have personally observed. In fact, an overwhelming 61% of college students would take a job they're not passionate about due to the pressure to pay off their student loans." 
Millennials Caught a Perfect Storm That Will Hopefully Skip a Generation
Michael Lux, a millennial attorney and the founder of Student Loan Sherpa, has been advocating for borrowers for nearly a decade. His overall consensus is that, "student debt levels will be even worse for Gen Z" and that "college will be even more expensive and harder to repay."
But the jury is certainly still out — and there's no guarantee that the younger set will be dealt the same lousy hand as their older counterparts. 
"Things got bad for millennials because college costs increased much faster than wages," Lux said. "Support from state governments also decreased considerably."
Also, today's students are borrowing in a much more streamlined and regulated environment. 
"Gen Z borrowers should expect better loan servicing and less complicated rules," Lux said. "Many millennials were on their own navigating complicated student loan rules and often getting objectively bad advice from their loan servicers. While there is still a ton of room for improvement, lawsuits to hold loan servicers accountable and efforts to simplify federal student loan repayment will make loan management easier for Gen Z."
Important: Don't Disregard Community College — Here's How It Can Set You Up for a Better Financial Future
Gen Z Also Has Much Better Long-Term Options
The world before COVID-19 and the Great Recession, when older millennials took out their loans, is ancient history compared to today's borrowing landscape. It's hardly perfect, but things have improved.
"Gen Z has a leg up on millennials with the number of options available to manage student loans," said Ryan O'Donnell, strategic partnerships advisor with Workforce Perks. "When I graduated college in 2003, I got a bill in the mail and wrote a check to cover the amount due."
Lux agrees.
"Gen Z borrowers have better federal repayment plans," he said. "When many millennials graduated college, the best federal repayment plan available charged 15% of their monthly discretionary income. Today, Gen Z borrowers have three different plans available that only charge 10% of their monthly discretionary income." 
And the landscape might soon become even more forgiving.
"Discussions are underway on a plan that would only charge 5%," Lux said. "These changes mean more manageable monthly payments for Gen Z."
Also, Gen Z borrowers will receive more student loan forgiveness than the previous generation.
"Federal income-driven repayment plans are far better now than they were when millennials started repayment," Lux said. "Thanks to plans like IDR for New Borrowers, Gen Z will get lower monthly payments and qualify for student loan forgiveness faster. The end result will be far more student loan debt forgiven."
Related: 10 Most Promising Careers for Gen Z Workers
No Matter the Generation, the Human Toll Never Changes
Lauren DeVries, who graduated from the University of Wisconsin-Madison in 2016, is pursuing an educational path that required her to take on a difficult amount of debt. Her story is familiar to anyone who borrowed to pay for college.
"My monthly payments from my undergraduate loans are currently $300 a month," DeVries said. "This is one of the largest expenses of mine every month — even groceries for an entire month cost me less than my student loans."
See: Surprising Ways Gen Z and Millennials Are Worlds Apart Financially
When asked if she took on more debt than expected, her answer was "yes and no." 
"I was a first-generation college student who was given a bunch of award packages, yet no one ever told me about what accepting them meant down the road," DeVries said. "I was able to get through college while also consistently working two jobs, but I probably could have managed to take on a little less debt earlier on. I am going back for my master's degree next year and will be unable to work during my program, so I have been making a lot of sacrifices now and saving money to help reduce the amount of loans I will again have to take out."
It is simply not possible for her to ponder her future without considering her student loans.
"I would love to get a house and start a family, but I feel like the amount of student debt I will have after graduation is a looming cloud above me," DeVries said. "Watching how my family has struggled with money during my life, I do get anxious about whether I will also spend my life constantly living paycheck to paycheck and having to make decisions about whether to buy food or pay utility bills and rent."
More From GOBankingRates