Here's How Student Loan Borrowers Really Feel About the 2020 Election
Many don't have hope for loan forgiveness.
Aaron Hawkins / Getty Images/iStockphoto
As the 2020 presidential election looms closer, many key topics are being addressed in the media, including the current state of Americans' student loan debt. Right now, nearly 45 million Americans are struggling with $1.56 trillion in student debt. That's about 14% of the population -- mostly young people -- who carry an average debt amount of $32,731 per person.
With such a large burden on their shoulders, it's understandable that student loan borrowers want to see a plan of action when it comes to their debt. Although, interestingly, most seem to prioritize other political issues before their own debt relief.
Even more interesting: Despite heightened anxiety over their student loans, many borrowers have no hope of things changing after the election. Take a look at their thought process before the final ballots are cast.
Last updated: Oct. 12, 2020
Student Loan Debt in the US Is a Crisis
Although it's easy to assume that student loans only affect those who take them, the current size of this issue -- $1.56 trillion, to be exact -- has elevated it to the national stage. Today's job market places increasing pressure on workers to get degrees, and, combined with soaring tuition rates, younger generations have been saddled with college debt that their parents could never have imagined.
"I will never forget the tremendous burden my student loan debt placed on me as a young adult; the collective student loan debt in America is a crisis, whether or not it's everyone's priority," said Becky H., who graduated with $120,000 in student debt.
For Many Voters, This Debt Is an Important Platform Issue
While student loan borrowers care about issues beyond their debt, many are taking it into consideration before voting.
"I definitely plan to vote (in the presidential election), and the candidates' student loan debt plans have been factored into my decision, whether or not it benefits me before I have paid my debt off," Becky H. said.
3/15
CiydemImages / Getty Images/iStockphoto
Not Everyone Agrees On a Solution
Many who campaigned for the presidency -- particularly Democratic candidates -- proposed their own solutions to the student loan debt problem. One of the better-known plans is Sen. Bernie Sanders' progressive approach of canceling all student debt and making college free. At the same time, Sen. Elizabeth Warren proposed making tuition free for two- and four-year institutions and canceling up to $50,000 in individual debt.
The issue, then, and what many Republicans say in response to these proposals, is: How are we going to pay for it? Well, while Sanders' and Warren's plans call for higher taxes on Wall Street and the wealthy elite, it turns out that some borrowers would also be willing to pay more in taxes.
According to a recent survey by Student Loan Planner, 6 out of 10 Americans with student loans would pay higher taxes indefinitely if their loans were forgiven now.
4/15
Matt Smith Photographer / Shutterstock.com
Many Agree Biden Cares More About Student Debt Than Trump
When it comes to the two presidential candidates, most borrowers said that former Vice President Joe Biden cares more about their debt than President Donald Trump. Additionally, they seemed to believe that electing a Democrat would increase their chances of debt forgiveness.
"Those in the Democratic party will have a much better chance of advocating and legislating for student debt relief under Biden's administration than they ever would under another four years of Trump," said Andrea M., who graduated with $35,000 in student loan debt.
Read More: What It Would Really Mean To Cancel Student Loan Debt
5/15
Pix_Arena / Shutterstock.com
Biden Also Has a Plan To Help Tackle Student Loans
Biden's plan includes eliminating both federal interest and payments on undergraduate student loans for Americans earning $25,000 a year or less. Beyond that, it will:
Forgive $10,000 in loans for every year of national or community service (up to five years)
Crackdown on greedy private lenders
Make community college/two-year training programs free
Make public college and university tuition free for families earning under $125,000 a year
This is just an overview of the main points, though. You can read more on his website.
6/15
Rawpixel / Getty Images/iStockphoto
However, Some Think Biden's Plan Is Flawed
While borrowers agree that Biden's plan is better than nothing, some are quick to point out its flaws. Particularly, those who won't reap the benefits.
"Biden (cares more about student debt than Trump), but his plan is not that good. If I do public service under his proposed plan, not even the interest on the loans would be forgiven," said Mindy A., who has $239,000 in student debt.
Under Biden's plan, anyone who attended a private school or who has graduate school debt will not see debt relief.
7/15
lev radin / Shutterstock.com
Trump Doesn't Have a Plan for Student Loan Forgiveness
According to Forbes contributor Zack Friedman, who is also the founder and CEO of personal finance company Make Lemonade, any form of student loan cancellation or forgiveness under the Trump administration is unlikely. This falls in line with Republican party values, which don't favor loan forgiveness.
"Trump has rejected student loan relief efforts multiple times in the last year alone and has spent no time addressing the student loan crisis as part of his platform. He's made it clear that student loan debt isn't remotely a priority for his administration," Becky H. said.
8/15
Alex Brandon/AP/REX/ / Shutterstock.com
Many Think Trump Doesn't Care About Student Debt at All
"Despite (Trump's) rhetoric about caring about American workers, his policies have proven his apathy toward that same population. Relieving their debts, despite the economic benefits, would likely go against the personal commercial interests of the president," said Patrick G., who owes around $300,000 in combined student debt.
9/15
NoDerog / Getty Images/iStockphoto
But Trump Has Tried To Make Changes to Federal Student Loans
Although the president has no plans to forgive student loan debt, he has made changes for borrowers. His Tax Cuts and Jobs Act of 2017 eliminated the Tuition and Fees Deduction, which previously helped students reduce their annual gross income if they were paying school expenses. And his 2020 budget proposals for student loans -- which weren't passed -- were much more extensive.
Trump proposed consolidating the four income-driven repayment plans (IDR) into one and increasing monthly payments from 10% of the borrower's income to 12.5%. While this would speed up loan forgiveness for undergraduate loans, it would delay them for graduate loans. He also proposed eliminating the Public Service Loan Forgiveness (PSLF) program, as well as subsidized student loans that help lower-income borrowers.
According to Student Loan Planner, if Trump's proposals were passed they would have cost student loan borrowers at least $249 billion over the next 10 years.
"Trump has made it very clear to the American public that he cares primarily about himself, and very little about us. It's no surprise that this extends to education," said Hunter S., a student who will graduate with nearly $100,000 in loans. 
See: 9 Ways Student Debt Is Affecting Every Aspect of Americans' Lives
10/15
Lost_in_the_Midwest / Shutterstock.com
Some Say Neither Candidate Prioritizes the Student Loan Debt Crisis
Citing Biden's plan and Trump's lack thereof, most borrowers agreed that Biden cares more about the student loan crisis. However, for those struggling with tens, even hundreds of thousands of dollars in debt, he doesn't care enough.
"I really don't think that either one of them will significantly impact my student loan repayment. They're both old men at this point and to me that says when they went to college it was a lot cheaper, so they never struggled with loans. They will never really understand what it's like to be a student in 2020," said Haley S., a student with $51,500 in federal loans.
What's more, some 75% of respondents in the Student Loan Planner survey believe that there will be no positive changes for student loan borrowers, regardless of the election winner.
11/15
Andrew Cline / Shutterstock.com
The Best Candidate for Student Debt Relief Is No Longer in the Running
Some students and former students seemed convinced that the best candidate for debt forgiveness is out of the race.
"Neither (Trump nor Biden cares about student debt), unfortunately. Bernie Sanders was the most outspoken about college debt and financing, and largely because of him and his supporters who also believe in free education, other left-leaning politicians started to pay lip service to the issue," said an anonymous individual with over $150,000 in combined student debt.  
"However, Biden is pretty moderate, so I don't see him doing much to swing the needle on student loans, particularly in a global pandemic when so much more is at stake."
12/15
John Minchillo/AP / Shutterstock.com
Other Issues Take Precedence Over Student Loans
Many borrowers are voting, but not for debt relief. According to the Student Loan Planner survey, only 15% of borrowers said student loan forgiveness was the most important election issue.
"I am not taking my loans into account (when I vote). There are too many bigger issues at stake than my debt, and Biden's plan for student loan debt is not even helpful to me," Mindy A. said.
13/15
a katz / Shutterstock.com
'Bigger Issues' Include Climate Change and Civil Rights
"I will be voting, but I am not taking my student loans into account. I am much more concerned with climate change and human rights than anything else," Haley S. said.
An anonymous student answered similarly. "In a dangerous and tumultuous landscape where civil rights and women's rights are at stake, student loans factor pretty low in my decision-making at this point, even though I'm drowning in student debt."
14/15
Cryptographer / Shutterstock.com
The COVID-19 Recession Might Be the Biggest Threat Right Now
One of the most pressing issues the United States is facing is the coronavirus, coupled with the recession that's followed. For many, there is a very real fear that this recession will impact their financial future. Those impacts could be greater for student loan borrowers.
"While the economic recession caused by America's COVID-19 management has been beneficial to some of my interest rates, the instability is more likely to affect my means to continue paying down my debt, regardless of whether or not (student loan debt is addressed)," Becky H. said.
15/15
Mr.Nikon / Shutterstock.com
Student Loan Debt Needs To Be Addressed for a Stronger Economy
"My student loan debt is one [of] the largest stressors in my life and is always a platform topic I research extensively (when voting)," said Alex B., who has over $100,000 in student loan debt.
"The current economy is drastically affected by the number of individuals drowning in student loan debt. Most millennials cannot afford to own a house. They can't afford to (outright) own a car. But they can afford to vote. And I think student loan forgiveness needs to be implemented to create a more stable economy for future generations."
More From GOBankingRates
About the Author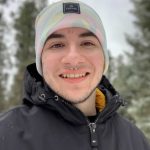 Levi joined GOBankingRates in 2019. He's found success in financial, political and military lifestyle writing, with work appearing on MSN, Yahoo Finance, OurMilitary.com and more.
With a background in narrative writing, he enjoys turning interesting conversations into impactful content.