Student Loan Forgiveness: Who Benefits & Who Doesn't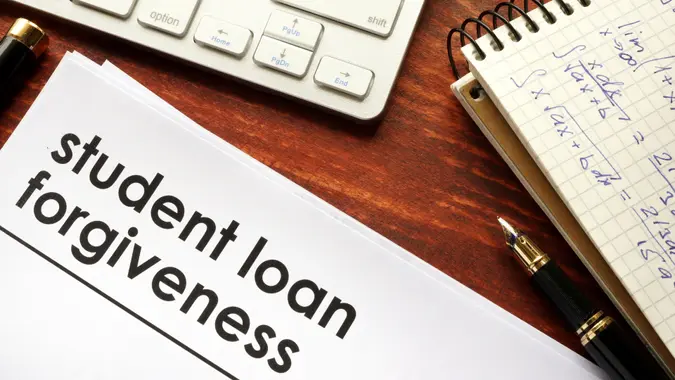 designer491 / Getty Images/iStockphoto
The roughly 45 million Americans with student loan debt likely felt great relief on Aug. 24 when President Joe Biden announced his student loan relief plan. The plan entails offering $10,000 to $20,000 in student loan forgiveness for certain borrowers.
Student Loan Forgiveness: Mark These 4 Dates on Your Calendar Now
See: States Whose Economies Are Failing vs. States Whose Economies Are Thriving
In light of this recent policy, you might be questioning who will benefit from student loan forgiveness and who won't. Keep reading to discover who will qualify, plus what forgiveness means for individuals, families and the economy.
Who Will Benefit?
As the outline of the plan suggests, the most direct beneficiaries of the plan are those with student debt. But only certain borrowers will qualify.
Federal Student Loan Borrowers Below Certain Income Thresholds
If you meet certain income requirements according to your tax filing status in 2021 or 2022, you are also eligible for aid. If you filed for taxes as an individual, or if you are married but filed your taxes separately, and your income was under $125,000, you are eligible. Additionally, if you are married and filed your taxes jointly, are the head of your household, or are a qualifying widow(er), and your income was under $250,000, you are also eligible.
According to the qualification requirements, as long as you met this income requirement in 2021 or 2022, you qualify. Borrowers do not need to meet this requirement in both years.
Take Our Poll: How Long Do You Think It Will Take You To Pay Off Your Credit Card Debt?
Federal Student Loan Borrowers With Qualifying Loans
Unfortunately, not all federal student loan borrowers within these income thresholds will qualify. Only the following federal loan types will qualify for forgiveness
The William D. Ford Federal Direct Loan (Direct Loan) Program loans, Federal Family Education Loan (FFEL) Program loans held by ED or in default at a guaranty agency, Federal Perkins Loan Program loans held by ED and defaulted loans (includes ED-held or commercially serviced subsidized Stafford, unsubsidized Stafford, Parent PLUS, Graduate PLUS; and Perkins loans held by ED) qualify for loan forgiveness.
Those students who received a Federal Pell Grant in college and meet the income requirements are eligible for up to $20,000 in debt relief. Those who did not receive a Federal Pell Grant in college, meet the income requirements and took out a qualifying loan, are eligible for up to $10,000 in relief.
Current College Students
If you are still in college and think forgiveness doesn't apply to you — you're in luck. Current students with loans will also be covered for forgiveness. As long as you are a federal loan borrower and meet the requirements above, the loan forgiveness also applies to those who are in school.
However, not all current students with student loans will qualify. If a parent claims you as a dependent on their taxes, your eligibility for loans will be dependent on their income. If you are a dependent student, you should still apply for debt relief using your income information. The program will email you and your parents instructions on how to proceed with the process.
Parents of Children With Federal Student Loans
The student loan forgiveness initiative also offers relief to parents of children with eligible student loans.
If your child has student loans that meet the debt relief requirements, or you have eligible student loans of your own, such as PLUS loans, you can also submit your student loan debt relief application. It will be processed separately from the application of your child.
Who
Won't Benefit

From the Plan

The federal student loan system is complicated, and loans come with different titles and terms based on when they were issued and under what conditions. While most federal student loans qualify for forgiveness, some loan borrowers don't qualify for debt forgiveness.
Those With Loans From Private Lenders
The federal student loan relief plan only offers relief to those who took out federally issued loans. Unfortunately, any private loans do not qualify for loan forgiveness.
According to the official Federal Student Aid website, if your federal student loans were guaranteed by the government but are held by private lenders, they must have been consolidated into the Direct Loan Program before Sept. 29 in order to be eligible for forgiveness. If your private loans have not yet been consolidated, you will be ineligible for receiving relief from these loans.
How the Plan Affects Individuals
The obvious benefit of the student loan forgiveness plan is the relief it will provide to over 40 million Americans with educational debt. Paying off loans is a huge financial burden and forgiveness of this debt will allow them to invest their money into the economy in new ways and no longer be held back by this significant payment.
A recent survey conducted by CNBC and Momentive found that now that some student loan debt is being forgiven, borrowers are planning to adjust their financial priorities to invest in their family and their future. According to the survey, 34% of borrowers are planning to use the extra money in their budget to buy a home and 32% to travel. Other respondents are planning to make make a personal financial move — 11% are using their aid toward having a baby and 10% to get married.
How the Plan Affects Families
Many parents take on the financial burden of their child's student loans through loans such as Parent PLUS loans. While every family handles student loans differently, the parents who take on their child's loans likely feel great relief regarding the forgiveness announcement.
According to the CNBC and Momentive survey, 45% of respondents are planning to use the extra money in their monthly budget to save money for retirement. Additionally, many borrowers are planning to pay off other loans, as 53% of respondents responded in this way.
As many families feel the weight of student loans becoming lighter, they are more willing to grow their family, invest in their future and prepare for their retirement. Having the freedom to make these financial moves eliminates families' need to take out more loans to afford retirement or personal expenses.
How the Plan Affects the Economy
The economy will undoubtedly be affected by this loan forgiveness plan. From an economic standpoint, the government's forgiveness of loans will allow individuals and families to stimulate economic growth by freeing up money that would be otherwise spent on loan repayments. This money could be used to boost consumption and investment in the economy, leading to more jobs and higher pay.
As Biden's plan is likely going to be forgiving $400 billion in student loans, according to the Congressional Budget Office, you might be wondering what the effects of this forgiveness initiative might have on inflation.
Moody's chief economist Mark Zandi believes that the impact of the program on inflation will be "minor" and estimated that CPI inflation will be reduced after student loan repayment begins again. Zandi predicted that inflation will see a decrease of 0.11% after borrowers start paying off the remainder of their loans.
More From GOBankingRates