The Best Student Loan Refinancing Options for 2023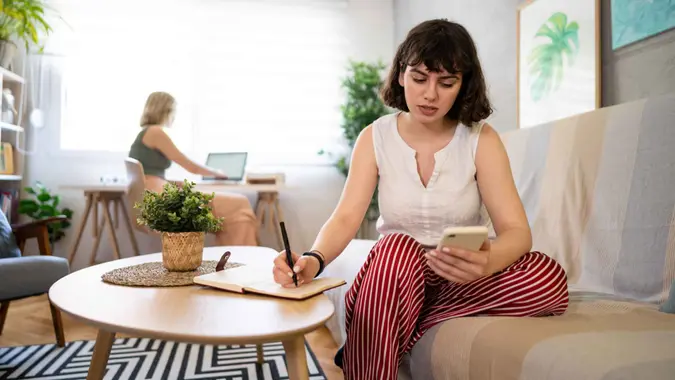 SrdjanPav / Getty Images
Student loan debt can be a significant financial burden, but refinancing your student loans can help you manage that debt more effectively. Refinancing involves taking out a new loan with a private lender to pay off your existing student loans, ideally at a lower interest rate or with better terms.
Here are some of the best student loan refinancing options for 2023.
The issue of loan debt is looming on the minds of many borrowers as repayment is likely to resume soon, per GOBankingRates:
"The latest extension of the payment pause — the eighth so far — is set to expire 60 days after either June 30, or whenever the Supreme Court decides on the loan forgiveness plan."
Those holding private student loans are more likely to consider financing, for example, because those who hold federal student loans may be eligible for income-driven repayment plans (IDR plans) or forgiveness plans which most private borrowers do not have access to. If you refinance your federal student loan (therefor switching to a private student loan) you would lose access to these programs — and any federal debt pause, or forgiveness.
On the other hand, those who already hold private student loan debt may do well to reduce their interest rate via refinancing. Meeting the qualifications to do so largely depends on your finances and a healthy credit score.
Given the immediacy and urgency of student loan debt, however, borrowers should keep in mind that there are many ways one can refinance their student loans. After reviewing them all, here are some of the best options for doing so in 2023:
SoFi
SoFi is one of the most popular student loan refinancing providers and for a good reason. They offer competitive interest rates, no fees, and flexible repayment terms. Additionally, SoFi offers unemployment protection, which means they will temporarily pause your payments if you lose your job. SoFi also offers other financial products, such as personal loans and mortgage loans.
However, SoFi goes beyond merely offering financial assistance.
It also provides valuable career support through career coaching and networking events, helping borrowers maximize their potential after graduation. If a holistic approach to financial well-being matters to you, SoFi could be a strong candidate.
Earnest
Earnest offers customized loan terms and interest rates, which means you can choose the repayment term that works best for you. They also allow you to make bi-weekly payments, which can help you pay off your loan faster. Additionally, Earnest does not charge any fees for origination, disbursement, or prepayment.
CommonBond
CommonBond offers competitive interest rates and flexible repayment options. They also have a social mission, as they donate a portion of their profits to fund education for children in need. Additionally, CommonBond offers a hybrid loan option, which combines fixed and variable interest rates.
CommonBond offers specialized refinancing options tailored to the needs of healthcare professionals, including doctors, dentists and other medical professionals.
With attractive rates and borrower-friendly features, CommonBond stands out among the crowd of its competitors by promoting targeted solutions for those who work in the healthcare field.
Laurel Road
Laurel Road offers competitive interest rates and flexible repayment terms. They also offer a residency and fellowship refinancing program for medical and dental residents. Additionally, Laurel Road offers a referral program, which means you can earn money for referring friends and family.
LendKey
LendKey partners with community banks and credit unions to offer student loan refinancing at competitive interest rates. They also offer a variety of repayment options, including interest-only payments for the first four years. LendKey does not charge any origination or prepayment fees.
Refinancing your student loans can be a smart financial move, but it's important to shop around and compare different lenders to find the best option for you. SoFi, Earnest, CommonBond, Laurel Road, and LendKey are all excellent options for student loan refinancing in 2023. However, keep in mind that refinancing federal student loans with a private lender means you will lose access to federal protections and benefits, such as income-driven repayment plans and loan forgiveness programs. Be sure to weigh the pros and cons before making a decision.
Editor's note: This article was produced via automated technology and then fine-tuned and verified for accuracy by a member of GOBankingRates' editorial team.
More From GOBankingRates