Ways for Women To Avoid the Student Loan Gender Gap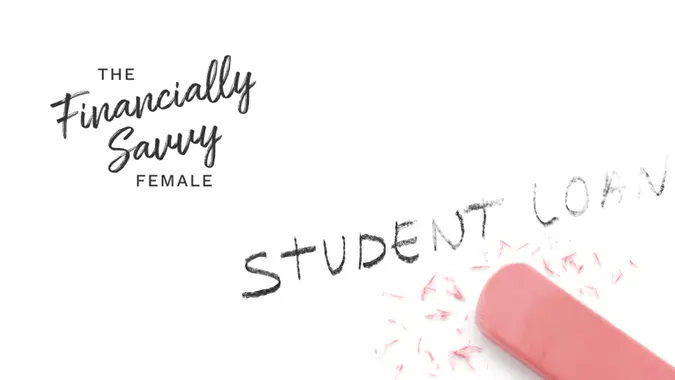 subjug / iStock.com
According to the American Association of University Women, upon completion of a bachelor's degree, women's average student debt is about $2,700 greater than men's. As it stands, women hold about 65% of the student debt in the U.S. In this "Financially Savvy Female" column, we're chatting with financial pros and student loan experts about why women graduate with more debt, as well as what women can proactively do before taking on student loans to ensure they're taking on only a manageable amount of debt. We're also sharing some ways that women who have student loan debt can efficiently and effectively pay down their loans.
Why Women Have More Student Loan Debt Than Men
"Despite going to college in greater numbers than men, women face unique financial hurdles that hold them back personally, financially and professionally and limit their ability to reap the rewards of the investment they have made in their education," said Laurel Taylor, founder and CEO of Candidly, a student debt and savings optimization platform.
Taylor believes that there are a number of reasons for this, some of which start in early childhood.
"A T. Rowe Price survey found that 50% of parents with only boys have money saved for college costs, compared to only 39% of parents who have only girls — suggesting that women are starting behind men before they've even stepped foot on campus," she said. "Women are also more likely to juggle other responsibilities with school, like work and child care. This leads to some women taking longer to graduate, which inevitably leads to more student loan debt."
What Women Should Do Before Taking Out Student Loans
"The best thing that women can do before taking on student loans is to have a firm grasp on their financials from the get-go and be realistic when it comes to what college options are within their financial range," said Joshua Lachs, CEO of Moneythink, a nonprofit that aims to demystify college costs. "In addition, research is critical. There are many high-quality schools that will allow women to take on little to no debt, but time must be spent at the forefront with research, calculating projected costs and financial aid, which can be overwhelming."
Before taking out any student loans, look for ways to save on college costs. One way to do so is by testing out of college credit requirements so you end up paying less to complete your degrees.
"Most colleges accept (College Level Examination Program) CLEP or (Defense Activity for Non-Traditional Education Support) DANTES exams," said Jay Zigmont, Ph.D., CFP, founder of Childfree Wealth. "If you go to ModernStates.org, they will not only prepare you to take the exams but also pay for them. The result is that you can get one to two years of college for free and in no time just for passing a multiple-guess exam."
Another way to save on college costs is to attend community college before transferring to a four-year school.
"Look to see if your state is offering free or discounted community college for the first two years," Zigmont said. "Then you can spread out the two remaining years of college and pay for it out of pocket. It is possible to both work a job and go to college as long as you plan well."
Even if you do go the traditional four-year college route, there are steps women can take to minimize the amount of debt they need to take on.
"Research and apply for relevant grants and scholarships every year," Candidly's Taylor said. "This money helps close the gap between savings and loans, and it doesn't need to be paid back. There are several grants and scholarships available specifically for women."
It's also wise to think about the value of your degree and how to maximize your earning potential.
"Some majors lead to lower-paying jobs that may make it harder to pay back student loans later on," Taylor said. "On the other hand, other areas of focus may yield a better return on investment. Having a better understanding of your future earning potential will help you make smarter borrowing decisions."
How To Effectively Manage Existing Student Loan Debt
If you currently have student loans, prioritize paying these down — as the longer you take, the more interest you end up having to pay. One way to pay down student loan debt faster is to seek out an employer who will help you pay back your loans.
"A growing number of employers are leveraging favorable changes made under the CARES Act of 2020 and the Consolidated Appropriations Act of 2021, which allow employers to annually repay up to $5,250 of student loan debt per employee through Jan. 1, 2026, tax-free," said Patricia Roberts, chief operating officer at Gift of College, Inc., a gift registry for college savings and student loans.
"Employers are starting to recognize the greater impact that student loan debt has on female employees," she said, "and, in light of this, some are considering student loan debt repayment as part of their Diversity, Equity and Inclusion strategies."
It's also important to understand your repayment plan options and choose the plan that's optimal for you.
"Each individual's optimal repayment strategy is going to depend heavily on their own personal financial situation," Candidly's Taylor said. "There are a number of federal programs available to borrowers, including income-driven repayment plans and Public Service Loan Forgiveness, that can help those who qualify to minimize their monthly payments and/or ultimately have their loans forgiven. For those who are in a healthier financial position, making extra payments or refinancing your student loans can be an effective way to pay down your debt more quickly or reduce the amount of interest that you pay over time."
Once you have a plan in place, be disciplined and stick to it.
"Key strategies include defining your must-haves versus your nice-to-haves so you can keep your costs in check; staying informed about your student loan debt, such as taking advantage of various repayment options or loan reduction options; and paying down your highest interest loans first," said Moneythink's Lachs.
The Bottom Line
While there are steps individual women can take to decrease their student loan burdens, there will need to be larger, systemic changes before the student loan gender gap is closed for good, Taylor said.
"The burden to close the gender gap on student loans is not on women," she said, "but rather on our institutions to confront the systemic issues that are the underlying cause of the problem, such as the skyrocketing cost of college, the well-documented gender wage gap, and the lack of accessibility of the programs that have been made available to help mitigate the financial stress of student loans."
GOBankingRates wants to empower women to take control of their finances. According to the latest stats, women hold $72 billion in private wealth — but fewer women than men consider themselves to be in "good" or "excellent" financial shape. Women are less likely to be investing and are more likely to have debt, and women are still being paid less than men overall. Our "Financially Savvy Female" column will explore the reasons behind these inequities and provide solutions to change them. We believe financial equality begins with financial literacy, so we're providing tools and tips for women, by women, to take control of their money and help them live richer lives.
More From GOBankingRates