These Are the Best Dollar Stores in the 10 Biggest US Cities, According to Yelp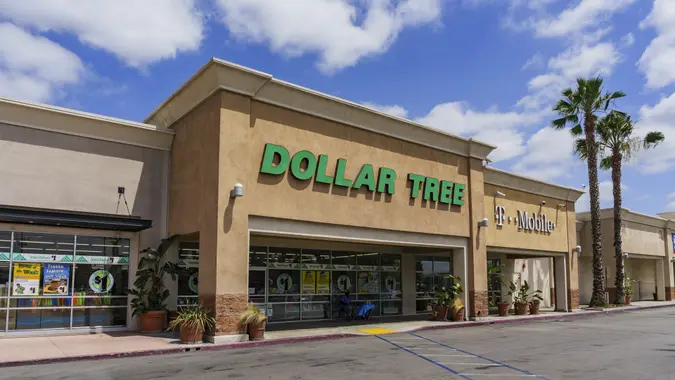 Kit Leong / Shutterstock.com
Dollar stores can be a treasure trove for the frugal shopper, but as anyone who's ever shopped at these stores knows, different locations can vary widely in terms of the quality and variety of the products offered.
Find Out: 10 Things You Always (and Never) Should Buy at the Dollar Store
Related: 34 Dollar Store Secrets You Need To Know Before You Shop
To help you find the best dollar store near you, GOBankingRates identified the top-rated dollar store on Yelp in the 10 most populous U.S. cities. Head to one of these locations to do your bargain shopping.
New York: 99 Cent Dreams
2 W 46th St., New York, NY 10036
Located in Midtown, this 99 Cent Dreams store has landed some rave reviews.
"Amazing selection," one Yelper wrote. "An over-the-top, varied selection of colorful everything. The buyers have great taste, stocking the store with beautiful and useful items. I love the office supplies section the best — a treasure trove of every kind of notebook, folder and pen you can imagine. Downstairs, you'll find anything you'd ever need for [your] house — full-length mirrors, attractive bins, laundry bags and all sizes of patterned bags for shopping."
Make Your Money Work Better for You
Read More: Costly Mistakes People Make While Grocery Shopping
Los Angeles: Daiso Japan
621 S. Western Ave., Ste. 107, Los Angeles, CA 90005
This discount store in the Koreatown neighborhood has over 250 Yelp reviews. It's worth noting that this is not a true dollar store as most items cost $1.50, but Yelpers still say you can get a lot of bang for your buck.
"I love coming here to get office or kitchen supplies," one reviewer said. "Things you can buy here include snacks, drinks, makeup, trashcans, post-its, pens, notepads, gift bags, Christmas [decorations], face masks, erasers in very fun shapes, phone accessories and more."
Cut Now: 35 Useless Expenses You Need To Slash From Your Budget Now
Chicago: Dollar Tree
2252 N. Milwaukee Ave., Chicago, IL 60647
The Logan Square Dollar Tree location is the top-rated dollar store in Chicago. One reviewer notes that this location is "large, well organized and stocked," and has easy street parking as well.
Houston: Dollar Tree
7560 Westheimer Rd., Houston, TX 77063
Dollar Tree has several locations throughout Houston, but this one is the Yelp favorite.
"Spacious and plenty in stock each time I visit here," one reviewer wrote. "Very organized and clean. One of my favorite Dollar Tree locations by far."
Make Your Money Work Better for You
Be Aware: 21 Items That Are Always Cheaper at Costco
Phoenix: Dollar Tree
818 E. Union Hills Dr., Phoenix, AZ 85024
Multiple Yelp reviewers note that this Phoenix Dollar Tree location tends to be well stocked, and many also complimented this location for having friendly staff.
"The associates are always friendly, and keep the store looking very clean," one Yelper said. "Other locations nearby seem to be lacking one or both of these things, and that's why I love coming here."
Philadelphia: Dollar Tree
1601 Market St., Philadelphia, PA 19103
Located in Logan Square, this Dollar Tree scored high ratings for the variety of products it sells.
"I love the consistency and ease of shopping in this great store," one Yelper wrote.
Check Out: Target, Amazon and 4 More Retailers That Will Reward You for Turning In Your Old Stuff
San Antonio: Dollar Tree
7723 Guilbeau Rd., Ste. 115, San Antonio, TX 78250
This Dollar Tree location has a perfect five-star rating on Yelp.
"I have been in multiple Dollar Trees and I must say, this is absolutely one of the nicest Dollar Tree stores I've ever been in," one reviewer wrote. "This store is really large [with a] huge array of items to choose from. It's really clean, organized and easy to maneuver."
Make Your Money Work Better for You
San Diego: Dollar Tree
4240 Kearny Mesa Rd., San Diego, CA 92111
Yelp reviewers praised this location for its wide variety of products.
"They literally have EVERYTHING and it's all pretty much a steal," one reviewer wrote. "They always have seasonal items too. So many cute knick-knacks and workers are very polite there."
Find Out: How Much Does a Costco Membership Really Save You?
Dallas: 99 Cents Only Stores
13444 Preston Rd., Dallas, TX 75240
Several reviewers commented on the grocery selection at this 99 Cents Only Stores location.
"I buy name-brand groceries, fresh produce and cheap school supplies here weekly," one Yelper wrote. "They have name-brand cereal bars for only 99 cents per box, [Yoplait] Thick & Creamy yogurt for 49 cents, bananas for 99 cents, Pillsbury and [Nestlé] Toll House cookies for baking, Oscar Mayer bologna, the grown-up Lunchables, and those microwavable flatbread pizzas by Healthy Choice — all for 99 cents. You can even find discounted DiGiorno pizzas, Pop-Tarts and General Mills cereals. I never go grocery shopping at Walmart or any other place until I check the 99 Cents Only store first."
San Jose, California: Dollar Tree
150 N. San Tomas Aquino Rd., Campbell, CA 95008
Dollar Tree enthusiasts say this San Jose-area location is the best.
"By far one of the best Dollar Trees I have been to," one Yelper wrote. "Well stocked, big well organized and clean. If you are a Dollar Tree addict, this is where you can
find those hard-to-find items."
More From GOBankingRates
Make Your Money Work Better for You