How Can You Support Your Favorite Local Bar?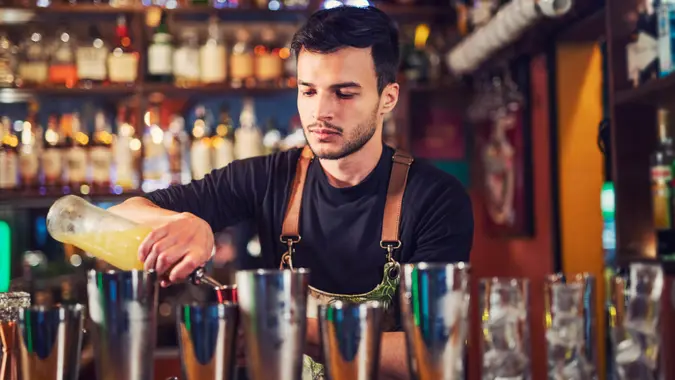 ArtistGNDphotography / Getty Images
In the early days of the COVID-19 pandemic, bars and breweries struggled to keep their doors open to the public. Lockdown put a strain on spaces designed to bring people together to enjoy a drink and many establishments quickly pivoted to provide alcoholic drink deliveries. 
Find Out: 5 Things You Must Do When Your Savings Reach $50,000
A little over two years into the ongoing pandemic, bars still need the support of their patrons to survive and thrive. Here are a few ways you can support local bars and breweries in your area right now.
Tip Regularly
Gratuity matters, especially for bartenders and bartending staff. If you are sitting down and enjoying a drink at a local cocktail bar, the tipping etiquette rule of thumb is 20% for bartenders. Those visiting pubs for a quick pint, or a shot, should also tip at least a dollar per drink. 
What if you frequent a bar where the gratuity is included in the bill? Some bars may have automatic gratuity in which the gratuity charge is automatically added to the bill. You don't need to tip in these situations unless you'd like to add a little extra. If you are receiving an alcoholic beverage delivery, make sure to tip the delivery person at least $5.
Does your local bar have a physical or virtual tip jar where you can continue donating and tipping? Ask the staff to find out.
Purchase Available Merchandise
Some bars may sell merchandise at their storefront, ranging from apparel like shirts to hoodies to shot glasses or mugs with the name of the bar and its company logo. In addition to buying drinks, patrons can support their local bars by purchasing any available merchandise for sale. If your local bar doesn't sell merch, inquire about any available gift cards or gift certificates.
Make Your Money Work Better for You
Spread Positive Word of Mouth Online
There are several ways you can spread positive word of mouth online to support a local bar. Try using a few of these strategies the next time you go out.
Follow their social media accounts. If you aren't already doing this, take a moment to follow the local establishment's social media accounts on sites like Facebook, Twitter and Instagram. Take another minute to scroll through their posts and like the post or leave a kind comment.
Tag your location and share photos. Tag your location on platforms like Facebook and Instagram so your followers can see where you are and snap photos, Boomerangs and videos from your visit to share across your social media feeds. Remember to @ mention the name of the business in your caption or in spaces like Instagram Stories.
Write and share positive reviews. Does your local bar have a Yelp or Trustpilot presence? Write a thoughtful review and share it there. Remember to give the bar a five-star rating. If possible, include the name of a bartender, staff member or even the owner and highlight their positive attitudes and attention to customer satisfaction.
Start the Nextdoor conversation. One of the best ways you can give a local bar the recognition it deserves is to share a positive experience on the neighborhood networking service Nextdoor. You'd be surprised at how many neighbors might be unfamiliar with local establishments. Posting on Nextdoor puts the local bar on their radar for their next night out and gives other fans the opportunity to chime in with their praises.
Ask the Owner How You Can Help
If you aren't sure how to support your favorite local bar, it never hurts to ask the owner for what they need.
Find out what kind of specific support the owner needs and see if your skill set can be of aid. You might learn the owner is having trouble hiring and can refer potential candidates you know who are looking for jobs and could be a great fit for the roles. If you have a background in design and the owner needs help creating a website, you can offer to assist them by putting together a user-friendly website. 
And if you can't offer direct support, chances are you might know somebody who can. Consider referring the owner to other talented colleagues or members of the community willing to chip in and offer assistance.  
Make Your Money Work Better for You
Keep Coming Back
The simplest way to support your favorite local bar is to be a loyal customer. Next time, bring along friends, family or other members of the community so they can become familiar with the establishment and, in turn, become its new patron. Cheers!
More From GOBankingRates