Rent the Runway CEO Jennifer Hyman Shares Her Top Advice for Other Female Entrepreneurs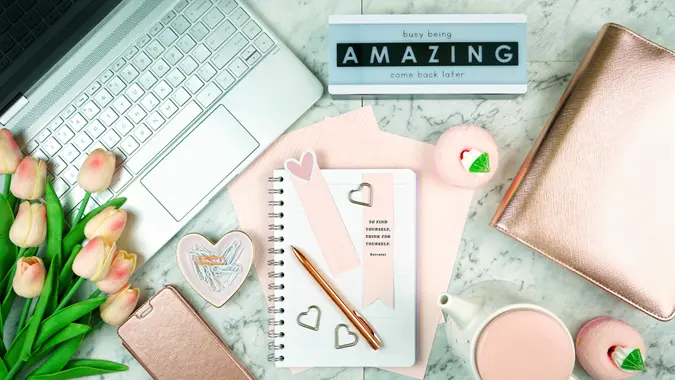 MillefloreImages / iStock.com
The number of women-owned businesses is currently on the rise. There are now 1.1 million women-owned businesses, representing a 0.6% year-over-year increase, according to the latest Census Bureau data. In addition, women-owned employer firms reported nearly $1.8 trillion in sales, shipments, receipts or revenue and employed over 10.1 million workers as of 2018. Although women still own less than 20% of all businesses, this growth trajectory is a good sign of things to come.
In today's "Financially Savvy Female" column, we're sharing the top two pieces of advice that Rent the Runway co-founder and CEO Jennifer Hyman would give to other female entrepreneurs.
Keep Up With the Latest: Sign Up for The Financially Savvy Female Newsletter
What Money Topics Do You Want Covered? Ask the Financially Savvy Female
1. Enjoy the Ride
"I think building something that you love from scratch and seeing it through every phase is really fun," Hyman said during the 2021 Power Women's Summit. "As founders and as leaders, we often take too little time to appreciate the moment. And that was what was so wonderful about the IPO. [The company went public in October 2021.] You're really looking around, and I got a sense of how impactful Rent the Runway has been in thousands of people's lives, and how much pride and joy they felt. Too much of the time, a founder is focused on, 'What can I improve?,' 'How can I get better?,' rather than appreciation and feeling great about what you've done already."
Make Your Money Work Better for You
2. Just Keep Moving
"We got here by putting one foot in front of the other, by remaining optimistic, by remaining resilient," she said. "This has been about just continuing to keep moving. And I think COVID is the very best example of that."
GOBankingRates wants to empower women to take control of their finances. According to the latest stats, women hold $72 billion in private wealth — but fewer women than men consider themselves to be in "good" or "excellent" financial shape. Women are less likely to be investing and are more likely to have debt, and women are still being paid less than men overall. Our "Financially Savvy Female" column will explore the reasons behind these inequities and provide solutions to change them. We believe financial equality begins with financial literacy, so we're providing tools and tips for women, by women to take control of their money and help them live a richer life.
More From GOBankingRates