Avoid Buying These 25 Grocery Items That Are Now More Expensive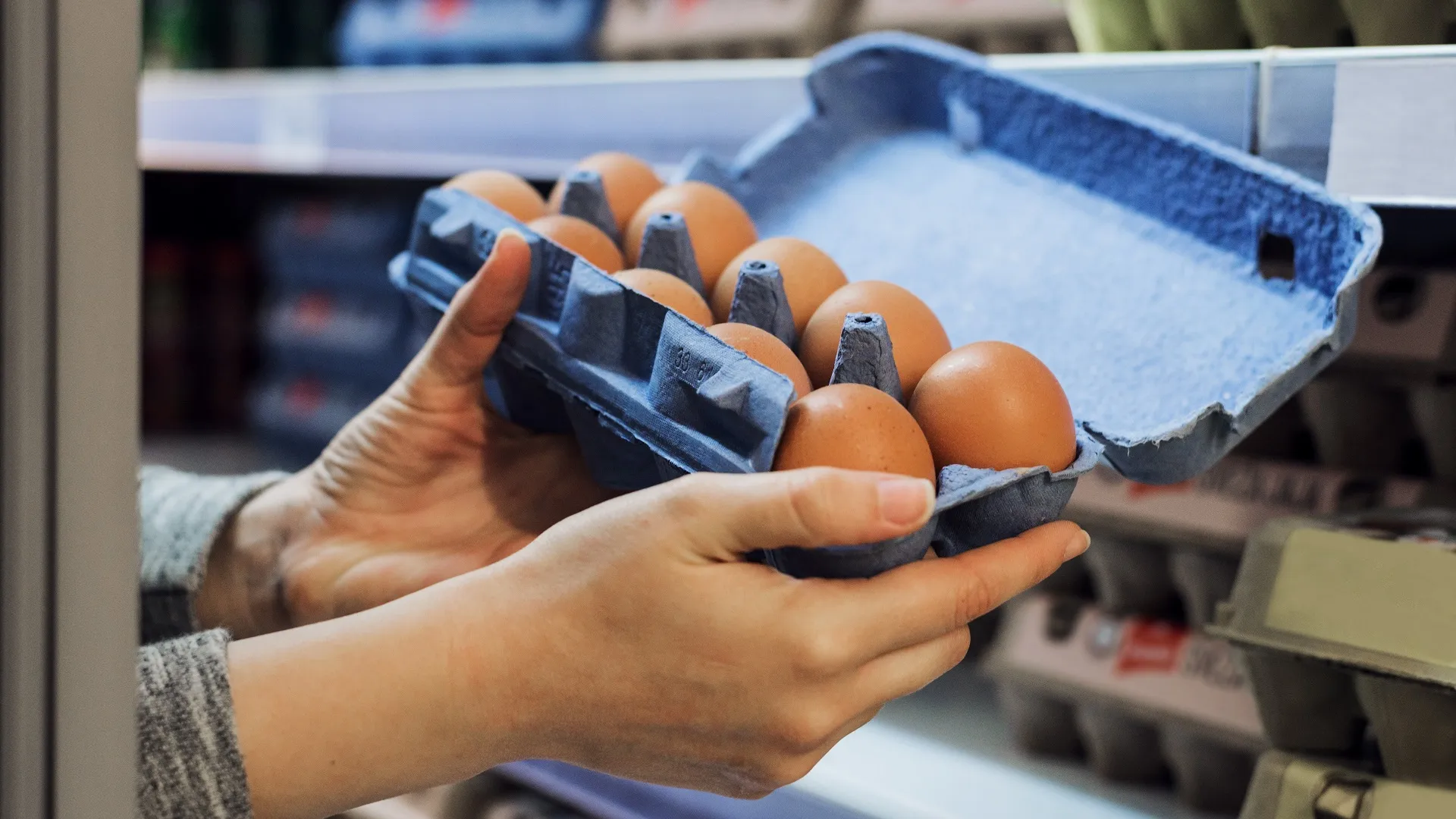 Inflation is the word of the day, as everyone has felt the strain on their bank accounts just by paying for the same goods and services as you always did.
Inflation is the result of a lot of factors, including such things as high energy prices (exacerbated by Russia's war with Ukraine), post-pandemic supply chain issues and losses, and higher consumer spending.
One of the places many Americans feel inflation most painfully is at the grocery store. If you're on a budget, you may want to limit your purchases of things like ground beef, soda, potato chips and frozen orange juice, which are among those items that have become the most expensive.
To help you save money on groceries, GoBankingRates sourced 25 items from the Bureau of Labor Statistics Consumer Price Index that have gone up the most since April of 2022.
25. Eggs (per dozen)
Median cost, April 2023: $3.270
Median cost, March 2023: $3.446
Difference in $ month-over-month:  $(0.18) 
Difference in % month-over-month: -5.11% 
Median cost, April 2022:  $2.520 
Difference in $ year-over-year:  $0.75 
Difference in % year-over-year: 29.76%
24. Coffee, Ground Roast (per lb)
Median cost, April 2023:  $6.040 
Median cost, March 2023:  $6.184 
Difference in $ month-over-month:  $(0.14) 
Difference in % month-over-month: -2.33% 
Median cost, April 2022:  $5.529 
Difference in $ year-over-year:  $0.51 
Difference in % year-over-year: 9.24%
23. Ham (per lb)
Median cost, April 2023:  $4.210  
Median cost, March 2023:  $4.340 
Difference in $ month-over-month:  $(0.13) 
Difference in % month-over-month: -3.00% 
Median cost, April 2022:  $3.924 
Difference in $ year-over-year: $0.29 
Difference in % year-over-year: 7.29%
22. Pork Chops (per lb)
Median cost, April 2023:  $4.099 
Median cost, March 2023:  $4.165 
Difference in $ month-over-month: $(0.07) 
Difference in % month-over-month: -1.58% 
Median cost, April 2022:  $4.178 
Difference in $ year-over-year:  $(0.08) 
Difference in % year-over-year: -1.89%
Make Your Money Work for You
21. Bacon (per lb)
Median cost, April 2023:  $6.549 
Median cost, March 2023:  $6.613 
Difference in $ month-over-month: $(0.06) 
Difference in % month-over-month: -0.97% 
Median cost, April 2022:  $7.422 
Difference in $ year-over-year: $(0.87) 
Difference in % year-over-year: -11.76%
20. Tomatoes (per lb)
Median cost, April 2023:  $1.874 
Median cost, March 2023:  $1.932 
Difference in $ month-over-month: $(0.06) 
Difference in % month-over-month: -3.00% 
Median cost, April 2022:  $1.794 
Difference in $ year-over-year:  $0.08 
Difference in % year-over-year: 4.46%
19. Milk (per gallon)
Median cost, April 2023:  $3.700 
Median cost, March 2023:  $3.748 
Difference in $ month-over-month: $(0.05) 
Difference in % month-over-month: -1.28% 
Median cost, April 2022:  $3.682 
Difference in $ year-over-year:  $0.02 
Difference in % year-over-year: 0.49%
18. Cookies, Chocolate Chip (per lb)
Median cost, April 2023:  $5.193 
Median cost, March 2023:  $5.234 
Difference in $ month-over-month:  $(0.04) 
Difference in % month-over-month: -0.78%
Median cost, April 2022: $4.174 
Difference in $ year-over-year: $1.02 
Difference in % year-over-year: 24.41%
17. Beans, Dried (per lb)
Median cost, April 2023: $1.659 
Median cost, March 2023:  $1.68 
Difference in $ month-over-month:  $(0.03) 
Difference in % month-over-month: -1.66% 
Median cost, April 2022:  $1.628 
Difference in $ year-over-year:  $0.03 
Difference in % year-over-year: 1.90%
16. Ground Chuck (per lb)
Median cost, April 2023:  $4.747 
Median cost, March 2023:  $4.753 
Difference in $ month-over-month: $(0.01) 
Difference in % month-over-month: -0.13% 
Median cost, April 2022:  $4.945 
Difference in $ year-over-year: $(0.20) 
Difference in % year-over-year: -4.00%
15. Rice, White (per lb)
Median cost, April 2023:  $0.980 
Median cost, March 2023:  $0.982 
Difference in $ month-over-month: $(0.00) 
Difference in % month-over-month: -0.20% 
Median cost, April 2022:  $0.900 
Difference in $ year-over-year: $0.08 
Difference in % year-over-year: 8.89%
14. Malt Beverages ( per 16 oz)
Median cost, April 2023:  $1.746 
Median cost, March 2023:  $1.745 
Difference in $ month-over-month: $0.00 
Difference in % month-over-month: 0.06% 
Median cost, April 2022: $1.619 
Difference in $ year-over-year: $0.13 
Difference in % year-over-year: 7.84%
13. Bananas (per lb)
Median cost, April 2023:  $0.635 
Median cost, March 2023: $0.632 
Difference in $ month-over-month: $0.00 
Difference in % month-over-month: 0.47% 
Median cost, April 2022:  $0.637 
Difference in $ year-over-year: $(0.00) 
Difference in % year-over-year: -0.31%
12. Potatoes, White (per lb)
Median cost, April 2023:  $0.980 
Median cost, March 2023: $0.968 
Difference in $ month-over-month: $0.01 
Difference in % month-over-month: 1.24% 
Median cost, April 2022:  $0.849 
Difference in $ year-over-year: $0.13 
Difference in % year-over-year: 15.43%
Make Your Money Work for You
11. Sugar, White (per lb)
Median cost, April, 2023: $0.893 
Median cost, March, 2023:  $0.880 
Difference in $ month-over-month: $0.01 
Difference in % month-over-month: 1.48% 
Median cost, April, 2022: $0.740 
Difference in $ year-over-year:  $0.15 
Difference in % year-over-year: 20.68%
10. Navel Oranges (per lb)
Median cost, April 2023: $1.530
Median cost, March 2023:  $1.509 
Difference in $ month-over-month:  $0.02 
Difference in % month-over-month: 1.39% 
Median cost, April 2022:  $1.505 
Difference in $ year-over-year: $0.03 
Difference in % year-over-year: 1.66%
9. Yogurt (per 8 oz)
Median cost, April 2023:  $1.553 
Median cost, March 2023:  $1.526 
Difference in $ month-over-month:  $0.03 
Difference in % month-over-month: 1.77% 
Median cost, April 2022:  $1.350 
Difference in $ year-over-year: $0.20 
Difference in % year-over-year: 15.04%
8. Frankfurters (per lb)
Median cost, April 2023: $5.221 
Median cost, March 2023: $5.184 
Difference in $ month-over-month:  $0.04 
Difference in % month-over-month: 0.71% 
Median cost, April 2022:  $3.808 
Difference in $ year-over-year:  $1.41 
Difference in % year-over-year: 37.11%
7. Uncooked Beef Roasts (per lb)
Median cost, April 2023:  $6.803 
Median cost, March 2023:  $6.765 
Difference in $ month-over-month: $0.04 
Difference in % month-over-month: 0.56%
Median cost, April 2022:  $6.927 
Difference in $ year-over-year: $(0.12) 
Difference in % year-over-year: -1.79%
6. Wine, Red and White (per liter)
Median cost, April 2023:  $13.302 
Median cost, March 2023:  $13.249 
Difference in $ month-over-month: $0.05 
Difference in % month-over-month: 0.40% 
Median cost, April 2022: $13.589
Difference in $ year-over-year:  $(0.29)  
Difference in % year-over-year: -2.11%
5. Uncooked Beef Steak (per lb)
Median cost, April 2023:  $5.247 
Median cost, March 2023:  $5.194 
Difference in $ month-over-month: $0.05 
Difference in % month-over-month: 1.02% 
Median cost, April 2022:  $5.414 
Difference in $ year-over-year: $(0.17) 
Difference in % year-over-year: -3.08%
4. Ground Beef (per lb)
Median cost, April 2023:  $5.247
Median cost, March 2023:  $5.194 
Difference in $ month-over-month: $0.05 
Difference in % month-over-month: 1.02% 
Median cost, April 2022:  $5.414
Difference in $ year-over-year:  $(0.17)
Difference in % year-over-year: -3.08%
Make Your Money Work for You
3. Soft Drinks (per 2 liters)
Median cost, April 2023: $2.398
Median cost, March 2023: $2.345
Difference in $ month-over-month:  $0.05
Difference in % month-over-month: 2.26%
Median cost, April 2022:  $1.820 
Difference in $ year-over-year:  $0.58
Difference in % year-over-year: 31.76%
2. Potato Chips (per lb)
Median cost, April 2023: $6.623 
Median cost, March 2023: $6.526 
Difference in $ month-over-month: $0.10 
Difference in % month-over-month: 1.49%
Median cost, April 2022: $5.601 
Difference in $ year-over-year: $1.02 
Difference in % year-over-year: 18.25%
1. Frozen Orange Juice (per 12 oz can)
Median cost, April 2023: $3.010 
Median cost, March 2023: $2.893 
Difference in $ month-over-month: $0.12 
Difference in % month-over-month: 4.04% 
Median cost, April 2022: $2.770 
Difference in $ year-over-year: $0.24 
Difference in % year-over-year: 8.66%
More From GOBankingRates