I'm a Professional Chef: Here's How To Save Money on Groceries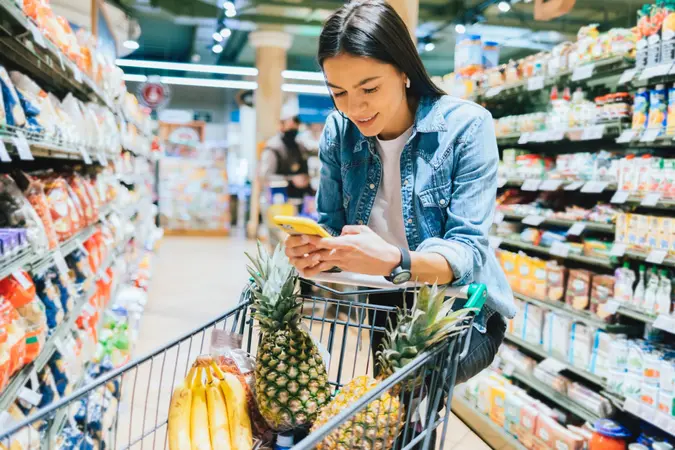 iprogressman / Getty Images/iStockphoto
Food costs remain through the roof, with many Americans struggling to afford essential groceries. Minimizing costs as best we can is critical. To learn some great techniques for saving on groceries — and making the most of the food we do have on hand — GOBankingRates chatted with two professional chefs. 
Here's what they told us about their best ways to save money on groceries. 
Use Your Amazon Prime Membership at Whole Foods
If you have an Amazon Prime Membership (and many of us do), you can shop at Whole Foods and receive extra sale discounts — a tip that Christina Bailey, a private chef and culinary instructor for Cozymeal, swears by. 
"I always do a price comparison with our local Kroger and Costco, but many times the Prime member discount beats even Costco," Bailey said. "And of course, the quality is far superior. Online snacks [on Amazon] like dried seaweed and nutrient-dense crackers cost much less than they do in any store."
Buy in Bulk for Pantry Staples and Bread
We all know that buying in bulk can save us big, but we must be strategic about it. Bailey recommends stocking up on grocery items like crackers, nut butters, nutrient-dense pasta made from beans and ancient grains and whole grain breads on sale. 
"I buy several at a time and freeze the bread," Bailey said. "Pasta of course lasts seemingly forever in the pantry." 
Make Your Money Work for You
Eat Seasonal Produce
Seasonal produce will almost always be cheaper than non-seasonal produce. 
"A great example is strawberries," Bailey said. "Right now strawberries cost around $3 a pound, but during the winter and spring their price was double, at least." 
Join a National Grocery Retailer's Free Loyalty Program
Even chefs clip coupons.  
"I routinely clip and save $15 a trip with Kroger coupons," Bailey said. "Kroger and other national grocery chains send you coupons in the mail, and by email, based on what you buy. Save them, clip the ones for healthy food you always buy, and don't get sucked into buying the junk food–junk food lacks fiber, which is what makes you feel fuller longer. The healthier you shop, the more 'special coupons' you'll receive in the mail for the food you should really be eating." 
Eat Less Meat
Rampant carnivorism is unnecessary and destructive not only to the plant and your health — but also to your wallet. 
"Per pound, meat and fish, especially grass-fed beef, organic chicken, and wild-caught fish, are the most expensive items at the grocery store," Bailey said. "Plenty of research at this point shows that the Mediterranean diet–which calls for whole grains, lots of veggies, and a bit of fish' is the key to longevity. So buy and eat less meat and you'll save your health and budget. Beans and ancient grains like quinoa that are a complete protein are filling replacements for meat." 
Buy Meat When It's On Sale and Freeze It
If you don't want to say goodbye to meat forever, at least be extra strategic about how you buy it. 
Make Your Money Work for You
"Look for deep sales on larger cuts and buy several and freeze them," Bailey said. "I teach a class on how to brine and roast a whole chicken, so when the chickens are on sale for around $1 a pound, I buy several and freeze them. You can make a whole roasted chicken last a week for a family of four, and use the bones to flavor homemade soups." 
Weigh Your Produce
Yes, those scales in the produce section are there for customers — and you should use them. 
"Especially when I'm buying food for a class I teach or a client's event and have a strict budget, or I cut into my profit, I weigh out what I'm buying," Bailey said. "Organic Cosmic Crisp apples may be on sale for $2.69 a pound, but if you load up the cart without checking you can easily spend $10 on apples or anything without realizing." 
Grate Your Own Cheese
Yes, those pre-shredded bags of cheese can be major timesavers, but they're also huge money-wasters. 
"Buying a bag of already shredded cheese is throwing money away," Bailey said. "And the starches and fillers aren't great, either. Buy loaves of cheddar or your favorite cheese when they're on sale, and grate them yourself. I grate a few cups at a time and it keeps perfectly fine in the refrigerator to use for breakfast eggs, tacos, salads and whatever else you can dream up that calls for shredded cheese." 
Save All Vegetable Scraps
You may be focused on saving just the most edible parts of vegetables after cooking, but professional chef Patricia Clark recommends saving all the produce bits. 
Make Your Money Work for You
"Ends, stems, leaves, onions skins, brown bits," Clark said. "Wash them, pat dry and freeze in mixed ziplock bags. Use these trimmings to make great vegetable stock. Buying stock is a huge waste of money." 
Start a Neighborhood Food Swap
Local Buy Nothing groups have taken off online in communities all over; why not consider a neighborhood food swap, too?  
"Make a group text and share what you have in abundance," Clark said. "Maybe you picked too many strawberries and your neighbor has way too much cilantro. Yacht chefs [like me] trade ingredients all the time with each other. Trading feels fair and lowers needless waste." 
Rethink Buying Certain Items (Like Produce) in Bulk 
Buying in bulk is often a smart way to save money, but it can backfire, especially if you're purchasing produce. Clark recommends only buying in bulk if you are having a big party. 
"Lots of people think they will actually take the time to repackage and freeze portions," Clark said. "Most people don't. Unless you meal-prep and have a specific diet to follow every day, you very likely will not use that 10-lb bag of broccoli."  
More From GOBankingRates