Best and Worst Major US Cities To Earn $100K — How Far Your Money Goes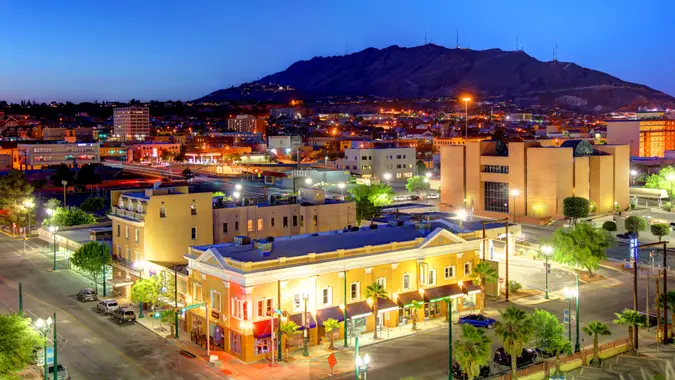 DenisTangneyJr / Getty Images/iStockphoto
In theory, earning $100,000 annually sounds like it will provide you with a financial cushion. But with inflation rising interest rates and taxes, which can eat away immensely at purchasing power, the power of $100k depends on which city you live in.
In December 2022, 51% of consumers earning more than $100,000 annually said they lived paycheck-to-paycheck, up 9 percentage points from 42% in December 2021, according to a PYMTS survey.
SmartAsset compared the after-tax income in 76 of the largest U.S. cities and adjusted those figures for the cost of living in each location.
In New York City, $100,000 amounts to just $35,791 because of taxes and the cost of living. Texas cities, on the other hand, dominate the top 10 list of cities where amounts go the furthest.
Here are the cities in which your paycheck goes the furthest, and in which a good chunk of it is eaten up.
Best Cities To Earn $100,000 (After Taxes and Cost-of-Living Adjustment)
Memphis, Tenn. (Take-home pay: $86,444)
El Paso, Texas (Take-home pay: $84,966)
Oklahoma City, Okla. (Take-home pay: $84,498)
Corpus Christi, Texas (Take-home pay: $83,443)
Lubbock, Texas (Take-home pay: $83,350)
Houston, Texas: (Take-home pay: $81,171)
Arlington, Texas (

Tie

) (Take-home pay: $80,124)
Fort Worth, Texas (

Tie

) (Take-home pay: $80,124)
San Antonio, Texas (

Tie

) (Take-home pay: $80,124)
St. Louis, Mo. (Take-home pay: $79,921)
Worst Cities To Earn $100,000 (After Taxes and Cost-of-Living Adjustment)
New York, NY (Take-home pay: $35,791)
Honolulu, Hawaii (Take-home pay: $36,026)
San Francisco, Calif. (Take-home pay: $36,445)
Washington, DC (Take-home pay: $44,307)
Los Angeles, Calif. (Take-home pay: $44,623)
Long Beach, Calif. (Take-home pay: $44,623)
San Diego, Calif. (Take-home pay: $46,167)
Oakland, Calif (Take-home pay: $46,198)
Boston, Mass. (Take-home pay: $46,588)
Seattle, Wash. (Take-home pay: $48,959)
Make Your Money Work for You
More From GOBankingRates