Biden To Sell 26 Million Barrels From the Strategic Petroleum Reserve in Hopes of Preventing Summer Gas Surge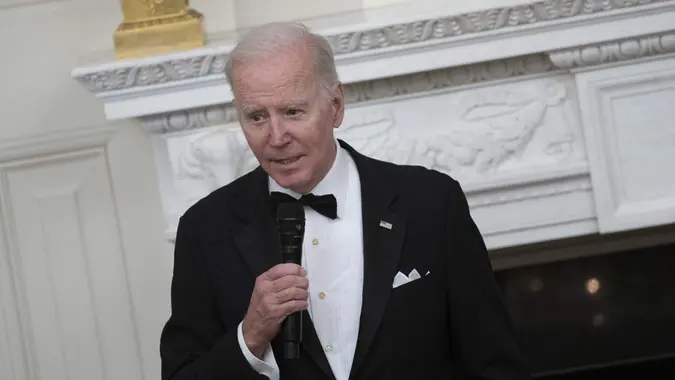 Pool/ABACA/Shutterstock / Pool/ABACA/Shutterstock
The Biden administration confirmed Feb. 13 that the U.S. Energy Department (DOE) will be selling 26 million barrels of oil from the Strategic Petroleum Reserve (SPR) in an attempt to counter forthcoming Russian oil production cuts — and to provide preventive relief for another potential summer gas price surge.
Student Loan Forgiveness: Biden Administration Makes It Easier for Those Misled by Schools to Have Debt Erased
Find: With a Recession Looming, Make These 3 Retirement Moves To Stay On Track
Despite drawing 180 million barrels from the SPR last year in an effort to stabilize oil prices and supply issues, this new sale is in accordance with President Obama-era mandates from 2015, namely, the Bipartisan Budget Act and the Fixing America's Surface Transportation (FAST) Act.
Per Bloomberg, the record reserve sale last year originally prompted the DOE to consider cancelling the forthcoming release, but that would require legislative changes in Congress.
The decision to sell now comes as Russia plans to slash oil production by 500,000 barrels a day starting in March and — according to Phil Flynn, an analyst at Price Futures Group and Fox Business Network contributor — is a preemptive move to ease a potential gas hike this summer.
Make Your Money Work for You
"Biden is front-loading SPR barrels to avoid a summer gasoline price spike," said Flynn. "There are growing concerns among the Biden administration that gas prices are headed back to $4 a gallon and the president is fearful of the political heat he will have to take."
In turn, Russia's imminent oil cuts are a direct response against Western sanctions, per Fox Business. Russian Deputy Prime Minister Alexander Novak was quoted as saying: "We will not sell oil to those who directly or indirectly adhere to the principles of the price ceiling… In relation to this, Russia will voluntarily reduce production by 500,000 barrels per day in March. This will contribute to the restoration of market relations."
According to Fox Business, the U.S. release will most likely push the reserve to its lowest level since 1983 (~346 million barrels), below its current level of about 372 million barrels. When President Biden took office in Jan. 2021, the reserve was sitting at around 638 million barrels.
Take Our Poll: Are You Concerned the U.S. Debt Ceiling Issue Will Endanger Social Security?
More: Manchin Proposes 'Easiest' Social Security Fix In Response to Debt Ceiling — Would Biden Agree?
Since the DOE announcement Monday, benchmark oil prices fell, then dipped again after U.S. inflation data was released early on Feb. 14, per Reuters. U.S. crude futures were down $2.21 (2.8%) at $77.93, while Brent crude futures dropped by $2.01 (2.3%) to $84.60 a barrel by 9:15 ET. Both standards are on track for their biggest daily percentage falls since Feb. 3.
Make Your Money Work for You
More From GOBankingRates
Make Your Money Work for You