Debt Ceiling 2023: US Credit Rating in Jeopardy — How a Drop Could Impact You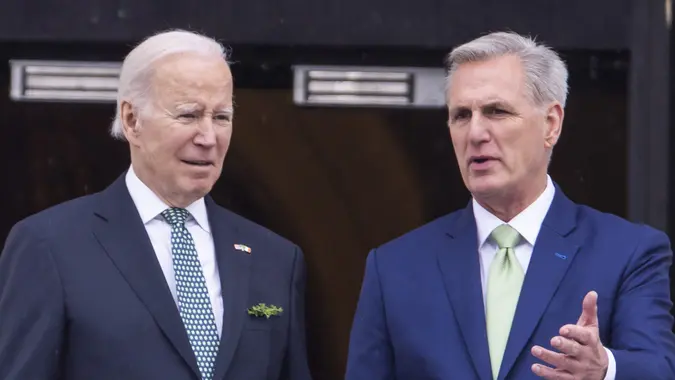 JIM LO SCALZO/EPA-EFE/Shutterstock / JIM LO SCALZO/EPA-EFE/Shutterstock
Just a few days before the United States might default on its debt, Fitch Ratings has placed the country's AAA long-term foreign-currency issuer default rating on negative watch, citing the brinksmanship over the debt ceiling. If the country were to default on its obligations, it would have dire consequences for the economy and American consumers.
The rating watch negative reflects "increased political partisanship that is hindering reaching a resolution to raise or suspend the debt limit despite the fast-approaching X-date (when the U.S. Treasury exhausts its cash position and capacity for extraordinary measures without incurring new debt)," the agency said in a press release on May 24.
While Fitch noted that it still expects a resolution to the debt limit before the X-date, it also pointed out the fact that risks have risen, and that the government could begin to miss payments on some of its obligations.
"The brinkmanship over the debt ceiling, failure of the U.S. authorities to meaningfully tackle medium-term fiscal challenges that will lead to rising budget deficits and a growing debt burden signal downside risks to U.S. creditworthiness," the agency added in the release.
Make Your Money Work for You
A spokesperson for Treasury Secretary Janet Yellen said that the potential downgrade underscored "the need for swift bipartisan action by Congress to raise or suspend the debt limit and avoid a manufactured crisis for our economy," according to Axios.
And on May 22, Treasury Secretary Janet Yellen reiterated in a letter to Speaker Kevin McCarthy that waiting until the last minute to suspend or increase the debt limit could "cause serious harm to business and consumer confidence, raise short-term borrowing costs for taxpayers, and negatively impact the credit rating of the United States."
"If Congress fails to increase the debt limit, it would cause severe hardship to American families, harm our global leadership position, and raise questions about our ability to defend our national security interests," Yellen wrote.
Previously, the White House Council of Economic Advisers said that an actual breach of the U.S. debt ceiling would likely cause severe damage to the U.S. economy. Citing a recent analysis by Moody's, they note that under a clean debt ceiling increase, job growth continues over the next few quarters, adding 900,000 jobs. However, under a protracted default scenario, job losses amount to almost 8 million. Wall Street traders have warned of "seismic" consequences if the U.S. does default, opening a letter to Yellen conveying prolonged inaction would "dramatically increase taxpayer costs and exacerbate market stress."
Make Your Money Work for You
In addition to job and market losses, all government entities, including state and local, would find their ability to spend hindered. Those struggles would only be worsened by the lack of credit opportunities that would be available to American borrowing, impacting housing and auto markets and more.
Take Our Poll: Are You Concerned About the Safety of Your Money in Your Bank Accounts?
Social Security: Payments Could Stop in July If Debt Ceiling Not Settled, Say Experts
Despite these dire warnings, as of the morning of May 25, McCarthy was reiterating that there is still a "significant gap" between both sides in negotiations, CNN reported.
"House Speaker McCarthy did not provide Wall Street any optimism that a deal is nearing," said Edward Moya, senior market analyst, The Americas OANDA. "McCarthy said that there are a number of places we are still far apart on debt talks and that they still have differences over spending. Everyone has seen this movie before and now we are finally starting to see some market stress as debt-ceiling talks remains at an impasse."
More From GOBankingRates
Make Your Money Work for You