Why Experts Predict Another Gas Price Dip on the Horizon Despite Spring Break Hike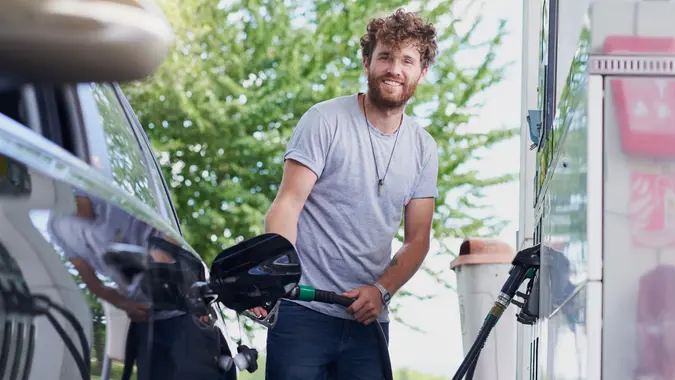 Adene Sanchez / iStock.com
You might have noticed gas prices going up recently. That cost hike is due to increased demand from spring break travelers and the switch to the more expensive-to-produce summer blend at the pump.
See: Don't Buy Gas on This Day of the Week
Find: Make 3 Retirement Moves as Recession Looms
But, this price increase may be short-lived. Experts predicted that the Federal Reserve will likely bump up the interest rate again. In response, the expected gas demand decreased, and the crude oil price dropped.
The result? Potentially cheaper gas — at least for a while.
Trending Downward
The cost of gasoline is expected to go up this summer, which is typical for the season. However, the overall price is trending downward. According to the American Automobile Association (AAA), the average gas price in the country reached $5 per gallon in June of 2022.
Fortunately, the average gas price this summer should be significantly less. Most drivers can expect to pay around $4 per gallon.
Make Your Money Work for You
How To Save Money at the Pump
You can reduce your automobile fuel expense no matter what the economy does by implementing these simple tips:
Use your smartphone. Many mobile apps, like GasBuddy, can help you find the cheapest gas prices in your area.
Go easy on the gas pedal. Aggressive driving will drain your gas tank faster.
Keep your tires properly inflated. Underinflated tires cause your engine to work harder to move your car, which burns more fuel to travel the same distance.
Reduce your vehicle's cargo weight as much as possible. The lighter your car, the less gas it will use.
Explore: 20 Items Costco Superfans Say To Stop Buying Due To Inflation
Learn: $2,000 Quarter? Check Your Pockets Before You Use This 2004 Coin
Bonus tip: Keep cash on hand. Some gas stations offer a discount if you pay with cash because they won't have to pay a credit card transaction processing fee.
More From GOBankingRates
Make Your Money Work for You