Fed Rate Pause: Will This Be The End Of High Mortgage Rates and Grocery Prices?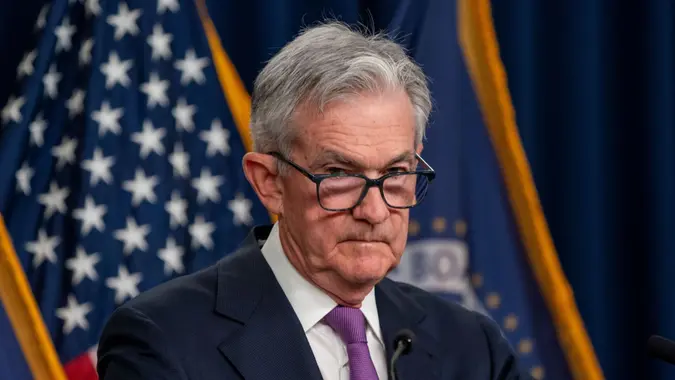 SHAWN THEW/EPA-EFE/Shutterstock / SHAWN THEW/EPA-EFE/Shutterstock
As was expected, the Federal Reserve paused its interest rate hikes for the second time this year, following 11 increases since March 22.
The Fed, in a unanimous decision, said it would maintain its funds rate at a range of 5.25% to 5.5%, a 22-year high, after its most recent two-day Federal Open Market Committee (FOMC) meeting on Sept. 19-20.
Fed officials said that "inflation remains elevated," and that "tighter credit conditions for households and businesses are likely to weigh on economic activity, hiring, and inflation. The extent of these effects remains uncertain. The Committee remains highly attentive to inflation risks," according to a statement.
At a post-meeting press conference, Chair Jerome Powell said that the pause does not mean they have reached the monetary policy that they are seeking.
"We want to see convincing evidence that we have reached the appropriate level," he said.
While this is welcome news, many analysts view the pause as a "wait and assess" decision, which comes amid several events that could disrupt the economy. These include the resumption of student loan payments, the United Auto Workers (UAW) strike, soaring gas prices and sticky inflation, to name a few. There are two meetings left this year. 
"Previously, the Fed had seemingly signaled a commitment to being aggressive, potentially even again raising interest rates multiple times before the end of this year to continue efforts to drive down inflation," said Michele Raneri, vice president and head of U.S. research and consulting at TransUnion. She noted that while they still may follow through with that before the end of this year, this week's announcement indicates the Fed may believe the best course of action, for now, is to continue monitoring the economy and the effects of previous hikes.
Make Your Money Work for You
The decision also comes following the latest set of inflation data, which came in hotter than anticipated, creeping up to 3.7% in August, according to the Bureau of Labor Statistics' (BLS) Consumer Price Index (CPI), released Sept. 13. This was up from July's 3.2% inflation rate.
"I think the Fed did the right thing in pausing. They really had no choice. They're aware they are hurting the rest of the country," said John Catsimatidis, CEO and Chairman of United Refining Company and CEO and Chairman of Red Apple Group. "Oil prices are way up again, inflation is continuing to run high and I think it's very likely rates will go up again before the end of the year. It all depends on how the White House handles the war on fossil fuels."
But amid sticky inflation and an uncertain economic landscape, will this new pause help lower soaring mortgage rates and grocery prices, which have both taken a toll on Americans' wallets?
Grocery Prices
According to Selma Hepp, chief economist at CoreLogic,one of the primary drivers of stubbornly high grocery prices is due to persistent shortages of truck drivers and continued high diesel prices — neither of which are expected to begin to dissipate meaningfully until 2024.
"However, with the Fed pausing rate hikes, the government is showing signs that it expects inflation to cool and the economy to soften," said Hepp. "This is likely the beginning of the end for rate hikes, as America's households are continuing to struggle and the Fed will look to its monetary policy to help improve household spending, via a more favorable borrowing environment, which means lower rates."
Make Your Money Work for You
Mortgage Rates
Mortgage rates have been hovering around 7% for quite some time, a dramatic increase that has taken a toll on the housing market, lowering inventory and leaving many buyers on the sidelines. 
"The impact of tighter policy is acutely felt. Mortgage rates have steadied just below recent highs, but remain more than 3 percentage points above their pandemic-era lows," said Danielle Hale, chief economist, Realtor.com.
According to Hale, the combined impact of higher rates and higher home prices has driven the cost of financing the typical listed home up more than $400 or 22.5% from a year ago — and up more than $1,100 from August 2020, doubling the cost in three years.
"Higher mortgage rates have radically altered homebuyer purchasing power and have been a key factor in existing home sales dropping from a more than 6.5 million unit pace in early 2022 to the roughly 4 million unit pace in recent months," she said.
She also noted that perhaps more importantly, higher mortgage rates continue to keep existing homeowners sidelined, with as many as one in seven out of the market because they don't want to borrow at today's much higher rates, which are in some cases double their existing cost of funds.
"As a result, I expect the number of homes for sale to decline this year, and this tension to continue to be a damper on the number of homes for sale and thus home sales transactions," she said.
Make Your Money Work for You
What About the Remainder of the Year?
In terms of further hikes this year, expert opinions are split, despite the Fed's projections. 
Moody's Analytics' economist Matt Colyar argued that while some hawkish members of the committee are pining for an additional quarter-point rate hike, Moody's Analytics expects the current range of the federal funds rate is sufficient to bring inflation to the Fed's target and that no further rate hikes are in order.
"We expect rates to stay where they are through mid-2024," said Colyar.
In turn, he said this means mortgage rates have likely reached their peak as well.
"As inflation continues to moderate in late 2023 and through next year, we expect the 30-year fixed rate mortgage rate steadily decline toward 6% by the end of 2024," he shared.
As for grocery prices, Colyar said that they are subject to the vagaries of supply shocks, and hence, the path for food inflation is trickier to project.
"Rerouting grain of Ukraine after Russia's abandonment of the Black Sea Grain Initiative has brought down global wheat prices, but highlights the precarious forces driving food inflation," he said. "This is a strong example of why economists and investors home in on 'core inflation' which strips away volatile food and energy categories."
Yet, other experts predict additional hikes before the end of the year, meaning that mortgage rates would also likely remain high and may be even higher by year's end.
According to Thomas Hogan, former chief economist for the U.S. Senate Banking Committee and economist with the American Institute for Economic Research,this will not be the end of high mortgage rates and grocery prices.
Make Your Money Work for You
"Grocery prices are still going up, just slower than they were a year ago. Inflation has been falling, but last week's CPI report came in much higher than expected, indicating that inflation has not gone away," said Hogan. "If the economy turns downward, the Fed will be left with two bad options: either keep raising rates to stamp out inflation but worsen the recession, or cut interest rates and risk the return of high inflation."
Other Key Projections
The Fed also released its Summary of Economic Projections, which is its estimates for GDP growth, the unemployment rate, inflation and the appropriate policy interest rates.
Another hike is projected this year, as the median projection for where the federal funds rate will be at the end of this year is 5.6%, in line with the June projections. This would be followed by cuts in 2024. 
In terms of economic growth expectations for this year, the Fed revised upward its GDP projections, and it is now expected to increase by 2.1% — more than double the projected 1% in June — suggesting talks of a recession are waning and a soft landing is indeed a possibility, something Powell said was "plausible" during his press conference while urging caution. 
And in terms of unemployment, it is projected to stand at 3.8% this year, lower than the 4.1% projected in June.
Finally, the projected inflation rate — which the Fed measures by the core personal consumption expenditures price index (PCE) — edged lower to 3.7%, from 3.9% in June. Core PCE is then projected to lower to 2.6% in 2024, 2.3% in 2025, and 2% in 2026.
"Although the Federal Open Market Committee (FOMC) did not raise its federal funds rate target today, it signaled that it would raise it at some point in Q4-2023," said William J. Luther, director of AIER's Sound Money Project. "The FOMC is committed to bringing down inflation — and may inadvertently over-tighten monetary policy in pursuit of that goal."
Make Your Money Work for You
Luther further noted that while inflation has generally slowed over the last six months, a surge in oil prices caused the CPI to grow faster in August.
"Since monetary policy cannot increase the supply of oil, Fed officials should look through the recent uptick in CPI inflation," he said. "But they may worry that inflation expectations will rise if they do not continue tightening in the face of an apparent reversal in the disinflation process."
More From GOBankingRates