Gen Z Shifts To Taking on Debt: Is It a Foreboding Sign of Recession?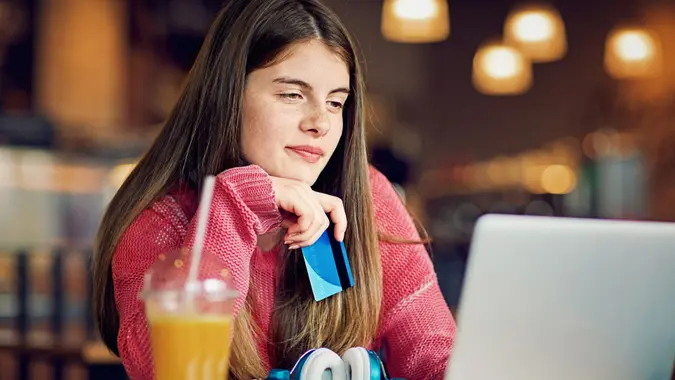 praetorianphoto / Getty Images
If there is a running narrative about the financial habits of Gen Zers, it's that they have largely avoided being reckless with their spending and debt. As recently as 2020, Gen Z borrowers saw a 6% reduction in their use of available credit, which ranked first among age demographics, according to Experian. This helped fuel a 13% increase in average credit scores for Gen Z.
See: 10 Things To Stop Buying in 2023
Read: Get Your Credit Score On Track With These 3 Tips for Success
The Future of Finances: Gen Z & How They Relate to Money
But lately there have been signs that Gen Z consumers are getting deeper into debt — a trend that some say could portend an upcoming recession.
An Urban Institute analysis of credit bureau data conducted last year found that nearly 20% of young U.S. adults (18 to 24) with a credit record have debt in collections — a sign that they struggle to meet current financial obligations.
Make Your Money Work for You
Many young adults "may rely on credit cards to finance daily and emergency expenses," the analysis declared. Among young adults with a credit card, 4.5% hold delinquent credit card debt.
A separate analysis from payments data and news platform PYMNTS, released on Dec. 29, found that roughly two-thirds (65%) of Gen Z consumers are living paycheck to paycheck. Generation Zers in this category report the lowest average savings of all age groups, at $1,158.
These trends are not necessarily surprising. One reason Gen Z and other consumers were able to improve their credit standing in 2020 is because the COVID-19 pandemic shut down much of the economy, which led to less spending and more saving. In 2022, the situation reversed itself as the highest inflation rate in 40-plus years led the Federal Reserve to aggressively hike interest rates.
Gen Z Spending Could Signal Coming Recession
But it is still troubling to see Gen Zers abandon some of the financial principles that earned them kudos – partly because their rising debt and shrinking savings could be a sign of a recession. This possibility was raised in a recent Credello blog — Credello being a personal finance tool that aims to simplify financial decisions through personal, on-demand recommendations.
"Economists are considering the increasing trend of taking on debt for everyday expenses as a canary in the coal mine for the greater economy as a whole," the blog detailed. "Is Gen Z trying to warn us of an impending recession?"
Make Your Money Work for You
Credello also noted that the trend of using credit cards for everyday expenses — which more consumers in all age groups have been doing lately — is a "warning sign" for the economy as a whole.
"Economists have been watching this trend with apprehension because it's indicative of a more significant problem: People are increasingly opting to borrow money to cover their everyday costs because they cannot save enough from their take-home pay," the blog indicated. "If the economy starts to decline, people will find it increasingly difficult to cover their basic expenses, leading to a recession."
How Severe Will 2023's Recession Be?
Fears of a recession have been a running theme over the past year or so, with many economists predicting that the economy will eventually hit a wall.
Take Our Poll: How Long Do You Think It Will Take You To Pay Off Your Credit Card Debt?
More: Gen Z vs. Millennials: How Their Retirement Savings Plans Compare
Make Your Money Work for You
Jeff Buchbinder, chief equity strategist for LPL Financial, wrote in a recent email to GOBankingRates that: "The consensus sees a U.S. recession coming in 2023, though opinions vary widely on how significant it might be. LPL Research acknowledges that a recession this year is probably more likely than not at this point."
But Buchbinder also noted that inflation should continue to decline this year — it fell to 6.5% in December 2022 to reach its lowest point in more than a year — which should lead to an end to interest rate hikes this spring. This, in turn, could bolster corporate profits, which may help the economy avoid a recession.
More From GOBankingRates
Make Your Money Work for You