How the Bank Failures Could Impact You Even If It Wasn't Your Money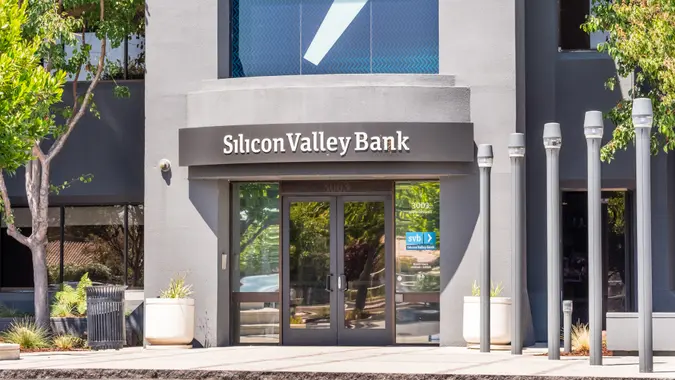 Sundry Photography / Getty Images
Silicon Valley Bank's sudden failure late last week will have the most immediate impact on people and companies that have money with the bank. But the aftershocks are already being felt by those with no financial connection to it.
Even if you don't have money with SVB, you could be impacted in numerous ways. For one thing, if you have money in stocks, you might feel some pain this week and beyond. The Dow fell more than 150 points in early trading March 13 amid a slide in bank shares, CNBC reported, before posting a 102 point upswing by ~11 a.m. that same morning.
Lower stocks prices will also lower the value of many mutual funds. Beyond that, fears that the banking system itself is vulnerable — something most experts are currently downplaying — could have a ripple effect on everything from interest rates and lending standards to home prices.
The SVB collapse was the biggest bank failure since the Great Recession a decade-and-a-half ago, Forbes reported. It didn't take long for some observers to wonder whether SVB's failure could trigger other bank failures reminiscent of 2008. Their minds weren't eased when Signature Bank was seized by state regulators on Sunday. Several other banks also appeared on the brink of failure, CNN reported.
Sevens Report analyst Tom Essaye told Forbes the selloff following Silicon Valley Bank's collapse — and a similar collapse by crypto bank Silvergate last week — was "undoubtedly an unwelcome reminder" of the 2008 financial crisis.
Make Your Money Work for You
He also noted that SVB tried but failed to stay to afloat after the bank was forced to sell a bond portfolio at a $1.8 billion loss because higher interest rates pushed bond prices "far below" where they were when purchased.
Essaye and others have cautioned against reading too much into how these problems reflect on the banking industry as a whole.
"We want to caution investors to not get ahead of the SVB story because it still being written and its outcome is uncertain," Scott Knapp, chief market strategist at CUNA Mutual Group, wrote in an email note shared with GOBankingRates last week. "Currently, it appears most of its impact will be isolated to the bank's counterparties and depositors. The overall banking system is still well capitalized, giving it an adequate cushion to withstand even larger shocks. Regulators will also take control of SVB in pursuit of an orderly resolution to its challenges."
The latter is already happening. Federal regulators — including the Federal Reserve, Treasury Department and Federal Deposit Insurance Corporation — said over the weekend that they are taking steps to ensure that SVB customers will have access to all their money on March 13.
In a joint statement, regulators said the bank's troubles pose a systemic risk to the financial system, Yahoo Finance reported. But the agencies also said they are working to "ensure that the U.S. banking system continues to perform its vital roles of protecting deposits and providing access to credit … in a manner that promotes strong and sustainable economic growth."
Make Your Money Work for You
Meanwhile, President Joe Biden took a calm position early Monday, saying in a speech from the Roosevelt Room that "Americans can rest assured that our banking system is safe. Your deposits are safe."
More From GOBankingRates
.