See How Much Air Traffic Has Dropped at the World's Busiest Airports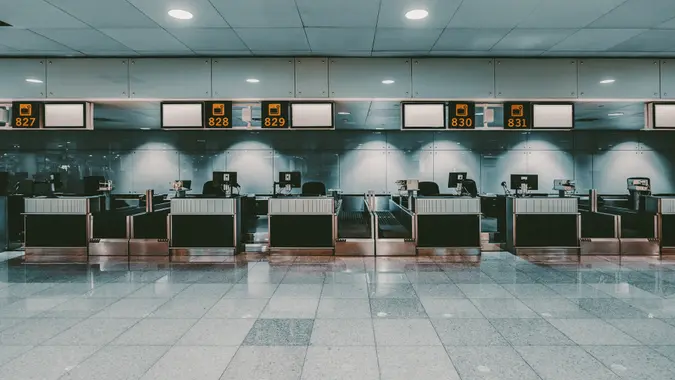 skyNext / Getty Images/iStockphoto
Due to COVID-19 lockdowns and travel restrictions, air travel has dropped dramatically in the first half of 2020. Passenger numbers decreased by 58.4% worldwide compared to the same time period in 2019, according to an analysis by Airports Council International. That amounts to a reduction in passengers of 5.6 billion for the year. Not surprisingly, revenues have dropped as well. Airlines are expected to make $104.5 billion less than their projected revenues for 2020.
And things aren't expected to look up anytime soon. The holidays are usually a major travel time, but the analysis predicts that passenger traffic volumes will only reach 56% in December. Passenger volume is not expected to recover to 2019 levels until 2023.
"As air transport has always been an industry based on the interdependence of all its parts, the COVID-19 crisis devastated all stakeholders — from aircraft manufacturers and travel agents to retailers in airports — and resulted in job losses, business shutdowns, bankruptcies and other instances of economic devastation," Airports Council International world director general Luis Felipe de Oliveira said in a media release.
Some of the world's busiest airports — including Atlanta and Beijing airports, which had more than 100 million passengers fly through in 2019 — have seen major drops in passenger volume. Here's how much passenger traffic has dropped at the 10 busiest airports across the globe:
Atlanta (ATL) — 110.5 million passengers in 2019; traffic dropped 56.6% in the first half of 2020
Beijing (PEK) — 100 million passengers in 2019; traffic dropped 73.6% in the first half of 2020
Los Angeles (LAX) — 88.1 million passengers in 2019; traffic dropped 58.9% in the first half of 2020
Dubai (DXB) — 86.4 million passengers in 2019; traffic dropped by 56.4% in the first half of 2020
Tokyo (HND) — 85.5 million passengers in 2019; traffic dropped by 59.2% in the first half of 2020
Chicago (ORD) — 84.6 million passengers in 2019; traffic dropped by 57.6% in the first half of 2020
London (LHR) — 80.9 million passengers in 2019; traffic dropped by 60.2% in the first half of 2020
Shanghai (PVG) — 76.2 million passengers in 2019; traffic dropped by 68.1% in the first half of 2020
Paris (CDG) — 76.2 million passengers in 2019; traffic dropped by 61.4% in the first half of 2020
Dallas/Fort Worth (DFW) — 75.1 million passengers in 2019; traffic dropped by 48.2% in the first half of 2020
Make Your Money Work for You
More From GOBankingRates