Top 10 Cheapest Airports in the US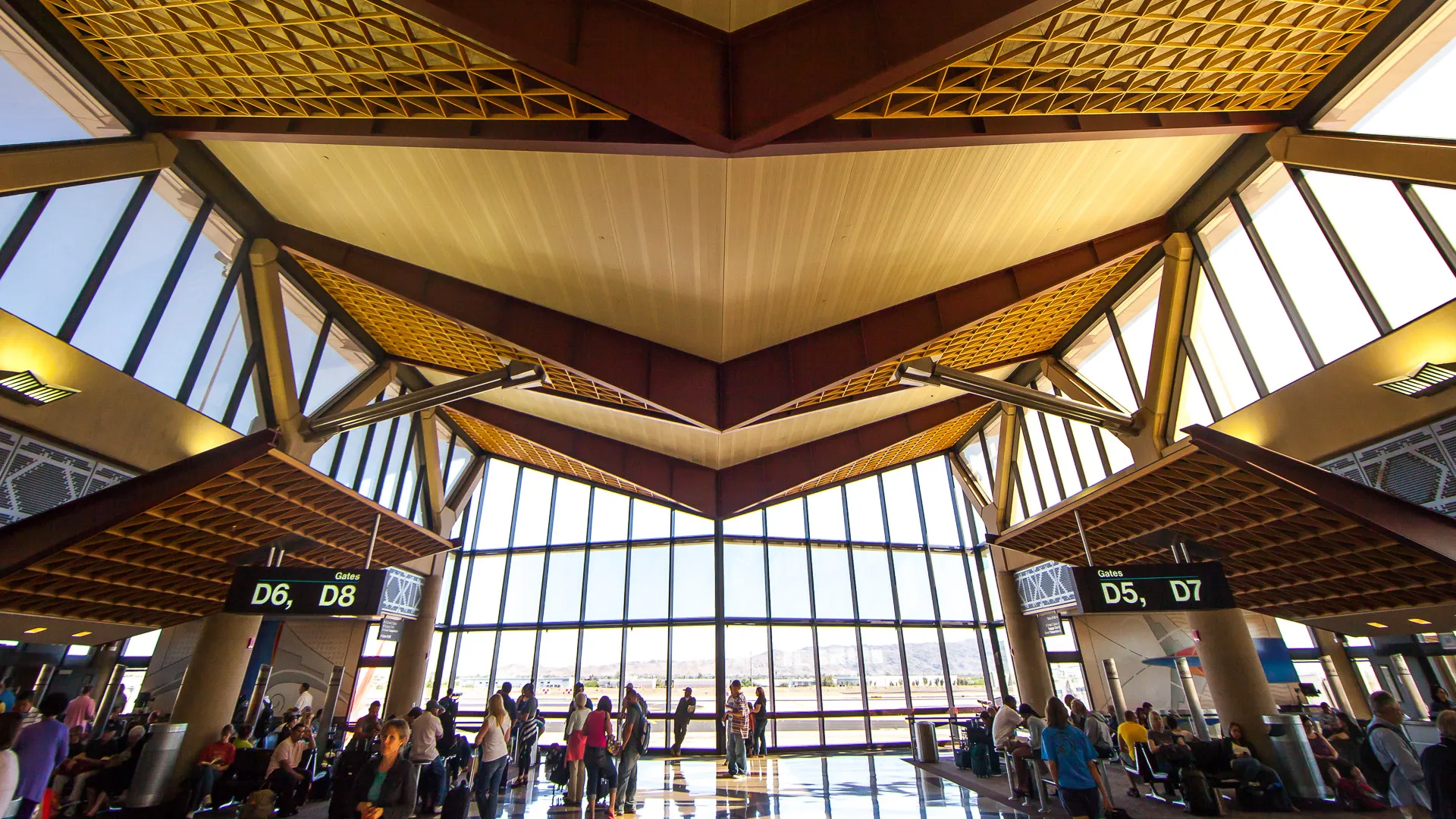 When you're watching your vacation dollars, start by finding ways to save money on airfare. Some of the best airports are cheaper to fly into and offer more reasonable rates on parking, food, WiFi and other amenities.
RewardExpert studied the 45 busiest airports across the nation and compared various expenses — plane tickets, amenities, food, etc. — to identify the 10 least expensive airports in the U.S.
Click through to see some of the best airports for cheap attractions, food, airfare and more.
10. Louis Armstrong New Orleans International Airport (MSY)
Location: New OrleansAverage domestic fare: $316.70
Not only does New Orleans boast one of the cheapest airports in the U.S., but it's also one of the destinations that will be cheaper to visit this year.
Fifteen airlines do business at Louis Armstrong New Orleans International Airport, transporting more than 11.1 million passengers to and from domestic and international destinations each year.
The busy U.S. airport is scheduled to open a new North Terminal in February 2019 that will include 35 airline gates with concessions, music and scents designed to emanate the spirit of New Orleans without ever leaving the terminal.
MSY's Best Feature: Music @ MSY
The airport is named for music legend Louis Armstrong for good reason. Tap your toes or just get up and dance to some of New Orleans' signature music while you wait for boarding or baggage.
Groove to live entertainment on The Big Stage of Concourse C Lobby. Three more post-security venues in concourses B, C, and D require passing the TSA checkpoint to see a show.
Make Your Money Work for You
9. Portland International Airport (PDX)
Location: Portland, Ore.Average domestic fare:* $324.05
Portland International Airport consistently takes top honors on Travel+Leisure's 10 best domestic airport lists, gaining the No. 1 spot from 2013 through 2017.
Serving 17 passenger airlines, the airport has light rail traveling to the city center, where travelers can connect to 97 stations around the city. A 17-seat movie theater, extensive art exhibits and live performers offer lots to do while waiting for your flight.
PDX's Best Feature: Local Flavor, Local Prices
Forget about making an extra stop or two on the way to the airport to avoid expensive concourse restaurant prices. Experience a taste of the city without ever leaving the airport.
Culinary offerings and the price you'll pay both reflect the city's dining scene in the local area. Discover hometown favorites such as Laurelwood Brewing Co., bite into the city's food cart scene or sip a local microbrew.
8. Oakland International Airport (OAK)
Location: Oakland, Calif.Average domestic fare: $303
Nearly 11 million passengers each year pass through Oakland International Airport, the fourth-largest airport in the state, en route to 55 domestic and international destinations.
Multiple transportation options make travel between the San Francisco Bay area and the airport easy. BART departs near the baggage claim area in Terminal 1, and ride-share companies such as Uber, Lyft and Wingz all have airport access.
OAK's Best Feature: Escape Lounge
If you want to feel like a VIP when you travel, head to the Escape Lounge at OAK to enter a more tranquil environment where you can relax, charge your electronics or nosh on light fare. You don't need to be a member — just book your spot online or pay at the door.
Make Your Money Work for You
7. Denver International Airport (DEN)
Location: DenverAverage domestic fare: $312
More than 58 million passengers travel through Denver International Airport each year, making it the sixth-busiest in the U.S.
A layover in the airport offers time to browse unusual architecture and artwork. The airport's permanent collection ranges from bronze gargoyles sitting in suitcases above baggage claim in the Jeppesen Terminal to the towering red-eyed mustang on Peña Boulevard outside. The airport's interactive web guide points you to works closest to you.
DEN's Best Feature: Pet Friendliness
Your furry companion will love a trip to DEN when you fly aboard affordable pet-friendly airlines serving the airport. Private pet-relief rooms let your dogs stretch their legs, or do their business, in a convenient indoor area centrally located in the central hub of A, B, and C gates.
For some pet pampering, head to Paradise 4 Paws resort, a boarding facility where your pet can recline in a private suite, splash in a pool and even get a massage while you enjoy your Denver adventure.
San Jose International Airport (SJC)
Location: San Jose, Calif.Average domestic fare: $322.70
Although it serves the wealthy Silicon Valley, Mineta San Jose International Airport has some of the least-expensive average domestic airfare in the country, according to RewardExpert. The company also cited lower-than-average rates for transportation and parking in its rankings.
SJC's Best Feature: Tech Features
Those expecting to find the best tech features an airport has to offer won't be disappointed. The airport-wide WiFi comes with a free security app that encrypts the open connection. A one-of-a-kind IPal Playground has social companion robots that educate, entertain and engage in interactive play. Concierge robots roam between gates 11 and 25 to assist travelers in multiple languages.
There also are handy automated concessions that will clean your jewelry or eyeglasses in less than two minutes as well as automated massage chairs.
5. Tampa International Airport (TPA)
Location: Tampa, Fla.Average domestic fare: $312.20
Twenty domestic and international airlines serve TPA, with nearly 19 million passengers traveling through the airport annually. While that's an impressive number, it serves about half as many passengers per year as Miami International Airport (44.6 million) and Orlando International Airport (41.9 million), according to the Federal Aviation Administration.
Still, the airport ranked the highest in the 2017 J.D. Power Airport Satisfaction Rankings for large airports.
TPA's Best Feature: USO Central Florida Welcome Center
Thousands of military personnel traveling through the airport and the city of Tampa find a home away from home at the USO Central Florida Welcome Center.
Troops have access to computers, phones, printers, WiFi, CAC readers and popular gaming systems. The area also includes a sleeping and quiet area, library, travel services and access to toiletries to spiff up to meet loved ones.
4. Phoenix Sky Harbor International Airport (PHX)
Location: PhoenixAverage domestic fare:* $327.14
When the city of Phoenix took over ownership of Sky Harbor Airport in 1935, it was nicknamed "The Farm" because of its rural location. Today, the city has grown up around it, leaving Sky Harbor centrally located in the fifth-largest metro area in the U.S.
A mega airport serving more than 43 million passengers a year, it's one of the top four airports for customer satisfaction in the country, according to the 2017 North America Airport Satisfaction Study.
PHX's Best Feature: Phoenix Airport Museum
Each of PHX's three terminals houses a portion of the Phoenix Airport Museum, where you can view 900 works of art in media ranging from acrylic and oil paintings to metal and ceramic sculptures.
The museum displays are convenient to the SkyTrain platforms in Terminals 3 and 4 and at the East Economy Parking Garages. Get in touch with Phoenix history and culture at the displays, which feature some of the state's most renowned artists.
3. Orlando International Airport (MCO)
Location:: Orlando, Fla. Average domestic fare:: $253.90
Orlando International Airport is No. 2 in terms of passenger numbers in Florida, with about 41.9 million passengers taking off and landing annually.
Despite its heavy passenger load, Orlando took top honors in the J.D. Power 2017 study of passenger satisfaction for mega airports handling at least 32 million passengers per year.
MCO's Best Feature: Airport Services
MCO gets top marks for its facilities and ease of getting around in the J.D. Power study. The airport has an app for both iPhone and Android smartphones that gives passengers the lowdown on current TSA wait times, the closest shopping and dining options and location-based directions to your gate or other destination.
A Hyatt Regency hotel inside the airport's main terminal eliminates time in traffic and offers a convenient resting place for weary travelers. And restaurant options at the airport range from fast food to fine dining.
2. McCarran International Airport (LAS)
Location: Las VegasAverage domestic fare: $227.50
If you can't wait to gamble when you get to Vegas, you won't have to: McCarran International Airport has 1,300 slot machines throughout for travelers 21 and older.
More than 47.4 million passengers pass through McCarran International Airport annually, served by 31 major airlines. Although it's the eighth-busiest airport in the nation, the airport ranked third in the nation for mega-airports in the 2017 J.D. Power Airport Satisfaction Ratings.
LAS's Best Feature: Luggage Microchips
The odds are definitely in your favor when it comes to leaving with the correct luggage. McCarran International Airport is one of just a dozen airports in the world that tracks checked baggage using radio frequency microchips.
When you check your baggage, your bag will get one of McCarran's paper luggage tags that contain small copper chips instead of barcodes that can be misread by scanners if wrinkled. It's improved accuracy from as little as 80 percent to more than 99 percent.
1. Fort Lauderdale-Hollywood International Airport (FLL)
Location: Fort Lauderdale, Fla.Average domestic fare: $241.80
Roughly 80,000 passengers pass through Fort Lauderdale-Hollywood International Airport's four terminals each day. The airport is one of a few that still offers luggage storage, giving you more freedom to explore during a layover or while waiting for a flight.
You also can get baggage wrapping service for just $15 per bag. The protective plastic wrapping prevents damage or loss to your luggage and comes with guarantees of up to $5,000 if your luggage is damaged or lost.
FLL's Best Feature: Viewing Areas
Kids love to watch planes take off and land, and FLL rolls out three prime spots to watch the action.
Check out the view from the west end of the north runway at the Ron Gardner Aircraft Viewing Area, or get a birds-eye view from the Hibiscus Garage Viewing Area. Walk along a 30-acre greenbelt with lush wetlands and vegetation and sit under a shady tree on the airport's south side.
All costs were sourced from RewardExpert's "2017's Most and Least Expensive U.S. Airports" report. *For airports that were missing the average domestic fare in the RewardExpert report, the latest 2016 average annual figures from the Bureau of Transportation Statistics were cited.
Photo Disclaimer: Please note photos are for illustrative purposes only.

BEFORE YOU GO
See Today's Best
Banking Offers