8 Tips to Fly Business Class for the Price of Economy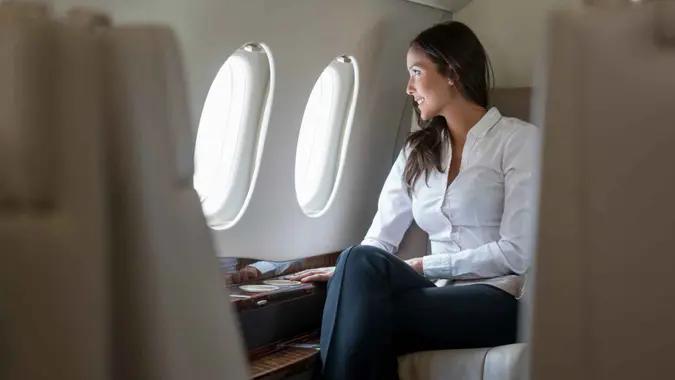 andresr / Getty Images
With flight delays, cancellations, and rising prices, flying has become more stressful than ever. But if you can upgrade your experience from economy to business class, you may enjoy your time in the air a little bit more.
Fortunately, there are ways to find cheap airline tickets – and you don't necessarily have to fly the cheapest airlines to get them. Here are eight ways to find cheap flight tickets without spending hours booking travel or settling for economy class seats.
1. Use Google Flights (Or Another Service) To Track Prices Automatically
Google Flights recently announced new features that make it easier to find cheap airline tickets, including business class flights, GOBankingRates recently reported. To use this service, you'll need to be logged in to your Google account.
Once you set up the flights you want to track, you'll get an email if the price drops dramatically. You'll also get an email if it looks like the price may rise soon.
Other services, including Going, Expedia Flights Deals and Skyscanner, offer similar features. These services can also help you spot fare mistakes that can lead to substantial savings. ViaTravelers.com reported that some readers of their site recently found business class tickets for "just a few hundred dollars," when they normally sell for $16,000 each.
If you receive a notification of a deal like this, don't hesitate to make a purchase. Business class seats are normally refundable if your travel plans change.
Make Your Money Work for You
2. Be Flexible About When You Fly
Having some flexibility in your travel dates can often lead to significant savings. Google Flights uses historical data to discover the cheapest dates and times to book a flight as well as the cheapest times to fly. Set up alerts for flexible travel dates to improve your odds of snagging cheap business class tickets.
3. Ask for An Upgrade at the Gate
Airlines don't issue upgrades as frequently as they used to, but it never hurts to ask. Do everything you can to improve your odds by being nice and friendly to the agent. If there is a special occasion, such as a honeymoon or birthday celebration, it doesn't hurt to mention it.
Also, understand that the bigger the airplane, the more likely you might get an upgrade. Research the plane in advance so you understand the odds. A flight with more empty seats, obviously, offers a better chance of an upgrade so flying during off-peak times may help your chances, too.
Check in as early as possible, too, so your name will be first on the list for potential upgrades. And let the airline know you're willing to pay for a better seat.
Sometimes, you may be able to get a business class upgrade for a small fee on the day of your flight. But other times, the airline will grant this perk free.
4. Be Willing To Wait for a Later Flight
If you are on an overbooked flight and you volunteer to give up your seat, you may earn an upgrade to business class along with a travel credit for a future flight, as well as cash. The amount of compensation you receive depends on how desperate the airline is to free up space without mandating people to give up their seats, how overbooked the flight is, and how many other passengers are willing to give up seats.
Make Your Money Work for You
5. Keep an Eye on Your Email for Upgrades
If your flight still has business class seats available a few days before your flight, they might email passengers offering an upgrade at a substantial discount.
Sometimes, customers will have to bid for the upgraded seat. You will enter the price you're willing to pay and will find out shortly before your flight if your offer was accepted. Other times, you can pay whatever rate the airline is asking to guarantee a business class seat.
Of course, this tip involves booking an economy class fare and hoping you get lucky; if you have a long-distance international flight where roomier seats are imperative for you, try other methods to get a cheap business class flight.
6. Leverage Credit Card Points or Frequent Flyer Miles To Pay for the Ticket
If you have a sign-up bonus from a top-tier travel rewards credit card or have accrued points for several months, you may qualify for a business class ticket for free. You might also be able to upgrade a cheap airline ticket in economy class using your miles or points.
Using the same card for all your purchases and booking with the same airlines frequently (with a carrier that also allows you to transfer your credit card points) can help you earn the points you need for free or cheap business class fares.
7. Earn Complimentary Upgrades as a Frequent Flyer
If you earn enough miles on your airline of choice, you might qualify for free upgrades without having to cash in extra points. United Airlines, Delta Airlines, American Airlines and others offer many of their top-tier rewards members free upgrades on many flights. Read the fine print on your agreement or speak to a representative to see what's possible.
8. Use a Travel Agent To Help You Find Cheap Airline Tickets
While you can track flight prices, call for upgrades, or keep an eye out for upgrade emails, it requires an investment of time and legwork for the extra leg room. Travel agents specialize in making sure their clients get the lowest priced fares and plenty of perks.
Sometimes, a travel agent's industry relationships and leverage are enough to secure free upgrades to business class.
Bottom Line
You can find business class tickets for the price of economy – or even less. You just have to understand how airline bookings work and be privy to a few frequent flyer secrets to get those cheap flight tickets.
FAQ
Here are the answers to some of the most frequently asked questions about flying business class and economy flights.
How much does it cost to fly business class?

The average price for a round-trip, business class ticket on an international flight is $1,911 in the first two weeks of September 2023, according to data from Kayak.

How do I change my economy ticket to business class?

You can upgrade from economy to business class in many ways. If you are willing to pay for an upgrade, you should be able to change your ticket as long as business class seats are available. You can also trade in frequent flyer points for an upgrade. You can sacrifice your seat for a later flight. Airlines often offer cash, plus business class upgrades, to travelers willing to give up their seat on an overbooked flight.

How to get the lowest business class fare?

You can find the lowest business class fare by booking through a travel agent or setting up price alerts with a service like Google Flights.

How much more expensive is business class to economy?

As travelers seek that premium experience of business class, tickets have skyrocketed. A non-stop flight from New York to Paris on Sept. 22, 2023 returning one week later went for $980 in economy on Delta Airlines, while business class seats exceeded $5,000 for the same flight.
Our in-house research team and on-site financial experts work together to create content that's accurate, impartial, and up to date. We fact-check every single statistic, quote and fact using trusted primary resources to make sure the information we provide is correct. You can learn more about GOBankingRates' processes and standards in our editorial policy.