How Stimulus Checks Changed the Financial Future of These Recipients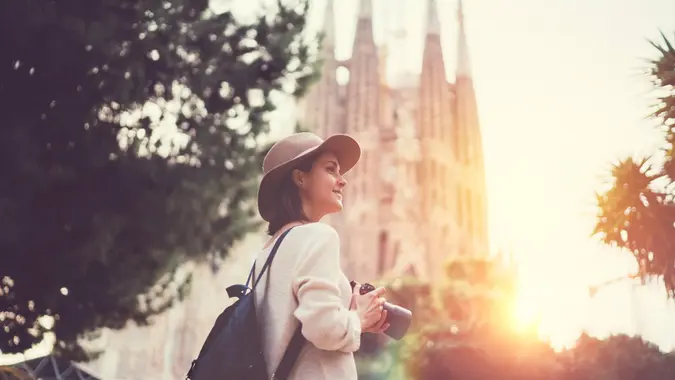 martin-dm / Getty Images
When the first round of stimulus checks arrived in millions of bank accounts across the country, most of it went right back into the economy. That, according to Forbes, is because 75% of the country's households were in such dire financial straits that they had to spend the cash as soon as they received it on immediate necessities.
Explore: Your Biggest Money Etiquette Questions Answered
Save More: Back-to-School Tips To Help You Cut Costs
By the time the second round of payments rolled around, about half were able to use the windfall to pay off debt. When round three came along in 2021, roughly one in three recipients was stable enough to save most of what would be their final payment.
But what did history's biggest transfer of wealth from the government to the people really mean to regular folks? GOBankingRates spoke to ordinary people who did extraordinary things with their slice of the pie. Here are their stories in their own words.
A Struggling Educator Survives — and Changes Careers
Amanda Mae Renkel, owner of Mae's Miles and Music, was living paycheck to paycheck until April 2020, teaching ESL online to children in China. She enjoyed the flexibility, but often had to wake up before 5 a.m., which was becoming a drain.
Make Your Money Work for You
The payments changed all that.
"Each stimulus check seemed to be more valuable than the last," said Renkel. "The final payment in March 2021 solidified my financial security. For the first time in my life, I had a small savings account and wasn't worried about what would happen the following month."
In August 2021, she learned that her job was ending as the Chinese government imposed strict regulations on U.S.-based teachers. Thanks to the stimulus payments, Renkel was able to pivot and recover.
"Through another teacher, I learned about proper SEO techniques when blogging," she said. "I hired her as a blogging coach, which wouldn't have been possible without the stimulus checks. I started my blog in 2017 but never understood how to gain views. Now I'm watching my blog grow each week and month.  As my blog is about running, I got certified as a running coach at the start of 2022. Suddenly, this side hustle is beginning to look more like the next chapter of my life. The stimulus checks didn't make me a millionaire, but for someone living tightly within my means, they truly changed the course of my life."
Make Your Money Work for You
Take Our Poll: What's the Table Time Limit on a $400 Restaurant Meal?
A Cash-Strapped Student Traveled the World and Found Her Calling
Kristin Lee is a travel expert and the founder of Global Travel Escapades, but if it weren't for the stimulus checks that came her way during the pandemic, she'd almost certainly have a different job title.
"Before the pandemic hit, I was a full-time student, working three part-time jobs at my university to help pay off expenses," said Lee. "When the pandemic hit, and I started receiving stimulus checks, my monthly income more than doubled. This was huge because simultaneously, my monthly expenses dramatically decreased with remote learning and not being as socially active. With the extra money, I was able to save and invest most of it."
By the time she graduated in June 2021, she was much more financially secure and realized her emergency fund could last her about a year.
"As a result, I traveled the world for a couple of months, visiting 14 countries and 20-plus cities. The experience was so eye-opening that I decided to fully commit to travel blogging and working on various side hustles. If I had not received the stimulus checks, I'm positive I would've simply gotten a research position in a lab immediately out of college. Life would be almost routine. Instead, I'm growing my side hustles that I'm passionate about, always planning the next big adventure, and never sure what the next day holds."
Make Your Money Work for You
For One Family, Checks Delivered a Home — and a Future
Dennis Shirshikov is a strategist at Awning.com, a real estate company for investors. Unlike so many people who had to spend their stimulus checks on immediate expenses, Shirshikov had the luxury of using his payments to build a future.
"The stimulus checks allowed my wife and I to put a down payment down on our house," said Shirshikov. "We got very lucky and found a bed and breakfast that was for sale. For now, it's a single-family home, but we plan on running the bed and breakfast as a form of early retirement in the future. In a way, those stimulus checks gave us the money for a down payment, got us out of renting, and took care of our retirement."
A Real Estate Pro Converted Stimulus Into Digital Assets
Cassie Alongi, a real estate broker and co-founder of We Buy Any House In California, never had any doubt about what she would do with her share of the federal pandemic stimulus.
"When it was announced that taxpayers would get the relief funds, I didn't change my mind on what I was going to do with the cash — invest in crypto, buy the cheap coins and see what it would look like after the pandemic. I believe I made the right move even though the coins in quote aren't doing fine at the moment. But it's all good. My eyes are fixated on the long-term reward. That's what I enjoy doing with free money. I convert it into assets."
A Car — and an Income Stream — for the Next Generation
While many people used their checks to build a foundation for their futures, others paid it forward to their children.
"I was fortunate enough to keep my job and was not just striving to survive," said Khamis Maiouf, CEO of the Book of Barbering. "The stimulus checks were a bonus for me. However, I was working from home, which cut my expenses. We were all aware that during the pandemic, we were not allowed to go on tours or eat outside in hotels. So I saved the money from my stimulus checks and used it to buy a car for my son. He now drives it for Uber as a side hustle and earns some money."
More From GOBankingRates
Make Your Money Work for You