Inflation Drops to 2-Year Low Despite Grocery and Rent Costs Increasing — Here's the Next Fed Move According to Experts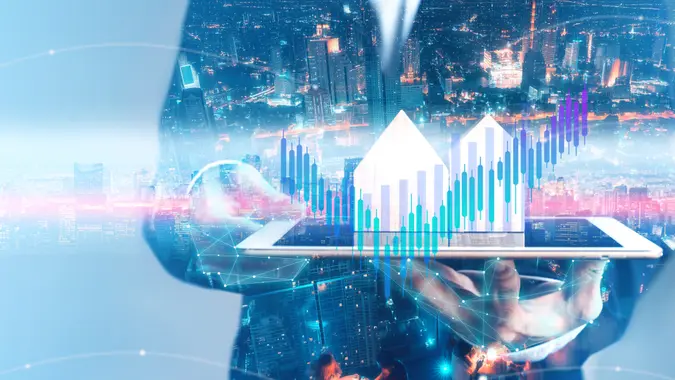 Wiphop Sathawirawong / Getty Images/iStockphoto
Consumer inflation dropped significantly in May, standing at 4% — the smallest 12-month increase since the period ending March 2021 — according to the Bureau of Labor Statistics' (BLS) much-awaited Consumer Price Index (CPI), released June 13. A drop in energy prices helped drive inflation down.
On the other hand, shelter and user car prices remained the largest drivers in consumer inflation. Now, the question remains whether this will give enough reason for Federal Reserve officials to skip a rate hike on June 14 — something several politicians and economists have been calling for. If not, this would be the 11th consecutive time since March 2022 that they would do so.
Ben Vaske, investment strategist at Orion Advisor Solutions, deemed the improvement "dramatic," adding however, that while it is positive news for the U.S., home and auto consumers are still feeling the effects of this historic run of inflation, as shown by the core figure.
This latest set of data comes on the same day as the start of the Federal Reserve's Federal Open Market Committee (FOMC) two-day meeting – and many experts said that the slow but steady progress in curbing inflation might set the stage for a pause in rate increases. The combination of lower prices and lower interest rates would provide much relief to consumers, who have been dealing with shrinking wallets for many months.
Make Your Money Work for You
The May report shows continued progress in the fight against inflation and in turn, it should reinforce expectations for the FOMC to skip a rate hike on June 14, while leaving open the possibility of a 25 bp hike in July, said Jeffrey Rosenkranz, portfolio manager, Shelton Capital Management.
The sentiment was echoed by several experts, some of whom say that while core CPI was higher than expected, it does not justify another hike this month.
All in all, these results are not enough to change the market's pricing of no rate hike at the June meeting, said Amelia Bourdeau, managing director at Diamond Standard.  
"The market is pricing 96% probability of a pause in June. There is no reason for the FOMC participants to go against that pricing," she added.  
This was in line with estimates, as economists surveyed by The Wall Street Journal estimated that inflation rose 4% in May from a year earlier. It is also a notable decrease since April's 4.9% figure and a huge decrease since the 9.1% of last June, according to BLS data. Yet, it is also a far cry from the Fed's 2% target.
Meanwhile, core CPI, which excludes food and energy prices, rose 0.4% in May however, and is up 5.3% from a year ago- something that could drive officials to resume hikes at the July meeting, several experts argue.
"While it seems likely that the FOMC will vote to pause in June, with monthly core inflation still high, it will be hard for the more dovish members of the FOMC to convince their colleagues not to raise rates next month, "said William J. Luther is the Director, American Institute for Economic Reseach's Sound Money Project and an associate professor of economics at Florida Atlantic University.
Make Your Money Work for You
Energy and Gas
The energy index fell 3.6% — an 11.7% decrease over the year. Meanwhile, the gasoline index decreased 5.6% — a 19.7% drop over the year. And the electricity index fell 1%, still up 5.9% over the year.
Food
Following two months of unchanged prices and unfortunately for consumers, food prices were up 0.2% in May — a 6.7% increase over the year.
The food-at-home index increased 0.1% for the month and 5.8% over the year, while the food away from home rose 0.5% in May. Food items that increased for the month include fruits and vegetables, which were up 1.3%  in May.
On the other hand, the index for meats, poultry, fish and eggs decreased 1.2% in May, as the index for eggs fell 13.8%, the largest decrease in that index since January 1951, the BLS said in the release.
Shelter
Shelter prices rose 0.6% for the month, increasing 8% over the last year, accounting for more than 60% of the total increase in the core CPI, the BLS said.
Rent prices were up 0.5% in May.
"Shelter costs should continue to moderate as tougher comparisons make continued year-over-year gains mathematically harder and the impact of higher rates continues to bite," said  Shelton Capital Management's Rosenkranz. 
Take Our Poll: Are You Concerned About the Safety of Your Money in Your Bank Accounts?

Used Cars
As for used car prices, the May CPI data is inconsistent with other industry data including the Manheim index, he added.  "We would expect this to be an anomaly that reverses in future months and resumes trending lower, as new vehicle production continues to ramp up as the chip shortage alleviates, bringing the overall supply of vehicles more into balance," he said.
Make Your Money Work for You
More From GOBankingRates