Inflation Is Decreasing: What That Means for Your Grocery Items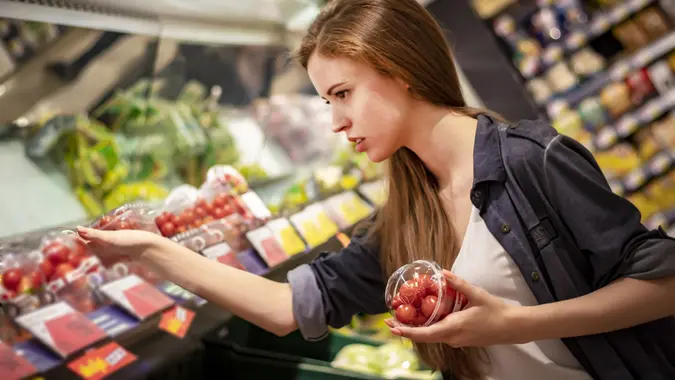 RealPeopleGroup / iStock.com
The recent interest rate hikes, courtesy of the Federal Reserve, seem to be fulfilling their intended purpose. Inflation, while still high, is dropping.
However, consumers are, unfortunately, pumping the brakes on spending across several categories. In a recent Forbes article, Commonwealth CIO Brad McMillan discussed the potential for a recession later this year, which may make shoppers close their wallets.
But there's also another culprit: grocery prices. The cost of feeding your family at home has skyrocketed over the past couple of years. According to the United States Department of Agriculture (USDA), that trend will likely worsen in 2023.
The USDA predicts the following price increases this year:
Eggs: Nearly 30%.
Fats and oils: More than 15%.
Cereal and baked goods: More than 11%.
Processed vegetables and fruits: More than 11%.
Dairy: Nearly 6.5%.
Poultry: Nearly 3.5%.
Other foods: 8.5%.
There's positive news if you're a beef or pork eater, though. The cost for these proteins is expected to drop around one percent.
Take Our Poll: Would You Move for a Job That Paid You a $10,000 Signing Bonus?
Reduce Your Grocery Bill
It looks like consumers will have to deal with high food prices for the foreseeable future. Fortunately, there are many ways to save money on groceries, including, but not limited to:
Shop on Wednesday. Stores often release special deals that day.
Buy generic goods. They usually taste the same as their name-brand counterparts but cost less.
Use coupons. Most grocers offer both paper and digital ways to save.
Download an app. Mobile apps like Ibotta can help you earn cashback on your purchases.
Check the unit price. That cost will help you compare your options to determine the best value.
Make Your Money Work for You
You may also want to buy groceries at Walmart, where many items are sold for less than you'd find at other grocers.
More From GOBankingRates
Make Your Money Work for You