Inflation Relief: Does Rise in Prices Strengthen Debate for More Stimulus Checks — Or Weaken It?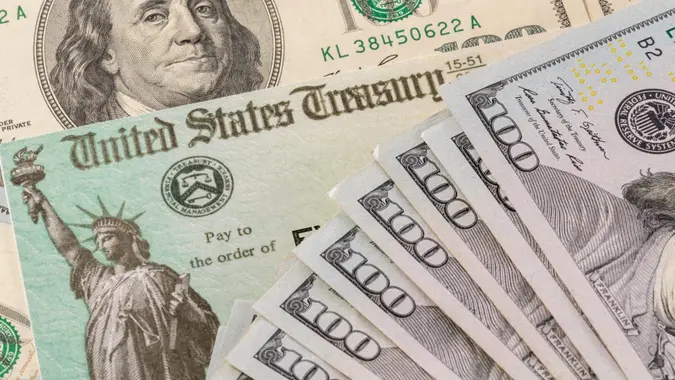 BackyardProduction / Getty Images/iStockphoto
Although the inflation rate dipped for a seventh straight month year-over-year in January, the consumer price index increased significantly, 0.5%, from December to January. With inflation not falling as fast as the Federal Reserve would like — and Americans still struggling to afford even the most basic necessities — many are urging the federal government to consider additional stimulus checks for 2023.
See: What Is the Highest Income Level for Food Stamps in 2023?
Find: With a Recession Looming, Make These 3 Retirement Moves To Stay On Track
After three Economic Impact Payments (EIP) were issued by the IRS to qualified Americans, many individual states stepped in and used surplus budget funds to provide additional relief in the form of stimulus checks and tax rebates to their residents amid persistent high inflation.
As GOBankingRates previously reported, 62% of Americans polled said they support more stimulus checks this year. However, the federal government has no immediate plans to issue stimulus checks, and some critics argue that further stimulus checks may exacerbate inflationary pressures.
Make Your Money Work for You
Too Much Stimulus Could Create More Inflation
Although stimulus supporters often say that inflation checks don't make as much of a difference as critics claim, flooding the country with more cash might drive inflation up too quickly. Speaking to Forbes, assistant professor of business law at Georgia College and State University, Nicholas B. Creel, noted that current inflation is being driven by supply issues and fuel prices. With relief check recipients normally spending their checks quickly on goods and services, it creates an unwelcome aggregate demand.
"When aggregate demand goes up, but supply remains stagnant, prices generally rise as a result meaning it further increases inflationary pressure in an economy," Creel suggested.
Are Americans Getting Used to Free Money?
With demand already high, stimulus checks might not actually benefit households who are paying more for goods due to the aforementioned inflation.
Dr. Jaime Peters, assistant dean and assistant professor of finance at Maryville University, indicated additional stimulus spending may contribute to the problem of inflation and cause it to persist.
Make Your Money Work for You
"New stimulus checks will improve people's feeling of wealth and increase the money chasing the few goods," Peters said. "Additionally, a new round of stimulus checks may result in people being able to avoid returning to work for a few more months, which would reinforce the labor shortage — resulting in continued supply side shortages."
Jonathan Wolff, professor of economics at the Farmer School of Business at Miami University in Ohio, suggested the task of getting supply and demand more leveled relies on efforts to increase production, potentially by reducing business taxes temporarily to make domestic businesses more competitive. He also took a stronger stance on government payment pauses.
Take Our Poll: Are You Concerned the U.S. Debt Ceiling Issue Will Endanger Social Security?
State Stimulus & Taxes: Is Your Inflation Relief Check Taxable?
"Give people a stronger incentive to work, and remove the disincentives to stay on the sidelines," he told Forbes last summer. "Governments can do this by temporarily reducing income taxes and ending Covid era stimulus programs like eviction moratoriums and student loan forbearance."
More From GOBankingRates
Make Your Money Work for You