Lack of Child Care Costs Parents $5,500 a Year — How Much Does It Impact Businesses, Government and More?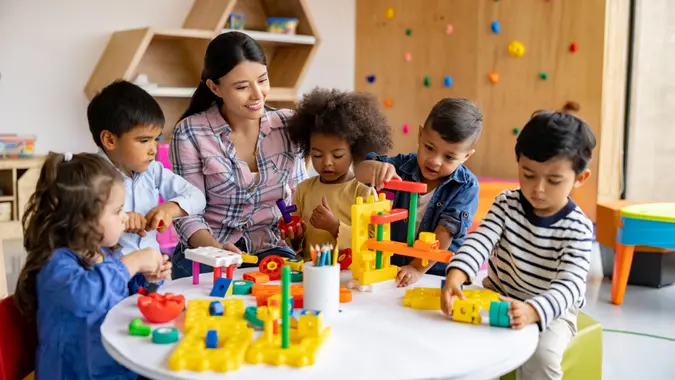 Hispanolistic / Getty Images
Raising children is not cheap. There's the diapers, food and clothing, not to mention the mounting costs of education. And when it comes to child care, costs can top tens of thousands a year — as can not having proper care, which could add up to $5,500 a year for families (due to time off work, or even losing out on jobs entirely). But it's not just parents bearing the cost: Businesses, the government and even taxpayers are impacted as well when guardians are unable to find quality, reliable child care options.
See: Child Care Costs Are Skyrocketing — Here's How Much More Families Are Paying
Find: With a Recession Looming, Make These 3 Retirement Moves To Stay On Track
A new report from ReadyNation found that the child care crisis — or lack of adequate resources — costs the economy $122 billion every year. When child care isn't available, parents might need to take time off work, choose to leave the workforce, or even be fired, and the issue has quickly snowballed into a national problem.
Make Your Money Work for You
The report states: "Businesses lose $1,640 on average for each working parent due to lost revenue and hiring costs because of insufficient child care, totaling $23 billion annually." And the government faces a related loss, too — $1,470 less per parent, or $21 billion every year — due to sales tax revenues being hampered when families have to tighten purchases and consume less in order to defray the costs of lost employment.
The most shocking result, perhaps, is the fact that the $122 billion economic loss is double what it was just four years ago. ReadyNation calculated the same deficit at $57 billion annually as of 2018, per CBS News.
ReadyNation's study found that 85% of parents found issues with child care to be affecting their work hours or productivity, including 64% of respondents who noted the problem made them tardy in reporting to work over the last three months. A further 58% said not having access to child care made them miss a day of work within the last three months, and 33% of parents noted moving to part-time work in order to manage. Another 26% said they quit work due to the issue, and 23% reported they were fired for related reasons.
Make Your Money Work for You
Compounding the issue is the fact that the country is still in the throes of a massive labor shortage. There are currently 11 million job openings and not many people willing to fill them, per CBS News. Some employers have tried to counteract this trend by offering pre-tax dependent care savings accounts and on-site (or near-site) child care options at the place of business. However, the latter options are presented at only ~10% of workplaces, according to CBS.
The lack of resources is working against the economic recovery of the country, some analysts and politicians suggest. In fact, as Vox reported, last August Senate Leader Chuck Schumer said he believes inadequate child care is the "number 1 or number 2 reason" we have a labor shortage.
Take Our Poll: Do You Have a Second Job or Backup Plan in Case You Are Laid Off?
More: Costco's Best Deals? Employee Reveals 10 Standout Buys for Your Money
Many advocates are calling on the government to intervene with more funding opportunities to encourage the growth of child care centers and provide more financial resources for parents. Vox alleged that, "the U.S. could lose at least half of its licensed child care supply if the federal government doesn't step in."
Make Your Money Work for You
More From GOBankingRates
Make Your Money Work for You