More Than Half of Americans Are Driving Less Due to Rising Gas Prices: Here Are 5 More Ways To Save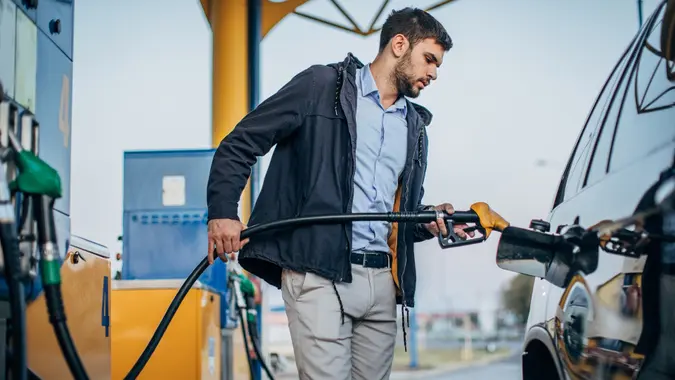 South_agency / iStock.com
Unless you've already gone electric, you don't need a news report to tell you about just how quickly gas prices are rising. The national average was just recently a record $4.316 per gallon, according to AAA, and one record keeps breaking another. Things are so bad that Uber and Lyft are imposing fuel surcharges to help keep their drivers afloat.
So what about people who only drive for themselves? How are they coping and what should they do to get by — especially if they were already on shoestring budgets before prices hit the roof?
See: A History of Gas Prices: Do You Remember How Little You Once Paid?
Read: Record Gas Prices Obliterate Uber and Lyft Drivers' Take-Home Pay — And They Are Not Being Compensated
GOBankingRates surveyed more than 1,000 American adults from across the country and found that more than half — 52.87% — are driving less. Older sets are more likely than their younger counterparts to cut back on driving, although men and women are driving less in nearly identical percentages. But for some people, less time behind the wheel just isn't an option.
Make Your Money Work for You
About 1 in 5 respondents would like to drive less but simply can't manage to. Another 28% aren't changing their driving habits at all.
So, beyond not driving as much as they used to, what can regular people do to endure this very irregular spike in gas prices? GOBankingRates asked the experts to share their best gas-saving tips.
Drive Well
You can't control the price of gas, but you can control how you drive — and how you drive has a lot to do with how much gas you burn.
"Avoid sudden starts and stops," said Jonathan Sykes, CEO of My Car Repair. "Avoid unnecessary braking — don't speed up when the light turns green because the car in front is still stopped."
The U.S. Department of Energy backs up that assertion, stating that aggressive driving like this reduces fuel economy by 15%-30% on the highway and 10%-40% in stop-and-go traffic.
Sykes also recommends shutting off your car when standing.
"Even sitting still, idling cars burn gas and emit pollutants," Sykes said.
Make Your Money Work for You
Here, too, DOE data backs up Sykes' advice — idling cars can burn a quarter to a half-gallon of fuel per hour while starting a car's engine burns only a few seconds worth of gas.
Cheap Gas: Why Does Costco Have Lower Prices Than Other Stations?
Slow Down
One of the best things you can do for your own physical well-being, the safety of other drivers on the road and for your wallet is to simply drop a few mph on the speedometer.
"Maintaining a safe speed or driving just under it can benefit you in more ways than you might expect," said Ian Lang, senior car advice editor at Bumper.com.
According to the DOE, every 5 miles per hour you drive over 50 mph adds 29 cents per gallon of gas at today's prices. Much of that has to do with the aerodynamics at work on your vehicle. "Wind resistance increases the faster you drive, which reduces fuel economy," Lang said.
Along those same lines, rooftop cargo carriers can create enough aerodynamic drag to reduce fuel economy by as much as 25%, according to DOE.
Make Your Money Work for You
Take Care of Your Car
Driving well at modest speeds is part of the battle — but treating your car well can save you even more money on gas.
"Maintain your car properly," Sykes said. "Don't carry around extra weight in your car if you don't need to. Remove unnecessary items like golf clubs or tools that you only use once in a while. Keep the tires properly inflated — the correct pressure is listed on the tire itself — and make sure they're not over-inflated or under-inflated. Poorly inflated tires can reduce fuel economy by 10% or more."
Food Stamps: Can You Use Your SNAP EBT Card at Gas Stations?
Use Apps and Fill Up Early in the Week
Another thing you can control is when you fill your tank — and that stroke of timing matters more than you might think.
"In most cases, gas prices are cheaper toward the beginning of the week," said Phil Dengler, co-owner of The Vacationer. "That means, on average, prices are cheaper on Mondays than they are on Fridays."
A GasBuddy study backs up the assertion that Monday is the best day to fill up — but helpful reports like that aren't the only reason you should download the app.
"The GasBuddy app is a must-have for those looking for the cheapest gas prices," Dengler said. "It is easy to use and shows the cheapest gas station prices near you."
He also recommends using the GetUpside app to save as much as 25 cents per gallon in cash back.
Remember, Good Gas Cards Pay You More When Prices Are High
At the very least, you can make sure you pay at the pump with plastic that rewards expensive gas purchases.
"I always use a credit card when purchasing gas and regularly earn 3% to 5% cash back," Dengler said. "Credit cards like the Hilton Honors American Express Surpass card — earns 6x points per dollar spent on gas — and the Blue Cash Preferred Card — earns 3% cash back on gas — are some of my favorite cards for purchasing gas. Additionally, the Chase Freedom Flex card and the Discover It card — each with no annual fee — regularly offer 5% cash back on gasoline as a part of their quarterly rotating categories. Other good gas cards are the Chase Freedom Unlimited card — 1.5% cash back on all purchases — and the Citi Double Cash Card — 2% cash back on purchases, 1% when you buy plus 1% as you pay."
More From GOBankingRates
Methodology: GOBankingRates surveyed 1,012 Americans aged 18 and older from across the country on between March 8 and March 9, 2022, asking sixteen different questions: (1) Do you consider yourself financially literate?; (2) Where did you learn most of your financial literacy?; (3) Which financial topic do you think you should have learned more about in high school? (Select all that apply); (4) Which financial topic do you still feel you need more education on in 2022? (Select all that apply); (5) When you were growing up, did your parents talk to you about how to manage your money?; (6) Do you think high schools are lacking in financial education?; (7) How has a lack of financial education cost you the most?; (8) At what age did you become comfortable with basic money skills (i.e., writing a check, balancing your accounts, budgeting)?; (9) At what age did you start saving and planning for retirement?; (10) How do you feel about how you used your 2021 American Rescue Plan stimulus check?; (11) Which financial topic did you feel the need to learn more about due to the COVID-19 pandemic? (Select all that apply); (12) What do you not understand about the Child Tax Credit? (Select all that apply); (13) Which part of the homebuying process is most confusing to you?; (14) Which part of the car buying process is most confusing to you?; (15) Are you prepared for the student loan debt moratorium to end in May?; and (16) How are you changing your driving habits with the rising gas prices? GOBankingRates used PureSpectrum's survey platform to conduct the poll.
Make Your Money Work for You