Recession 2023: A 'Credit Crunch' Is Looming — 3 Ways To Prepare, According to Experts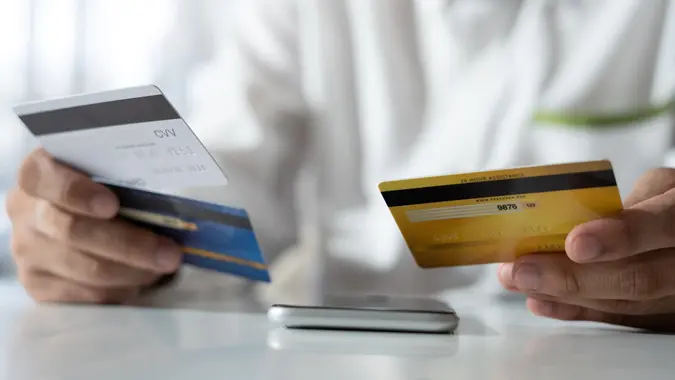 kiattisakch / iStock.com
Interest rate hikes and inflation haven't yet caused a definite recession, as many experts had predicted, but a looming credit crunch could be the tipping point into a recession. Apollo Global Management economist Torsten Slok said in a note last week: "The credit crunch has started."
Attributing the fall of Silicon Valley Bank, along with the collapse of Signature Bank and Credit Suisse, to a "dramatic reversal in loan volumes," Slok predicted a "hard landing" for the U.S. economy.
In a survey released on Monday, April 3, loan demand dropped for the fifth period in a row, MarketWatch reported. Loan volumes also fell, largely in the consumer loan space.
If you're worried about not having access to credit you need — whether that's to start a business, buy a house, or refinance — there are steps you can take to put yourself in a better position.
Keep Tabs on Your Credit Score
You can get a copy of your credit report free annually each year at AnnualCreditReport.com. You can also get a free credit report if you've been denied credit.
Make Your Money Work for You
But you can check your credit score more frequently. Banks like Chase and Capital One offer free credit score tracking as part of their banking services for most checking account customers.
However, the scores they share may not be your actual FICO scores used by lenders to determine your creditworthiness. Use this data to spot trends and get an idea of how your score stacks up.
Most importantly, know the factors that make up your credit score and how the actions you take, such as paying down debt or increasing credit lines responsibly, can help improve your score.
Pay Down Debt
Your debt to available credit ratio — sometimes known as your credit utilization — accounts for 30% of your credit score. It's the most important factor behind your payment history, which makes up 35% of your score.
Paying down debt and making your payments on time, consistently, can help increase your score and make it easier for you to obtain credit when you need it.
Take Our Poll: Are You Concerned About the Safety of Your Money in Your Bank Accounts?
Make Your Money Work for You
Consider a Secured Card
If you are just entering the workforce and trying to build your credit, or you have a low credit score due to high debt or late payments, a secured card could be the solution.
When you open a secured credit card, you'll need to make a deposit. You can then charge up to that amount on your card. Make your payments on time, and some credit card companies will refund your deposit and transition you to an unsecured card. For instance, Discover it Secured gives you the opportunity to transition to an unsecured card after six months of "responsible credit management," according to GOBankingRates.
More From GOBankingRates
Make Your Money Work for You