5 Best Secured Credit Cards To Build Your Credit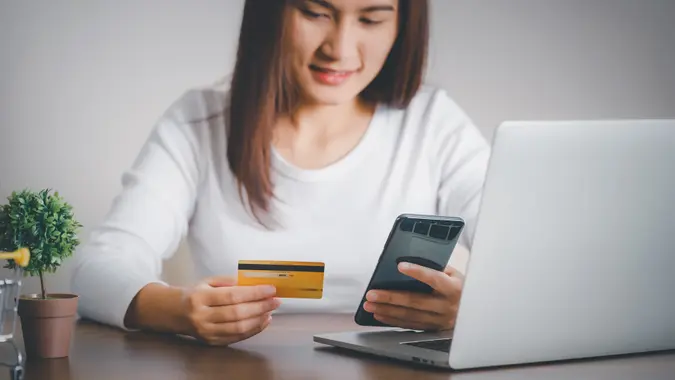 KTStock / iStock.com
You want to take a trip, but the hotel requires a credit card, not a debit card, to check in. And you don't have a credit card because you hit a financial road block a few years ago and can't qualify for one — even though you know you would have enough money to pay the statement at the end of the month.
That's where secured credit cards come in. The cards are designed to give those without any credit a chance to build some, and to give a second chance to others who have a spotty credit history. Several financial institutions today offer secured credit cards, which are backed by a security deposit that will be used to pay your credit card bill in case you can't.
Read on to learn more about how applying for a secured credit card could benefit you both now and in the long term.
What Is a Secured Credit Card?
A secured credit card is designed for consumers who starting out with credit or rebuilding their credit after a financial hardship. With a secured credit card, the account holder gives a security deposit to the card issuer to guarantee payment. The financial institution will hold on to the deposit while the account is open.
Just having enough money on hand to secure the card is no guarantee you will receive a card. You still must apply, in most cases, and your application must go through the approval process, typically online, with the financial institution.
What Are the Benefits of a Secured Credit Card?
If you don't qualify for an unsecured credit card, a secured credit card can send you on the path toward building your credit score. You'll want to carry a secured card that reports to the major credit bureaus to work toward that goal.
The first benefit, however, is to give you access to a credit card to conduct everyday business where a debit card won't do, such as renting a car, for example. But it has longer-lasting implications. By making consistent, on-time payments, you are showing your ability to use credit wisely. Every point that your credit score ticks up make you a better candidate for car loans or mortgages, for example.
When applying for a secured credit card, make sure your usage will be reported to at least one of the three major credit bureaus: Experian, Equifax and TransUnion.
What Are the Best Secured Credit Cards?
What is a good, secured credit card to build credit? GOBankingRates has identified five secured credit cards that could fit your needs.
Discover it Secured Credit Card
Account holders of this secured card offering from Discover receive many of the same benefits as holders of a standard card: no annual fee; 2% cash back at gas stations and restaurants up to $1,000 spent per quarter, plus 1% cash back on all other purchases; and an automatic match of the cash-back earnings of the first year of the account.
After you've had your secured card for six months, Discover will review your account to track on-time payments and also take a look at your credit report. If you've shown "responsible credit management" across your financial spectrum, Discover will refund your deposit.
The interest rate is a , but Discover also offers a 10.99% rate for balance transfers for six months from date of the first transfer, after which the standard APR will apply.
Pro: Opportunity to transition to non-secured card after six months
Con: High interest rate
Capital One's Quicksilver Secured Rewards
With Capital One's offering in this category, you'll receive 1.5% cash back on every purchase you make and 5% cash back on hotels and rental cars if you book them through Capital One Travel. You'll put down a security deposit to match the amount of your credit line, starting at $200, with the opportunity to apply for up to $3,000, based on your creditworthiness and ability to make the deposit.
With "responsible card use," which starts with making on-time payments, your card could be upgraded to an unsecured Quicksilver card and your deposit credited back to you after at least six months. You won't pay an annual fee.
The interest rate is a APR.
Pro: High opening credit line if you qualify and can pay the security deposit
Con: High interest rate
BankAmericard Secured Credit Card
If you need a secured card with a higher credit limit, Bank of America's card might be the best one for you. The bank will consider applications for cards with a maximum $5,000 credit limit — and a matching deposit — and approval will be determined by your creditworthiness and income.
There's no annual fee. Like the other financial institutions, Bank of America from time to time will review your status to determine whether you qualify for an unsecured card.
The interest rate is a APR.
Pro: Higher credit line available
Con: No rewards
Chime Credit Builder Visa Credit Card
Fintech company Chime* offers its secured card only to owners of Chime checking accounts, and the two are intertwined. It's not a secured card in the way others on this list are, however.
Instead of making a security deposit, you'll move money from your checking account onto your Chime Credit Builder Visa. If you transfer $300 from your account via the Chime app to your credit card, that becomes your credit line. And it also becomes your payment at the end of the statement period. You'll need to add money to make additional charges.
How is the Credit Builder Visa different from a prepaid credit card you can buy at the supermarket? Those prepaid products don't build credit, but this one does. Chime will share your information with all credit reporting bureaus, and the report will always be good because you can't make a late payment or go over your limit since your deposit is used to pay off your charges.
There's no annual fee, you won't pay interest and you can't go into credit card debt.
What is the fastest secured credit card to get? It just might be Chime's offering.
Pro: No fees of any type, including interest
Con: No opportunity to spread a payment over a few months, if necessary
OpenSky Secured Visa Credit Card
If your credit history is especially spotty and other banks have turned you down for a card, the OpenSky Secured Visa Credit Card might be your answer. It has one big negative to start — a $35 annual fee — but OpenSky doesn't look at credit reports when you apply. Account deposits, and credit lines, range from $200 to $3,000.
How fast can you build credit with a secured card? On its website, OpenSky says 20% of cardholders improve their credit score by at least 70 points in the first six months of having the card.
The interest rate is an 18.14% variable APR.
Pro: Lower interest rate than other cards
Con: Annual fee
After You're Approved for a Secured Credit Card
The card issuer will let you know how much credit you've been approved for and what your deposit is; it will vary by financial institution. For a $300 secured credit card, for example, your issuer might require a $300 deposit. Others might accept a lesser amount or allow you to pay the deposit in installments.
Your credit card issuer might have required you to make an electronic security deposit at the time of application. If that was the case, you'll receive your card by mail after approval without any other steps required.
Credit bureau Experian says that in other cases, the financial institution will allow you to make your deposit after being approved for a card. If you don't fund your upfront deposit by a set deadline, you'll lose the okay for the card.
Can You Put $10,000 on a Secured Credit Card?
If you have $10,000 in your savings account, you might qualify for a traditional, unsecured credit card. Regardless, the answer is yes. The Sable Secured credit card has a $10,000 credit limit, provided you make a security deposit in that amount.
Financial institutions typically allow you to choose from set amounts for a credit limit, such as $200 or $1,000, or request a customized limit of $2,000 or even $5,000. Remember the security deposit is tied up, and you've lost that as a liquid asset.
No matter what amount you select, you might need a bit extra to pay for processing fees or card fees on top of the security deposit, Experian cautions.
How To Use Your Secured Card
Once your card has been shipped to you and you've transmitted the security deposit, you can activate the card and begin using it.
But know that $500, or whatever your limit is, doesn't have any wiggle room. You'll want to keep a ledger — perhaps via an online app — and add every expenditure you've charged to the card. The balance can add up fast, and you'll want to know just how much will be on your statement when you receive it.
Even if you can pay only the minimum, you're trying to build or rebuild your credit and improve your credit score with the card. Making an on-time payment on or before the due date is crucial toward that goal.
How To Get Your Deposit Back
The easiest way is to get a refund of your deposit is to bring your card balance to zero and close the account. Or, after you've made on-time payments and shown your ability to responsibly manage your account, your financial institution might upgrade your card to one that doesn't require a security deposit and return the money you paid up front.
Asking your card issuer to transition your card to an unsecured one is a wise course. Closing a credit card account sometimes can have a negative impact on your credit report, according to the Consumer Financial Protection Bureau.
Final Take
A secured credit card is a great tool for those who need to establish or re-establish good credit. As you explore cards, remember you'll want one that reports your good payment record to the credit bureaus. And if you don't have much extra money, start small with the credit limit — and the security deposit you will have to make.
You can ask to increase the amount later if you find you need more credit for that hotel check-in, for example.
Rates are subject to change; unless otherwise noted, rates are updated periodically. All other information on accounts is accurate as of Aug. 17, 2022.
Editorial Note: This content is not provided by any entity covered in this article. Any opinions, analyses, reviews, ratings or recommendations expressed in this article are those of the author alone and have not been reviewed, approved or otherwise endorsed by any entity named in this article.
*Chime is a financial technology company, not a bank. Banking services provided by, and debit card issued by, The Bancorp Bank or Stride Bank, N.A.; Members FDIC.
Our in-house research team and on-site financial experts work together to create content that's accurate, impartial, and up to date. We fact-check every single statistic, quote and fact using trusted primary resources to make sure the information we provide is correct. You can learn more about GOBankingRates' processes and standards in our editorial policy.