Resources for Financial Emergencies You Can Use Right Now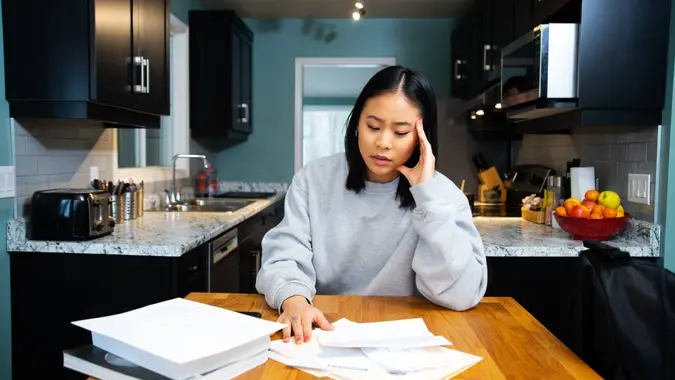 Fertnig / Getty Images
A recent GOBankingRates survey of 1,000 Americans based on inflation found that nearly 30% of respondents cannot pay all of their bills right now, while 23% have gone into debt to pay for everything. And things might not improve anytime soon.
Cash App Borrow: How To Borrow Money on Cash App
Related: 23 Million California Residents to Receive up to $1,050 in Inflation Relief Funds
According to a poll conducted by The Washington Post and the George Mason University Schar School of Policy and Government, most Americans expect the situation with rising prices to get worse in the next year. Another survey found that 70% believe a recession is coming, while roughly the same amount are not prepared for it.
If your finances are in a dire state, here's a list of resources for financial emergencies you can use right now to get help. 
Cash Advances
If you're employed but need financial help to make it to your next paycheck, use one of these financial apps to get a small cash advance. The amounts you can get will vary. 
"Chime's SpotMe program allows you to overdraft $200 on debit card purchases or cash withdrawals with no overdraft fees," Choe said. "This is completely fee-free and automatically applies your next direct deposit to your negative balance."
Home Equity Line of Credit 
"With home values soaring, there's a chance you could have some equity built-up in your home," said Taylor Jessee, director of financial planning, CPA and CFP(r) with Taylor Hoffman Wealth Management. "With a home equity line of credit, you're able to tap into some of that equity and convert it to cash. For example, if your house is currently worth $350,000 and your mortgage balance is $250,000, you have $100,000 of equity in your home. Banks will allow you to take out a line of credit against a portion of that equity, depending on your personal circumstances and overall financial situation."
Cash Value Life Insurance
"Permanent life insurance policies have a cash value component that kind of works like a savings account," said Jessee. "If you have a policy that is more than 10 years old, chances are you have some cash value tucked away inside that policy. You can access the cash value via a loan. Technically you do not have to pay back the loan since you are essentially borrowing from yourself. However, if you don't pay back the loan, then when you die, your life insurance payout will be smaller because the insurance company deducts the outstanding loan amount from the death benefit."
Low Income Home Energy Assistance Program (LIHEAP)
Kevin Huang, former Wall Street professional and CEO of Ambient Home, said, "LIHEAP is a federal program that helps low-income households pay their energy bills (water bill is not included). The program is administered by each state independently, so qualifications and application processes can vary from state to state."
Small Business Spotlight 2022: Nominate Your Favorite Small Biz by July 25
Your Local 211
"The 211 line connects those in need to the appropriate resources or organizations that can help them," said Huang. "They can refer you to housing assistance resources, utility bills payment help, basic human needs, and other low-cost or free services. It's like 911 for financial emergencies."  
Salvation Army
"The Salvation Army offers emergency assistance and homelessness prevention," said Huang. "They can help with utility bills, rent or mortgage payments, emergency food, medicines and more. Specific services vary by area."
Temporary Assistance for Needy Families (TANF)
If you're pregnant, have a child 18 years old or younger or you are 18 years or younger and the head of your household, you can apply for TANF, which provides financial assistance and support services, such as childcare assistance, job preparation and work assistance.
Making Home Affordable
If you're facing foreclosure on your home, find out about mortgage assistance options through Making Home Affordable, an official program of the U.S. Department of the Treasury and the U.S. Department of Housing and Urban Development.
Housing Choice Voucher Program (Section 8)
If you meet low-income guidelines, you can apply for a housing voucher. Be aware that the Housing Choice Voucher Program usually has long waiting lists. If you're on the verge of losing your home or you are currently homeless, another resource is the U.S. Department of Housing and Urban Development's Find Shelter tool. 
USDA National Hunger Hotline
Contact the USDA National Hunger Hotline at (866) 348-6479 or (877) 842-6273, Monday-Friday, 7 a.m. EST to 10 p.m. EST. You can also find local food banks and programs through Feeding America. Also, check with religious organizations in your area that run a food pantry.
Modest Needs
Modest Needs is a nonprofit organization that offers financial assistance to qualifying people. You'll fill out a free application for assistance, and if your request is granted, Modest Needs will remit the payment directly to the creditor or vendor listed in your application.
National Association of Free & Charitable Clinics
If you're uninsured or underinsured, the National Association of Free & Charitable Clinics is a resource to find free or low-cost healthcare. Another option to find a free or low-cost community clinic in your area is Find a Health Center. 
Crowdfunding Websites
"There are a number of websites that allow people to crowdfund money for a variety of reasons, including financial emergencies," said Professor Michael Collins, CFA of Endicott College and the founder and CEO of WinCap Financial. "For example, GoFundMe is a popular website that allows people to create campaigns to raise money for things like medical bills, education costs and housing expenses."
Credit Counseling
If you're having trouble paying your debts, consult with a credit counseling service provider. However, be aware that not all credit counseling services are equal, and nonprofit doesn't always mean free of charge.
"There are a number of nonprofit organizations that offer financial assistance and support to those in need," said Collins. "For example, the National Foundation for Credit Counseling provides free or low-cost counseling to help people get out of debt."
More From GOBankingRates