5 Best Second-Chance Credit Cards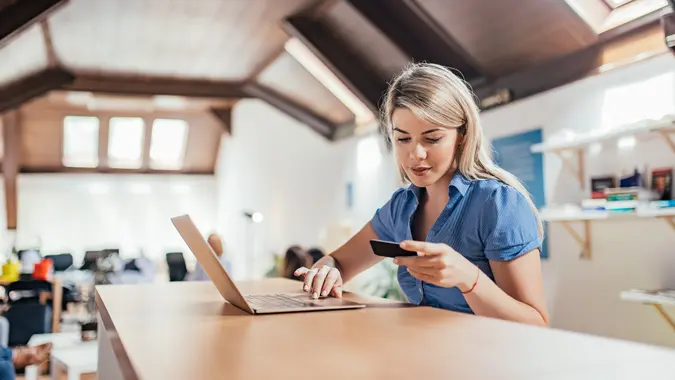 nortonrsx / Getty Images/iStockphoto
Update: Some offers mentioned below may have changed or are no longer available. View current credit card offerings from our partners at CardCritics here on the issuer's website.
If your credit score is below 580, that puts you into the "bad credit" category — but that doesn't mean you don't qualify for a credit card. There are credit cards that can give you a second chance to build or rebuild your credit profile. While it takes time to build credit, second-chance credit cards will provide you with an opportunity for a fresh financial start.
Second-chance credit cards are built for people with low credit scores, making it easy to get approved. Keep reading to learn more about some of the best second-chance credit cards on the market today.
Best Second-Chance Credit Cards
Credit cards fall into either of two categories: secured and unsecured. Unlike unsecured cards, secured cards require a security deposit. To help you choose the right option for you, here's a look at the five best second-chance credit cards, including the best one with no security deposit requirement.
Best for Cash Back Rewards: Discover it Secured Credit Card
The Discover it Secured Credit Card offers various cash back rewards, unlike other secured credit cards. The card offers 2% cash back on up to $1,000 in combined spending at gas stations and restaurants every quarter. You'll also get unlimited 1% cash back rewards on every other purchase. Plus, the card comes with Cashback Match, which doubles all of the cash back rewards you've earned at the end of your first year of card ownership.
Additionally, this credit card has no annual fee, and it will help you build your credit history with the three major credit bureaus. To get this card, you need to deposit an amount equal to your credit line. The card requires a minimum security deposit of $200.
Discover will automatically evaluate your account activity after eight months to see if you meet the requirements for an unsecured credit card. If you qualify, Discover will refund your deposit.
Best for Low Deposit: Capital One Platinum Secured Credit Card
Secured cards typically require you to deposit an amount equal to your credit line. But with the Platinum Secured card from Capital One, you can get a credit limit of $200 after making a refundable deposit of as little as $49.
The Platinum Secured card is another second-chance credit card with no annual fee or foreign transaction fees. The card doesn't offer rewards, but you can build your credit in a couple of months. Capital One will review your credit line in as little as six months.
This card, however, has a very high variable APR, and you can wind up with a late payment fee of up to $40 if you don't make payments on time.
Best for No Credit Check: OpenSky Secured Visa Credit Card
The OpenSky Secured Visa Credit Card doesn't perform a credit check when you apply, so you can start building your credit immediately — regardless of your credit history. OpenSky will report your account activity to the three major credit bureaus every month to help you quickly improve your credit score.
Like other secured credit cards, there's a refundable minimum security deposit of $200, and with approval, you can deposit up to $3,000. Although this card is worth considering if you're looking for one that doesn't require a credit check, it's important to take its $35 annual fee into account.
Best for No Security Deposit: Credit One Bank Platinum Visa For Rebuilding Credit
Credit One Bank's Platinum Visa For Rebuilding Credit is one of the best unsecured credit cards. This means you can get this card without having to pay a security deposit.
The card also offers 1% cash back on everyday purchases, including gas, groceries, internet, cable and more. You can also choose a payment due date that works for you — and Credit One Bank gives you the flexibility to change it.
However, this card has a $75 annual fee for the first year, and after that, it's $99 annually. In addition to this, the card has a high variable APR.
Best for Low APR: DCU Visa Platinum Secured Credit Card
The DCU Visa Platinum Secured Credit Card is a second-chance credit card that offers a low variable APR.
This card offers no rewards but comes with several other benefits, including almost no fees and compatibility with mobile wallets like Apple Pay, Samsung Pay and Google Pay. However, a $500 minimum security deposit is needed to get this card, which is higher than average.
You must also be a Digital Federal Credit Union member. You can join in various ways, such as if a member of your family is a DCU member, you reside in one of several select communities, or you become a member of a partner organization for as little as $10.
Takeaway

It's common to make financial mistakes that can impact your credit score, but repeating them could make things worse. Fortunately, second-chance credit cards can help you build your credit over time and have a healthier credit profile.
Information is accurate as of Oct. 15, 2021.
GOBankingRates is a personal finance and consumer interest rate website owned by ConsumerTrack Inc., an online marketing company serving top-tier banks, credit unions and other financial services organizations. Some companies mentioned in this article might be clients of ConsumerTrack Inc., which serves more than 100 national, local and online financial institutions. Rankings and roundups are completely objective, and no institution, client or otherwise, paid for inclusion or specific placement. Any opinions, analyses, reviews or recommendations expressed in this article are those of the author alone and have not been reviewed, approved or otherwise endorsed by the companies included in the article. All fees and rates are subject to change at the issuers' discretion. Some interest rates might be short-term or promotional offers only, and it is possible additional terms and conditions must be met to obtain the interest rates listed. Rates and availability might vary by region. Verify terms and conditions before opening an account.
GOBankingRates bases its assessment of "best" and "top" products on the above-stated parameters to create a baseline for comparison. This assessment is an approximation of "best" and "top" designed to help consumers find products that might be appropriate for them. There could be other options available as well. Consumers should consider various options appropriate for their circumstances.