Rent Crisis: 8 Cities With the Most Eviction Notices Right Now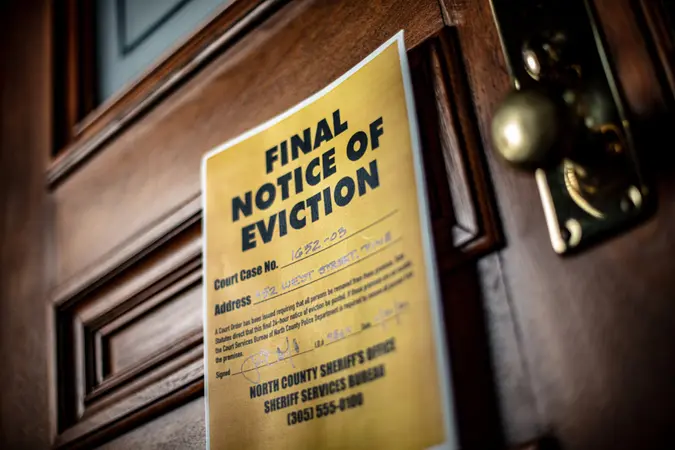 Bill Oxford / Getty Images/iStockphoto
Helped by government stimulus programs and by cities who instituted eviction freezes during the pandemic, more tenants now are finding it difficult to remain in their residences, as rents continue to increase dramatically.
Although inflation is falling, the consistently hot housing market is enabling residential rental rates to soar. Lofty bumps in rent are happening everywhere and causing a lot of fear, especially for vulnerable groups like working single mothers, retirees and people receiving disability payments from the government, said Robert Desir, a New York Legal Aid Society staff attorney.
"People are going to be stuck with this extra cost that many are going to have a really hard time meeting. They are going to have to sacrifice other basics to pay for the rent," Desir said. "If people can't cut corners, they will fall behind in rent, risking eviction."
A rent increase is akin to an eviction notice for many Americans and a power tool for landlords to turn over their rental units to tenants that will pay more. "They can receive a notice from the owner that says, 'I'm going to raise the rent by 25, 50, 75 or 100%' — whatever the landlord thinks that the market can bear," Desir added.
According to Eviction Lab — the Princeton University-run resource for eviction data, tools and research — in 2018, landlords filed 3.6 million eviction cases and nearly 6 out of 100 renting households were threatened with eviction at least once during that year.
Looking at just the 10 states and 34 cities that the Eviction Lab team monitors through its real-time eviction and displacement tracker, there have been over 2.3 million evictions since the middle of March 2020, including 12,273 in the week ending June 3, 2023 (the latest weekly tally).
Make Your Money Work for You
As USA Today notes, Las Vegas landlords have initiated 60% more evictions since January 2022 than they did from 2016 through 2018 and Phoenix has seen about a 40% spike in filings so far in 2023 compared with pre-pandemic years.
Viewing 2016 eviction rankings for locations across America, Eviction Lab listed North Charleston, South Carolina (16.5% eviction rate); Richmond, Virginia (11.44%); Hampton, Virginia (10.49%); Newport News, Virginia (10.23%) and Jackson, Mississippi, (8.75%) as the top evicting large cities in the United States.
However, among the areas it monitors specifically through its Eviction Tracking System (ETS), Eviction Lab claims the following eight cities have seen the most landlord eviction filings since March 15, 2020. (Note: Some cities had eviction moratoriums in place during this period.)
Lists of the top 100 evicting large, mid-sized and small cities and rural areas in the United States, along with a search option of nearly 30,000 places can be found here.
8 Cities With the Most Eviction Notices Right Now
1. New York
Filings Since March 15, 2020: 246,378
Filings From May 28 to June 3, 2023: 1,093
2. Houston
Filings Since March 15, 2020: 174,775
Filings From May 28 to June 3, 2023: 967
3. Phoenix
Filings Since March 15, 2020: 165,723
Filings From May 28 to June 3, 2023: 384
4. Las Vegas
Filings Since March 15, 2020: 127,544
Filings From May 28 to June 3, 2023: 994
5. Dallas
Filings Since March 15, 2020: 93,562
Filings From May 28 to June 3, 2023: 459
6. Fort Worth, Texas
Filings Since March 15, 2020: 92,749
Filings From May 28 to June 3, 2023: 435
7. Miami-Ft. Lauderdale, Florida
Filings Since March 15, 2020: 84,346
Filings From May 28 to June 3, 2023: 799  
8. Indianapolis, Indiana
Filings Since March 15, 2020: 66,240
Filings From May 28 to June 3, 2023: 334  
Make Your Money Work for You
More From GOBankingRates