Housing Market 2023: Consider These 10 Boomtowns In the US Right Now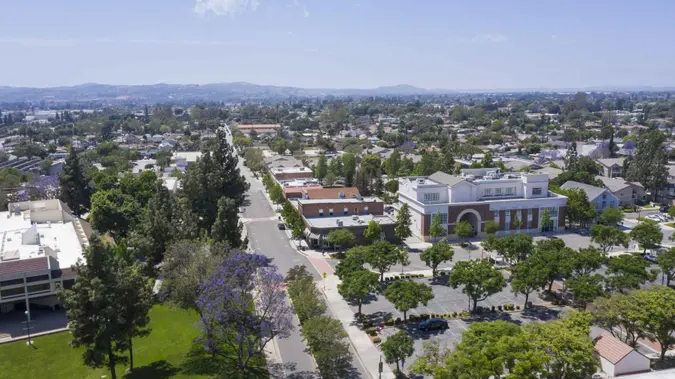 MattGush / Getty Images/iStockphoto
With housing market growth in the sunbelt, a variety of "boomtowns" have popped up in unlikely metro areas. A boomtown is an area experiencing sudden prosperity, either due to new industry or other desirable features.
As people flee pricey cities like New York, San Francisco, and Los Angeles, these 10 cities are showing growth in both population and gross domestic product. A survey from Smart Asset revealed the top U.S. boomtowns filled with opportunity, desirably warm weather (that is, if you can deal with droughts or hurricanes), and reasonable housing prices compared to their big-city counterparts.
Smart Asset analyzed nearly 500 U.S. cities for population growth, housing growth, business growth, and average salaries between 2016 and 2021 to create this list.
Nampa, Idaho
Population growth: 16.2%.
Housing growth: 22.4%.
You may be surprised to see a city in Idaho ranking as the top boomtown. The Midwest city of Nampa boasts 27 parks for those who love the great outdoors. The addition of an Amazon fulfillment center brings job opportunities to this Boise suburb.
If you're looking to move to a place that's well-poised to keep up with inflation, consider this: MSN reports that average household incomes rose by nearly 44% in Nampa from 2016 to 2021.
Meridian, Iowa
Population growth: 31.72%.
Housing growth: 39.23%.
As with neighboring Nampa, Meridian is an outdoors-lover's paradise, with hiking, skiing, and a bustling lake lifestyle. The city's population has grown by more than one-third and housing is available to accommodate the growth, with an increase of 39.23% in housing units.
Murfreesboro, Tennessee
Population growth: 19.38%.
Housing growth: 31.47%.
Deemed the "Most Livable Town in Tennessee," this Nashville suburb combines the vibe of city life with parks and greenery. Plus, the temperate weather and low risk of flooding makes the city more appealing than some Southern towns that might face higher risks.
New Braunfels, Texas
Population growth: 36.10%.
Housing growth: 40.86%.
This riverside community midway between San Antonio and Austin boasts year-round warm weather and a cost of living slightly lower than the national average. Coupled with the lack of a state income tax in Texas, it's no wonder New Braunfels is becoming one of America's biggest boomtowns.
Fort Myers, Florida
Population growth: 19.56%.
Housing growth: 27.65%.
In spite of hurricane risks, Fort Myers in Southwest Florida attracts new residents thanks to beautiful beaches, warm weather and — more recently — a plethora of new businesses.
Conroe, Texas
Population growth: 14.71%.
Housing growth: 25.3%.
Conroe, Texas, roughly 40 miles outside of Houston, blends the great outdoors with a vibrant downtown. Designated a Music Friendly Community by the state, you'll find live music, performance venues, shopping, and dining galore. It sounds like a great place to vacation, but you may want to consider putting down roots.
Deemed the fastest growing city in the Lone Star State, Conroe's population has increased by more than 14.71% in the past five years.
Menifee, California
Population growth: 20.21%.
Housing growth: 19.7%.
The Southern California community of Menifee emphasizes sustainability, with a bike park and the state's first solar and battery-powered community, MSN reported. The regions of the Menifee Valley incorporated in October 2008, making this boomtown one of the newer cities, with plenty of room to grow.
Pasco, Washington
Population growth: 17.04%.
Housing growth: 18.77%.
Located on the Sacagawea Heritage Trail, this West Coast city gets more than 300 days of sunshine a year and blends outdoor life with business opportunities and city living. It's no wonder the population has grown more than 17% in recent years.
Lewisville, Texas
Population growth: 7.81%.
Housing growth: 16%.
The third Texas city on Smart Asset's list of boomtowns, Lewisville boasts a lower than average crime rate. Just 30 minutes from Dallas, Lewisville is a convenient place to work and play, with business growth booming.
Chino, California
Population growth: n/a.
Housing growth: 30%.
Of all the boomtowns on this list, Chino has seen the highest five-year housing growth, at nearly 30%, enough to accommodate its population of nearly 93,000. Located in the San Bernadino Valley, the city sits as a peaceful — and affordable — alternative to neighboring Los Angeles.
More From GOBankingRates