Housing Market 2023: People Are Moving to These 10 Sun Belt States Despite Rising Natural Disaster Risks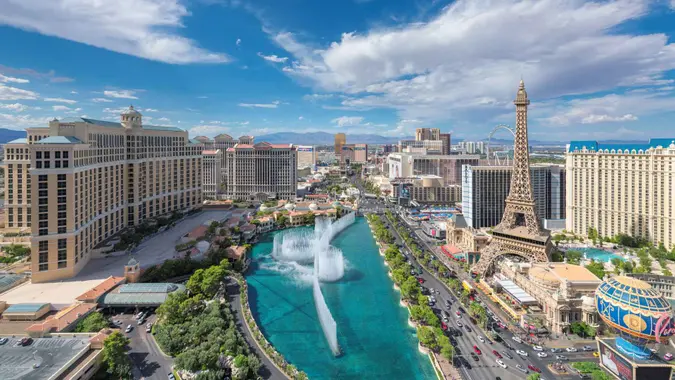 lucky-photographer / Getty Images
If you're looking to find an affordable region in which to buy a home, the trade-off might be higher home insurance prices and a greater risk of natural disasters.
A new Redfin report showed families fleeing high cost-of-living cities like Seattle, New York, Los Angeles, San Francisco and even Chicago in favor of Southern metro areas including Dallas and five major Florida cities.
Top 10 Metro Areas for Relocations
Phoenix, Arizona.
Las Vegas, Nevada.
Miami, Florida.
Tampa, Florida.
Orlando, Florida.
North Port-Sarasota, Florida.
Cape Coral, Florida.
Dallas, Texas.
Sacramento, California.
Houston, Texas.
Challenges of Buying a Home in the Sun Belt
But buying a home in these regions comes with its own challenges. Risks of storms, flooding and, on the other side of that coin, droughts in Phoenix and Las Vegas — and wildfires across California — aren't deterring homeowners from relocating, however.
Residents of the Dallas-Fort Worth region experienced severe thunderstorms and hail in mid-June, followed by triple-digit temperatures. This came on the heels of freezing temperatures in the region this winter.
These natural disaster risks have made it harder for new or relocating homeowners in many states to secure homeowners insurance at a low rate. Some insurers have refused to write policies for residents in parts of California and Florida due to the high risks.
But even high insurance rates are offset by the lower costs of living and lower housing prices compared to metro areas like New York and San Francisco.
"Climate risks haven't yet stopped many homebuyers from moving into areas that don't have enough water, like Phoenix, and places that could eventually be underwater, like coastal Florida," said Redfin chief economist Daryl Fairweather. "That's because even though Sun Belt home prices soared during the pandemic, those metros remain a bargain for people relocating from expensive coastal cities."
Phoenix, Arizona, has warned that it will stop issuing homebuilding permits because the desert cannot supply enough water to the newer communities. But it's not likely to deter new homebuyers from the Sun Belt city. "Arizona's recent limit on new construction isn't likely to deplete inventory enough — or push prices up enough," Fairweather stated in the report analysis.
Should You Stay or Should You Go?
What could eventually affect home prices across the board, however, is fewer people looking to buy. In today's housing market — one seeing highly elevated home prices coupled with high interest rates — more homeowners are seeking to stay put than last year, per Redfin. The number of homeowners seeking to move out of their current metro area has dropped 7% since last year. However, the number of people looking to purchase a new house in their current hometown has dipped even further, falling by 18% since last year.
More From GOBankingRates