How Do Hard Money Loans Work? Here's What Real Estate Investors Should Know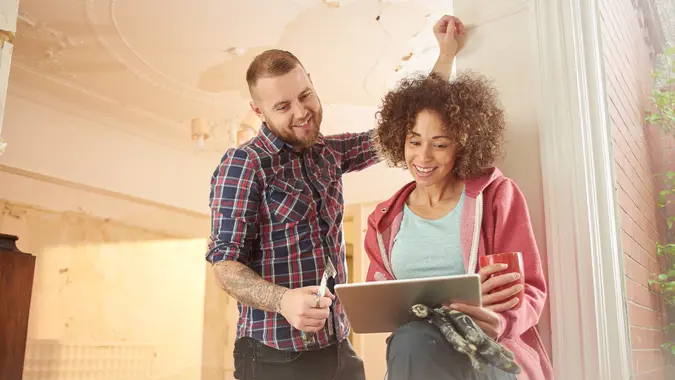 sturti / Getty Images
Real estate investors look for short-term financing they can repay once they flip a property or start generating cash flow from rents. They may also need different qualifying criteria than traditional mortgage lenders offer. Hard money loans are the loans of choice for these investors.
What Is a Hard Money Loan?
A hard money loan is one that is funded by private investors and secured by the property it's being used to purchase. Although it's typically used to purchase real estate, it's very different from a traditional mortgage loan even though both types use the property as collateral.
How To Use a Hard Money Loan
Investors use hard money loans as short-term financing for real estate investment properties. This kind of financing makes sense for investors who'll soon generate cash flow from a residential or commercial rental property, or who plan to flip a house — fix it up and quickly resell it. Loan terms are usually just six to 18 months, and borrowers typically make interest-only payments during that time.
Qualifying for a Hard Money Loan
Whereas federal law requires traditional mortgage lenders to approve loans based on strict ability-to-repay criteria, hard money lenders have more leeway. Rather than approve borrowers based on their credit qualifications, hard money lenders look at the value of the property and make a loan based on its anticipated value after repairs have been made.
Although the credit scores, loan-to-value ratios and debt-to-income ratios traditional mortgage lenders look at have much less importance in a hard money loan, hard money borrowers might have to submit basic income documentation like W-2 forms, bank statements and pay stubs, according to FortuneBuilders.
The flexibility hard money lenders have in evaluating applications makes it possible for them to approve and close on loans much faster than mortgage lenders can — in as little as a week, in fact, compared to the four to six weeks traditional lenders need.
Interest Rates on Hard Money Loans
As beneficial as hard money loans are to investors, they don't come cheap. Expect to pay 10% to 15% interest, plus another 3% to 4% in fees. By way of comparison, the average mortgage rate for a 30-year fixed-rate conventional loan was 6.81% as of July 27, according to Freddie Mac.
How Do Hard Money Loans Work? Here's an Example
The borrower finds a home they think would make a great flip. It's listed for $150,000 and needs a lot of work — about $50,000 worth, according to the borrower's estimates. However, the borrower believes the house will be worth $250,000 after the work is complete.
The borrower plans to put 20%, or $30,000, down and wants to finance the rest of the remaining $120,000, so they apply for a $170,000 hard money loan — $120,000 for the purchase and $50,000 for the repairs. They submit income information to prove they can afford the payments.
The borrower pays $1,000 for an appraisal to document its after-repair value. The appraisal confirms that the home will be worth $250,000.
The hard money lender approves a loan in the amount of $170,000 — well within the typical loan limit of 70% of after-repair value.
The loan term is 12 months, and the lender charges a 15% fixed interest rate.
Loan fees total four points, or 4%, or $6,800. The fees include a 1% (one-point) lender fee and a 3% (three-point) origination fee, bringing the total amount of cash due to $36,800.
The monthly loan payments are $2,125 — interest only. The borrower makes four payments, totaling $8,500, and a property tax payment of $500 before selling the home for $250,000.
At closing, the borrower repays the $170,000 loan and pays $6,250 in broker fees for the buyer's real estate broker and is left with $73,750 in sale proceeds.
The borrower's total out-of-pocket investment is $46,800:

$30,000 for the down payment
$1,000 for the appraisal
$6,800 in closing costs
$8,500 in loan payments
$500 in property tax payments

The borrower ends the transaction with $26,950 in profit (excluding minor closing costs).
Benefits and Risks of Hard Money Loans
Hard money loans have clear benefits for investors. They're relatively easy to get, they close quickly and you can make interest-only payments. However, short terms and high interest rates make the loans quite risky. An investor who miscalculates repair costs or timelines stands to take a serious financial hit.
Going back to the previous example, say the borrower underestimated the cost of the repairs and needs an additional $15,000. The 70%-of-ARV limit only allows for an extra $5,000 in loan money, so they pay it all out of pocket. However, the extra work takes two additional months, and the house sits on the market for one more month before finally selling, by which time the borrower owes more property tax. The error results in $22,125 in additional out-of-pocket expenses:
$15,000 in additional repair costs not covered by the loan
$6,375 in additional interest payments
$750 in additional property tax
Rather than end the transaction with $26,950 in profits, the borrower now has just $4,825 — a slender margin for a seven-month ordeal.
Needless to say, novice investors should do their due diligence before financing a flip or other investment property with a hard money loan. Working with a real estate agent who's knowledgeable about your market and an experienced contractor who can accurately estimate the work and complete the project on time is the best way to ensure profits.
Our in-house research team and on-site financial experts work together to create content that's accurate, impartial, and up to date. We fact-check every single statistic, quote and fact using trusted primary resources to make sure the information we provide is correct. You can learn more about GOBankingRates' processes and standards in our editorial policy.