State Stimulus: There Is $899 Million in Tax Rebates Going to Residents in This State — How Much Do You Qualify For?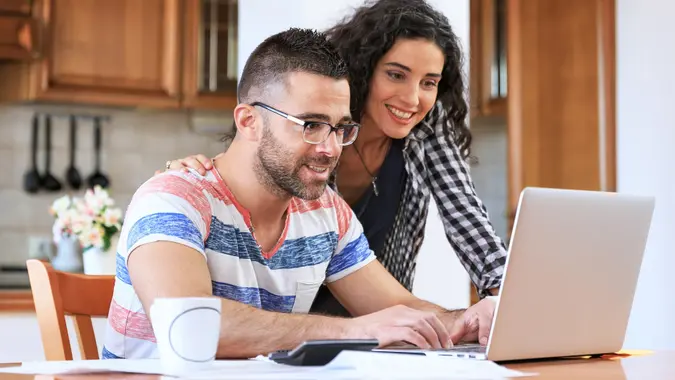 valentinrussanov / iStock.com
Montana taxpayers will soon be getting a boost to their bank accounts thanks to tax rebates approved by the state legislature and signed into law by Gov. Greg Gianforte.
A total of $899 million in rebates have been approved, the Montana Free Press reported. Two buckets of rebates were passed — one for income taxes and the other for property taxes. The rebates were made possible by a budget surplus.
Full-year Montana residents who paid state taxes on 2020 and 2021 income by the filing deadline are eligible to receive rebates of up to $1,250 each for 2021 taxes. If you meet those requirements but paid less than $1,250 in 2021, the entire payment should be refunded.
The $1,250 cap applies to taxpayers who filed as single taxpayers, heads of household or married taxpayers who filed separately, according to the Free Press. Married couples who filed jointly are eligible for up to $2,500.
The Montana Department of Revenue will send rebates automatically to qualifying taxpayers, so you don't need to apply. Rebates will either be deposited in your bank account electronically or mailed. The first income tax rebates will be issued in July 2023 and should all be sent by Dec. 31.
Taxpayers who didn't file taxes as full- or part-year residents in 2020, or who paid their 2020 or 2021 taxes late, won't be eligible for rebates.
The property tax rebate of up to $675 is available to homeowners for their 2022 and 2023 property taxes on their principal residences. In this case, a "principal residence" is defined as the home where you've lived for at least seven months of the year. If you paid less than $675 in property taxes in either year, you are eligible for a refund of the entire payment.
Make Your Money Work for You
The 2022 property tax rebate applies to November 2022 and May 2023 payments, while the 2023 rebate applies to November 2023 and May 2024 payments.
You'll need to apply to get the property tax rebate, the Free Press noted. You can apply for the 2022 property tax rebates through the Department of Revenue's online TransAction Portal or by using a paper form. The application period runs from Aug. 15, 2023, to Oct. 1, 2023. A second application period for 2023 rebates will be open during the same time period in 2024.
The tax rebates were approved in March as part of a larger tax relief package, according to a press release on the State of Montana website. At the time, Gianforte also urged action on a proposed permanent, refundable $1,200 per child tax credit for working families.
The proposed CTC is intended "to help Montana families with whatever expenses they incur, including the rising cost of childcare, which varies among families based on their needs and preferences," the press release said.
More From GOBankingRates