State Stimulus Update: Residents of This State Won't Be Receiving Their Payment by Check After All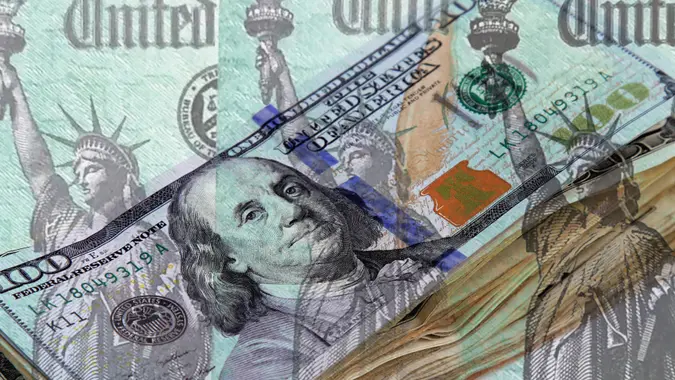 NoDerog / Getty Images/iStockphoto
If you hear the term "Oregon kicker" this week, chances are it has nothing to do with college football players kicking field goals. Instead, it's likely in reference to the state's tax surplus (called a "kicker"), which hit a new record high of $5.61 billion, according to a report earlier this month from the Oregon Office of Economic Analysis (OEA).
The surplus is the largest in state history and will be returned to taxpayers through a credit on their 2023 state personal income tax returns to be filed in 2024, Oregon.gov said in an Oct. 9 press release. The credit is based on tax liability for the 2022 tax year.
Taxpayers who haven't yet filed a 2022 tax return are advised to file now so they can claim their kicker credit when they file their 2023 tax returns. The median credit amount is expected to be $980, which means half could be more and half could be less.
But the "tax credit" part might not sit well with Oregonians who remember when surpluses were issued in the form of a physical check rather than a line on their tax returns.
As NBC affiliate KGW reported this week, current Oregon law doesn't allow the kicker to be sent out as a check. The state legislature changed the distribution method to a tax credit in 2011. The legislature would have to pass another law to change it back to the previous method or at least add checks as an option. So far, that hasn't happened.
Make Your Money Work for You
In any case, taxpayers are eligible to claim the kicker if they filed a 2022 tax return and had tax due before credits. Taxpayers who don't have a filing obligation for 2023 must still file a 2023 return to claim their credit, according to Oregon.gov.
The 2023 Oregon personal income tax return instructions will include detailed information on how to claim the credit on Form OR-40 for full-year Oregon residents; Form OR-40-P for part-year residents; and Form OR-40-N for nonresidents. Composite and fiduciary-income tax return filers are also eligible.
Here's how to calculate the amount of your credit: Multiply your 2022 tax liability before any credits — line 22 on the 2022 Form OR-40 — by 44.28%, a percentage determined by the OEA. Taxpayers who claimed a credit for tax paid to another state would need to subtract the credit amount from their liability before calculating the credit.
Also, keep in mind that the state can use all or part of your kicker to pay any state debt you owe, such as tax due for other years, child support, court fines or school loans.
If you don't want or need the credit, you can donate it with a checkbox on your tax return to the Oregon State School Fund for K-12 public education, but you'll have to donate the entire amount. The donation is permanent and can't be taken back. You also have the option of donating part or all of your credit to any or all of the 29 charities approved by the Charitable Checkoff Commission. Use Form OR-DONATE to designate any amount or all of your refund to donate to charity.
Make Your Money Work for You

For more information, go to the Oregon surplus "kicker" credit page of the Department of Revenue website. You can also visit www.oregon.gov/dor to get tax forms, check the status of your refund or make tax payments; call 800-356-4222 toll-free from an Oregon prefix (English or Spanish); 503-378-4988 in Salem and outside Oregon; or email questions.dor@oregon.gov.
More From GOBankingRates