Which State Gave Out the Biggest Extra Stimulus Payment This Year?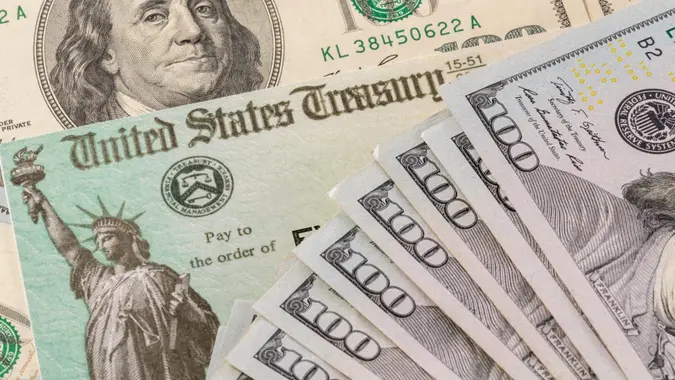 BackyardProduction / Getty Images/iStockphoto
Soon after the third round of stimulus checks was distributed in March 2021, questions arose around if (and when) a fourth stimulus would be issued. Unfortunately, a whirlwind of rumors was as far as we got: The federal government didn't go for a fourth round of stimulus checks. 
But 16 states did issue stimulus payments — in one form or another. 
Here's a look at what the states gave out, as ranked from the most to the least generous maximum payment. Note that some of these payments are for joint filers while some are for single filers, but have been ranked by the maximum payment possible.
Maine
Taxpayers in Maine will receive between $850 and $1,700, depending on their filing status and income.
New Mexico
Married couples filing jointly can get a rebate of $500, as can heads of households and surviving spouses provided they make under $150,000 a year. Individual filers who pulled in under $75,000 last year get $250.
But that's not all: Qualifying taxpayers in New Mexico got an additional rebate of $500 or $1,000, depending on income status, paid out in June and August.  
Colorado
Colorado residents can collect a tax rebate of $750. Eligible joint filers could get $1,500. 
Make Your Money Work for You
Take Our Poll: Do You Think Student Loan Debt Should Be Forgiven?
California
Qualifying taxpayers can get up to $1,050 in California.
South Carolina
South Carolinians will get up to $800 in income tax rebates, no matter their filing status. 
Oregon
Qualifying Oregon taxpayers received $600 checks in July. 
New Jersey
Eligible New Jersey residents will be issued checks of up to $500.
Georgia
Georgians who filed single or separately get a tax refund of $250, while heads of the household ge6 $375. People who filed jointly get $500. 
Virginia
Taxpayers in Virginia can receive $250 (if filing individually) or $500 (if filing jointly). 
Florida
One-time checks of $450 are being issued out to families — catch is you have to be a caregiver, foster parent or a recipient of state assistance. 
Delaware
Each of Delaware's adult residents get a one-time $300 payment.
Hawaii
Residents of Hawaii can get either $100 or $300, based on their income and tax filing status. 
Indiana
Indiana taxpayers will be issued a one-time $125 refund, regardless of income level. 
Illinois
Individual taxpayers who made under $200,000 in 2021 can collect $50, while married couples who filed jointly and made less than $400,000 got $100. Tax filers with dependents received a $100 credit per child, up to three children.  
Make Your Money Work for You
Idaho
Taxpayers in Idaho receive a one-time tax rebate of either $75 or 12% of their 2020 state taxes — whichever amount was greater. 
Massachusetts
Taxpayers qualify for a 7% refund on their 2021 state income tax payment. 
Though the pandemic has largely died down (albeit not completely), there is already conversation around whether more stimulus will be issued. This is incredibly unlikely, though if it does happen, we can expect it to come from states such as Maine, New Mexico and others on this list. 
More From GOBankingRates
Make Your Money Work for You