Stimulus Payments 2023: Anything New in April?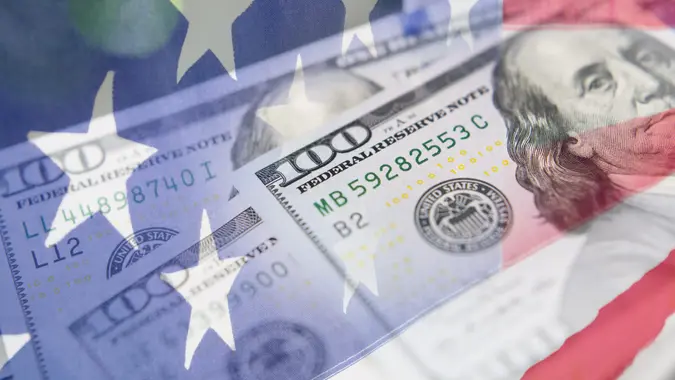 LifestyleVisuals / Getty Images/iStockphoto
In these days of continuing high inflation, many Americans are wondering if there will be any more government stimulus payments in their futures. While the federal government hasn't passed any new stimulus bills, some states are still seeing the tail end of roll-outs of a variety of relief programs and tax rebates.
As GOBankingRates previously reported, the last official government-issued stimulus checks related to the economic hardships of the pandemic went out in March 2021. However, a few states offered stimulus that will keep rolling out in April 2023 and even later in the year. Alaska and New Jersey, for example, are two states where taxpayers will receive more than $1,000 very soon.
Alaska Permanent Fund Dividends
Alaska residents have long been able to take advantage of a shared tax revenue program that comes from oil extraction through a program that is known as the Permanent Fund Dividend program. In 2023, each approved applicant is going to get a nice chunk of change: $3,284.
That amount is larger than normal, because of an additional energy-relief benefit that required eligible residents to have applied by March 31, 2022. The energy-relief portion of the payout is nontaxable. Eligible residents do need to be state residents and not have been incarcerated for the entire calendar year of 2022, but this amount is more than many people's tax returns.
Make Your Money Work for You
Those who are still awaiting payment, with their status showing "eligible-not-paid" by April 12, will receive payments on or around April 20, though later applicants may not see money until May 18.
Idaho Rebate
Most Idaho residents received rebates in March 2022 and in September 2022 — if they filed a 2021 tax return — of $300 for single filers and $600 for joint filers. For those who have not yet received their second round of stimulus, a final wave of payments has been sent as of March 31, 2023, with those expecting a paper check likely to receive them in April.
Take Our Poll: Would You Move for a Job That Paid You a $10,000 Signing Bonus?
Maine Energy Relief Checks
It's not exactly a stimulus check, but the state of Maine is sympathetic to higher energy costs and is sending payments of $450 to residents specifically to offset winter heating costs. Approximately 880,000 residents will receive these checks.
While most people should have received them by the end of March 2023, some checks will continue to arrive into mid-April. Any Maine residents who believe themselves eligible but do not receive money by then should check with the state tax authority by June 30. The latest date checks will go out by September 30, 2023. Eligible residents did not need to make an application — the state tax authority determined who was eligible.
Make Your Money Work for You
Massachusetts Additional Tax Refund
Massachusetts gave taxpayers who filed their 2021 return an approximate 14% refund of their tax liability. Taxpayers who filed their 2021 taxes before October 17, 2022, should have already received their refund.
However, there are still some payments coming for anyone who files their 2021 return before September 15, 2023. Those people who filed in March should see their payments this month.
New Mexico Rebate
New Mexico residents who still have not filed their 2021 tax returns are still eligible for a one-time rebate of $500 for single filers and $1,000 for joint filers if these late taxes are filed by May 2023.
New Jersey: ANCHOR Property Tax Relief
New Jersey's ANCHOR Property Tax Relief program replaces a former program known as the Homestead Benefit that was started to help homeowners and renters deal with increasing property taxes. Eligible applicants need to have owned or rented their primary residence as of October 19, 2019, and must file their taxes or be exempt from New Jersey state income taxes.
There are additional income requirements, including:
Homeowners: Those earning up to $150,000 will receive $1,500, and those earning between $150,000 and $250,000 will receive $1,000
Renters: Those earning up to $150,000 will receive $450
Make Your Money Work for You
This may be one of the few times that renters receive payments intended to help with the increase in housing costs. Though the application window has closed already, payments for those qualifying applicants will pay out through May in either a check or direct deposit, and they are not subject to federal or state income tax.
More From GOBankingRates
Make Your Money Work for You