Stimulus Updates 2023: Look Out for Checks and Payments in May if You Live in These States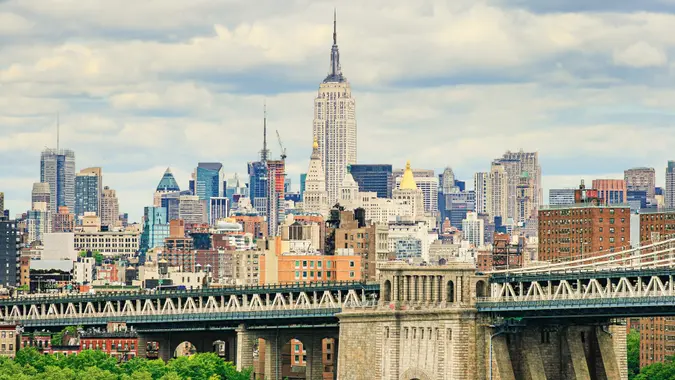 OlegAlbinsky / iStock.com
Federal stimulus checks sent out during the COVID-19 pandemic are a distant memory for most Americans. At the state level, however, payments are still being distributed for everything from disaster relief to surplus tax refunds.
More than 20 states have offered some kind of stimulus relief to their residents over the past couple of years. Here's an update about what to look out for in certain states regarding stimulus payments as of May 2023.
California
California stimulus payments between $200 and $1,050 are available to residents who filed state tax returns by Oct. 15, 2021, and lived in California full-time for a minimum of six months in 2020. Those who qualify should receive payments during the first half of 2023. In addition, the IRS announced tax relief for Californians affected by recent winter storms, according to the state's Franchise Tax Board. Taxpayers affected by these storms qualify for an extension to May 15, 2023, to file individual and business tax returns and make certain tax payments.
Make Your Money Work for You
Georgia
You might be eligible for the 2022 Surplus Tax Refund if you met the following criteria, according to the Georgia Department of Revenue:
Filed your Individual Income Tax Return for tax year 2021 and tax year 2022 by the April 18, 2023 deadline (or by October 16, 2023, if an extension was granted)
Had a tax liability for tax year 2021
Are a Georgia resident, part-year resident, or nonresident
The Revenue Department advised that you allow six to eight weeks for refunds to be issued if you filed by the April 18, 2023 deadline. That means some payments could be made by the end of May.
Maine
Maine residents are eligible for Winter Energy Relief Payments of $450 for individuals and $900 for married couples. A notice issued by the office of Maine Gov. Janet Mills said all payments were expected to be mailed by March 31, 2023. You can check the status of your energy relief payment here.
New Jersey
About 2 million New Jersey households qualified for property tax rebates under the ANCHOR Tax Relief Program. Payments of up to $1,500 were scheduled to be sent out no later than May 2023. For more information check the state's Division of Taxation website or call 888-238-1233.
Make Your Money Work for You
New Mexico
New Mexico sent out two rounds of relief rebates to all taxpayers during summer 2022. First-round payments totaled $250 to $500, depending on your filing status. Second-round payments were $500 to $1,000. The state also has rebates planned for 2023. As long as you file a 2021 New Mexico state tax return by May 31, 2023, and remain unclaimed as a dependent on someone else's return, you might be eligible for the first stimulus payment. The second stimulus is part of a bill that was set to be passed at the end of March.
New York
Homeowners in New York state are eligible for up to $1,050 in property-tax rebates as part of a statewide stimulus program, while New York City households get an average of $425. To check on your rebate, visit the New York Department of Taxation's Homeowner Tax Rebate Credit page.
Take Our Poll: Who Has Given You the Best Money Advice You Have Ever Received?
Pennsylvania
Last year, Pennsylvania's Property Tax/Rent Rebate program issued payments ranging from $250 to $650 to residents over 65 years old, widow(er)s at least 50 years old, or those with disabilities who were at least 18 years old. If you qualified and haven't received a payment yet, visit the state's Where's My Rebate? page.
Make Your Money Work for You
Correction: Florida was removed from this article since the program is closed.
More From GOBankingRates