Stimulus Updates To Know in Your State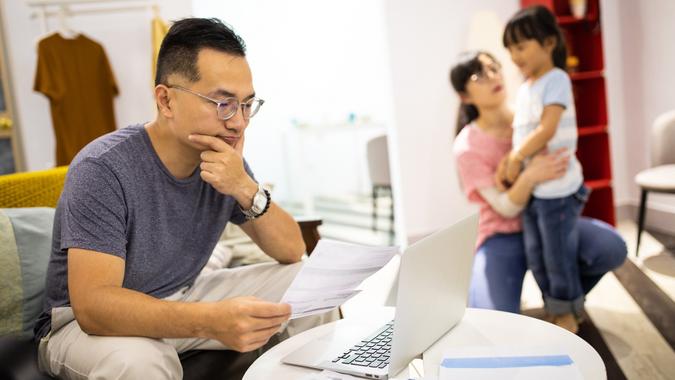 miodrag ignjatovic / iStock.com
The U.S. government made big headlines throughout the coronavirus pandemic by sending billions of dollars in direct stimulus payments to Americans. As things stand now, however, it appears those days are over.
See: Stimulus Updates To Know for Spring 2022
Cash App Borrow: How To Borrow Money on Cash App
But this doesn't mean that Americans are out of luck for additional stimulus. Individual states are now taking the lead and offering their own stimulus proposals, ranging from direct payments to waivers of certain taxes. Here's a look at some of the states that have announced or approved various forms of stimulus for their residents.
California
California has been in the fortunate position of running a surplus for the past two years, and by state law it has to share that with its residents. On top of two rounds of direct stimulus checks sent to state residents in 2021 and 2022, it looks as if the state is going to hand out hundreds of dollars in gas cards as early as July 2022.
Make Your Money Work for You
Under the program proposed by Governor Gavin Newsom, residents will receive one gas card per car owned, up to two per household, in the amount of $200 each.
Illinois
If you live in Illinois, you might be looking at a stimulus check in your mailbox as early as September. Illinois Democrats have proposed $100 per person and $50 per child in household stimulus payments, in addition to $300 in property tax relief checks.
Other proposals include the suspension of gas and grocery taxes for six months, along with a moratorium on school supplies taxes for 10 days in August.
POLL: Do You Think the Government Should Increase SNAP Benefits?
Idaho
The Governor of Idaho has signed into law rebate checks or direct deposits to residents who filed 2020 or 2021 tax returns. Full-time residents who filed a grocery-credit refund return are also eligible. Payments will be the greater of 12% of a taxpayer's 2020 Idaho state taxes or $75.
Maine
Direct relief payments of $850 have been signed into law by Maine Governor Janet Mills. The state can afford these payments due to its $682 million surplus. The stimulus payments will consume roughly one-half of this surplus.
Make Your Money Work for You
New Mexico
Tax rebates of $500 are on the way for New Mexico residents. Joint filers with income under $150,000 and single filers with income under $75,000 are eligible. However, that is just the tip of the iceberg in New Mexico.
A refundable child tax credit of up to $175 per child is also on the way, along with a $1,000 credit for full-time hospital nurses, an extension of the solar market tax credit, and a three-year partial income tax exemption for military retirees.
Indiana
A one-time tax refund of $125 is heading to Indiana taxpayers who filed a 2021 state return. Payments will come via electronic deposit or paper check. The Indiana legislature also voted to make those who earn too little to file a state tax return eligible for the payment.
Georgia
If you're a resident of Georgia and you filed both 2020 and 2021 state tax returns, you're entitled to a one-time refund of $250. If you're a head of household, that jumps to $375, while joint filers will receive $500.
New Jersey
New Jersey lawmakers are still working on a property tax rebate that would send homeowners with incomes up to $250,000 an average of $700, and renters earning up to $100,000 up to $250. Other proposals have been suggested, including sending out $100 checks whenever gas goes above $4 per gallon.
Make Your Money Work for You
Virginia
Virginia leaders are still discussing numerous stimulus options for 2022. One proposal from the governor is to send direct checks of $300 to singles and $600 to married couples. Other proposed bills still under discussion include suspension of the state's gasoline tax for one year and the reduction or elimination of the state's grocery tax.
New York
As with other states, New York is considering a suspension of state taxes on gas. Governor Kathy Hochul has also unveiled a wide variety of proposals, from tax relief for businesses to a property tax rebate ranging from $425 to $970 for low- and middle-income households.
Hawaii
Stimulus of some kind seems to be coming for Hawaii taxpayers, as the state's government has been suggesting and reviewing a variety of proposals. Currently under active debate is a stimulus check of $300 for taxpayers earning less than $100,000, or $100 for those earning more.
Kansas
Stimulus in the form of an elimination of the state grocery tax is still under debate in Kansas. Suspension of gas taxes is also being discussed.
Kentucky
Kentucky is actively considering a one-time rebate of up to $500 per eligible state resident, with households receiving up to $1,000.
Pennsylvania
Pennsylvania legislators haven't yet proposed any type of direct stimulus, but a small possible reduction of the gas tax is under discussion. While Governor Tom Wolf has pressed for $2,000 checks to residents, overall the legislature has balked thus far.
More From GOBankingRates
Make Your Money Work for You