The US Is Missing Out on $2 Trillion a Year Due to Illiteracy — Here Are Ways To Help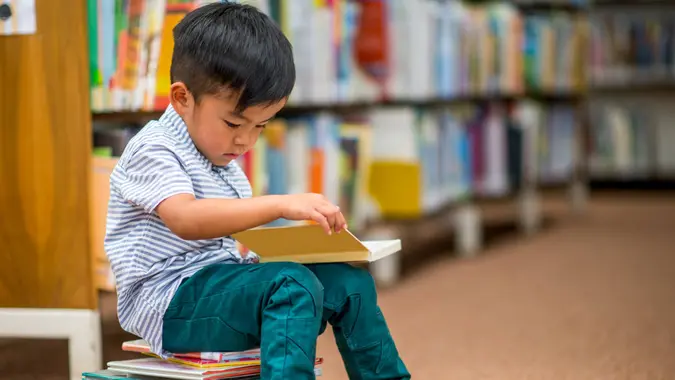 FatCamera / Getty Images
Right now, as you are reading this sentence, you probably are not thinking about the fact that the left occipito-temporal cortex of your brain is activated, connecting the written words to their spoken existence. Another part of your brain is analyzing the meaning of the words, while yet another is enabling you to instantly recognize the words without any effort. 
Helpful: 40 Ways to Improve Your Money SkillsGood News: Gen Z Teens Exceed Past Generations in Financial Literacy
Reading is a pretty complicated cognitive process to take for granted, and yet most of us don't think much about the ability or the accessibility it requires. We also tend not to think of just how lucky we are. Some 36 millions Americans cannot read well enough to work. This is ruinous not only to their financial lives, but to society as a whole. And it's costly. Very costly. 
"A recent analysis reported by the Barbara Bush Foundation noted that getting all US adults to this critical benchmark (Level 3) of literacy proficiency would produce an additional 2.2 trillion dollars in annual income for the country or 10% of our annual GDP," said Dr. Irwin Kirsch, director of the Center for Global Assessment at ETS. "Our research supports this finding of strong returns to skills." 
See: How To Boost Your Financial Literacy in the Retirement Years
Read: Financial Literacy: The Key Components You Need To Know
Literacy, Kirsch points out, can be thought of as its own form of currency in American society. 
"Just as adults with little money have difficulty meeting their basic needs, those with limited literacy skills are likely to find it more challenging to pursue their goals — whether these involve job advancement, consumer decision making, citizenship, or other aspects of their lives," Kirsch said. "To meaningfully address the skills challenge before us, we need to better understand and appreciate the role of literacy in our lives today and address the critical need for effective interventions to improve the literacy (numeracy and digital skills) of millions of adults in need."
Make Your Money Work for You
Kirsch added that adults with lower levels of literacy are also more likely to have difficulty navigating various aspects of their daily lives that demand strong literacy skills. "Including, for example, healthcare and personal finances. Research also shows that stronger literacy skills are associated with increased levels of social trust and civic engagement such as voting in state and national elections, and those with stronger skills are more apt to be offered and participate in lifelong learning opportunities."
Find: What Gen Z Can Learn From Millennials' Money Mistakes
And the problem of low literacy could be getting worse, ironically, with the great influx of technology.  
"With the onset of smartphones, tablets and computers, more affluent families may also be spending less time engaging in conversations with their children, which will also lead to less overall literacy competence," said Dr. Lisa Quintis, faculty member in Walden University's BS in Elementary Education program. 
The best, or swiftest, way to tackle illiteracy is to work with people when they are still very young. "Engaging children in conversation builds grammar skills, language structure and vocabulary, which is key to literacy," Quintis said. 
Check Out: 25 States That Are Trying To Add Personal Finance Education to High School Curriculums
But what about adults? What can we do to help them overcome illiteracy? Fortunately, there are quite a few things those of us who have the privilege of literacy can do. 
Here are a few ways to help: 
Volunteer

.

"For a little over an hour a week, you can make a huge difference in the life of a student," said

Ally Bush,

AmeriCorps VISTA, marketing and communications coordinator at

Reading Partners

.

"More than simply reading with a child, our volunteers follow a proven, structured curriculum (in both online and in-person spaces) to help students learn specific skills necessary to become proficient readers. Lessons come with step-by-step instructions and a trained support person is always available to help."

Donate

. "Any donation makes a big impact on a student's literacy journey," Bush said. "Help us provide students with the tools they need, like one-on-one literacy tutoring, books to take home, and family literacy resources, to become proficient readers." 

Lead a fundraiser or book drive

. "We're always accepting like-new books for our Reading Centers and for our Take Reading With You program that allows students to bring a stack of diverse books home," Bush said. "Or, get your friends and family involved in our mission to boost student literacy by starting a fundraiser on Classy or Facebook."

Recognize the deep and complex problem. Perhaps the most important step you can take in helping Americans build literacy is by recognizing just how pervasive the problem of illiteracy is. Bosses, managers and web designers, we're looking at you. 
Make Your Money Work for You
Read: Majority of U.S. States Earn a 'C' Grade or Worse for Personal Finance Education
"If you are an employer, realize that a percentage of your employees are dyslexic," said Martin McKay, CEO of Texthelp. "Help get them the literacy support tools they need to help them do their job. (Assistive Technology for Dyslexia is just like eye-glasses). If you have a website, realize that 15% of the population probably find it too hard to read, and they disengage. Take action and make your website easy to read. Aim for a reading age of 12 if you possibly can."
Whatever you decide to do to help, it will be enormously appreciated. 
"[O]nly 37% of nine-year-old children in America [are] reading on grade level," said Kathryn Starke, an urban literacy specialist and founder of Creative Minds Publications. "Clearly, we have a lot of work to do."
Last updated: Sept. 8, 2021