US Treasury: American Money Crisis 'By No Means Unsolvable' — But Looming Issues Tip Scales Toward Global Recession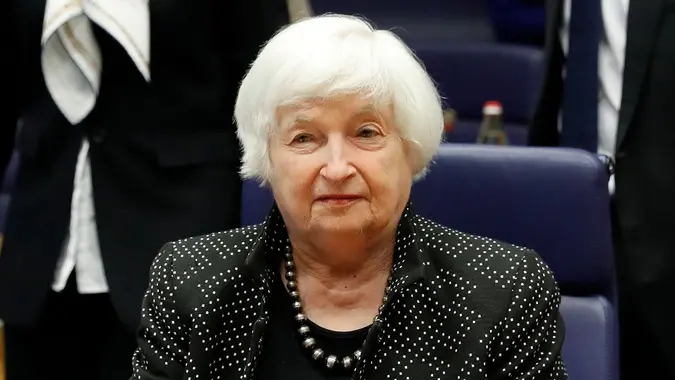 JULIEN WARNAND / EPA-EFE / Shutterstock.com
On Oct. 16, Treasury Secretary Janet Yellen said that while higher interest rates may persist, the country's fiscal situation "is by no means unsolvable."
"We have to be attentive to it," Yellen told Sky News, according to Bloomberg.
Yellen said the country can "certainly" afford to support wars on two fronts, as the conflict between Israel and Hamas threatens stability in the Middle East and the U.S. continues to back Ukraine's fight against Russia, per Sky News.
Yellen also said, however, it was too early to foresee whether this new conflict could push the global economy into recession.
"We're looking at the economic implications of the hostilities here," she said, as detailed by Bloomberg. "I think it's too early to speculate on whether or not there will be significant consequences. I think importantly, it depends on whether the hostilities extend beyond Israel and Gaza, and that's certainly an outcome we would like to avoid."
The interview came ahead of the Eurogroup Finance Ministers Meeting in Luxembourg.
At the meeting, Yellen said the United States and the European Union have forged an exceptionally strong partnership, a scenario which is crucial to addressing global challenges and to advancing shared priorities.
Make Your Money Work for You
"And in large part because of our collective work, the global economy is in a better place today than many thought it might be," she said, according to her prepared remarks.
Dr. Ryan M. Yonk, economist with the American Institute for Economic Research, said that while Yellen is correct — the economic issues of high debt and interest rates are solvable — solving them requires a change in mindset about not just the technical details of how monetary policy is implemented (or spending is allocated), but about spending as well.
"The solution for the issues she and others correctly diagnose requires that policymakers cease to justify their own spending preferences at all costs," he said. "The current economic situation is one where a large-scale recession is possible, high interest rates are likely to continue, and where current geopolitical issues may have significant negative economic effects."
More From GOBankingRates