Vaccine Perks: States Are Offering These Incentives to Encourage Covid-19 Vaccinations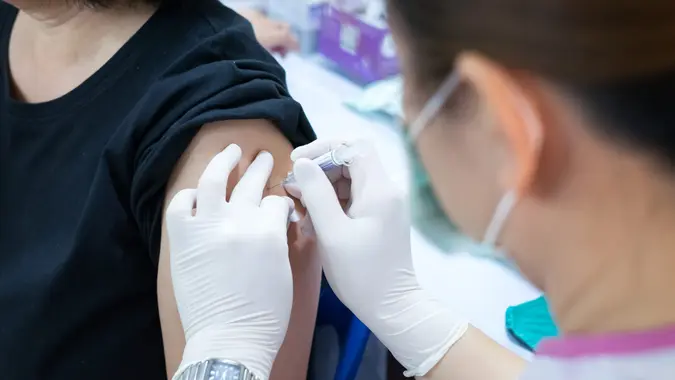 Byjeng / Getty Images/iStockphoto
From giveaways, full scholarships and even a $1 million lottery, more states are continuing to hop onto the vaccine incentive trend. Cities and states are getting imaginative in an effort to encourage more residents to get the shot as vaccination rates decline.
Find: Pfizer's Covid-19 Vaccine Approved for 12-15-Year-Olds — Should You Buy the Stock?
We've Got You Covered: 50 Ways To Live the Big Life on a Small Budget
It pays to get boosted: New York is offering $100 through the end of February to anyone who gets a booster shot or their first dose of the COVID-19 vaccine. 
Some of the biggest perks have been offered in Ohio. Previously, Ohio offered a chance to receive full college scholarships for students who received the vaccine, as well as an entry into a $1 million lottery for anyone over 18 who got the shot. Though that program has ended, Ohioans in areas with low vaccination rates are eligible to receive $100 incentives when they get their first dose of the COVID-19 vaccine. 
Residents of St. Louis, Missouri who get their first dose of the vaccine or a booster shot can receive $100 gift cards. Similarly in Wisconsin, residents who have not yet received a COVID-19 vaccine are eligible for a $100 gift card if they get vaccinated by the Milwaukee Health Department. 
Make Your Money Work for You
The Economy and Your Money: All You Need To Know
In the city of Philadelphia, Pennsylvania, people can get $100 after they're fully vaccinated. That means getting two shots of either Pfizer or Moderna at participating clinics. In California, students at College of the Desert in Palm Desert can receive $100 Amazon gift cards if they provide proof that they have received two shots of the Pfizer or Moderna vaccines or one dose of the Johnson & Johnson vaccine.
Maryland is offering those covered by certain healthcare plans $100 payments to get vaccinated. To qualify, you must be covered by Maryland Physicians Care, Priority Partners, or Aetna Better Health of Maryland. State employees can also receive a one-time $100 incentive when they show proof of vaccination. 
Forbes reported that Detroit, Michigan is giving out unlimited $50 prepaid debit cards to anyone who drives someone else to a vaccine location, while you can be entered to win $1,000 in Houston, Texas for getting the first dose. In addition to the drawing entry, you'll receive a $50 gift card.
More From GOBankingRates
Make Your Money Work for You
Make Your Money Work for You