5 Ways the 2024 US Budget Will Save the Average American Money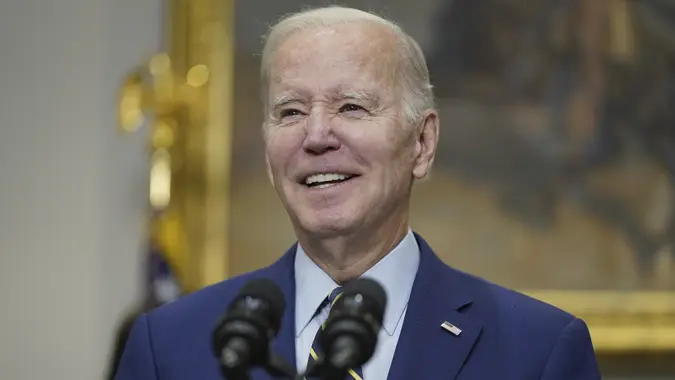 Evan Vucci / AP / iStock.com
The U.S. budget for fiscal year 2024 projects a whopping $6.9 trillion dollars of federal government spending. While this sounds like a lot, the Biden Administration plans to minimize the federal deficit by about $3 trillion over the next 10 years.
See: What the Housing Market Will Look Like by the End of Summer, According to Experts
Find: With a Recession Looming, Make These 3 Retirement Moves To Stay On Track
Additionally, this spending aims to help the average American directly through funding programs that could help save you money. If you have kids, rent your home, hate fees, pay utility bills, or budget for health care, you may be positively impacted by the 2024 federal budget.
Here are five ways the 2024 U.S. budget could save you money:
Lower Child Care and Education Costs
A major expense for households with kids is childcare costs. In the 2024 budget, there is a proposal to increase childcare options and reduce costs for over 16 million kids. An additional $9 billion is budgeted to expand access to affordable, quality childcare across the country. There is also $500 million in funding to expand access to free pre-school for children in high poverty areas.
Make Your Money Work for You
Eliminate Hidden Renting Costs
Various "junk fees" are often a hidden cost of finding and securing housing, and these impact low-income Americans the most. Junk fees include application fees, screening fees, move-in fees, online payment convenience fees, late fees and more. By having landlords eliminate or openly disclose these charges, renters will know exactly how much it will cost to apply for a rental (or continue renting). A Department of Housing and Urban Development (HUD) letter penned by HUD Secretary Marcia Fudge on Mar. 7 promised action on this front.
Get Rid of Other Junk Fees
If you're tired of getting hit by random fees on the checkout page when you're buying concert tickets or airline tickets, worry no more. The Biden administration has pledged to crack down on junk fees in other sectors of the economy as well, including airline tickets, internet bills, and banking.
Reduce Water and Energy Bills
By building a clean energy workforce and investing in infrastructure projects, the 2024 budget intends to lower the average American's utility bills. Spending includes $375 million for weatherizing the homes of low-income Americans. There is also $1.55 billion set aside for improving energy efficiency through various government programs.
Make Your Money Work for You
Take Our Poll: As a Retired Person, Are You Comfortable With Your Monthly Income?
More: Does Biden's 25% Billionaire Tax Help Your Budget?
Lower Healthcare Costs
Health care may become less expensive for the average American. The Affordable Care Act will now use expanded premium tax credits to provide permanent $800 per year premium cuts (on average). It also will offer coverage similar to Medicaid in states that haven't adopted the Medicaid expansion. Prescription drug costs will also decrease for all Americans, per a White House press release.
More From GOBankingRates
Make Your Money Work for You