Weekly Jobs Claims Fall To Lowest Level of the Pandemic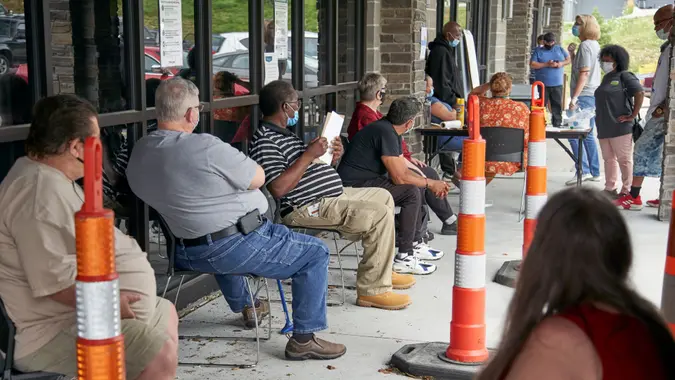 Nati Harnik/AP/Shutterstock / Nati Harnik/AP/Shutterstock
Though the economy is still crippled by the pandemic, and layoffs are far from over, there's a glimmer of hope from the Labor Department that things are improving — or at least, getting marginally less bad. In its latest weekly U.S. jobless claims report released on Thursday, the Labor Department reported that there were 751,000 first-time unemployment-benefits filers the week ending Oct. 24 — the lowest since the week of March 14, when COVID-19 lockdowns began in the U.S. 
The 751,000 new jobless claims are down 40,000 from the prior week and are also lower than economists polled by Dow Jones expected them to be, having previously estimated they'd weigh in at 778,000. Can the downward trend last? Right now, there's no way of knowing, but economists don't sound terribly optimistic.
"The question going forward is going to be whether a surge in COVID cases and renewed measures aimed at containing the virus will lead to another spike in claims in the coming weeks," Jefferies economist Thomas Simons said in a note, CNBC reported. Getting a handle on the pandemic is crucial to economic recovery. China has impressively bounced back after getting the virus firmly under control, and as of Oct. 18, is the first major economy to report growth that markedly surpasses where it was at this time last year, The New York Times reported. 
Make Your Money Work for You
Read more about which states have the best chance at bouncing back from the unemployment mess caused by the coronavirus.
More From GOBankingRates
Make Your Money Work for You