Rents Are Going Up Across America — What To Do If It Happens to You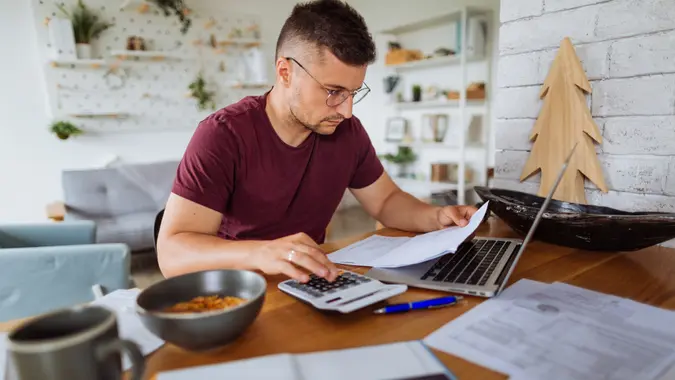 AleksandarNakic / Getty Images
As the late Broadway composer and lyricist Jonathan Larson wrote, "Everything is rent." At least it can feel that way to current renters who are dealing with the post-pandemic upswing in rental costs.
Over half of the renters surveyed by GOBankingRates in August 2022 said their rents were increasing. The survey was conducted among 997 Americans ages 18 and older, and over 72 percent of these respondents were renters. Many of our respondents have taken up second jobs and cut back on discretionary spending to combat increases in rent. For over eighteen percent of the renters surveyed, an increase in rent has them searching for a cheaper place to live.
But new places could be harder to come by. The growth in rental apartment demand has far outpaced the supply of new rental properties in early 2022 and, even with an increase in rental housing production, many of these new multi-unit buildings are aimed at higher-income households. That could leave lower-income renters wondering whether they can afford to stay or go.
The amount you pay in rent each year is ultimately up to your landlord, and they can make certain annual changes legally. But it's up to you as a renter to make sure, if your rent goes up, you're still paying a fair share. If you receive a notice that your landlord is raising the rent, here are the first few things you should do.
Make Your Money Work for You
Know Your Rights as a Tenant
First thing's first: check your lease. If you signed a lease agreement to rent the unit for a certain period of time, your landlord must wait to increase the rent until the end of the agreed-upon rental period. 
The landlord must also issue a notice of the increase and amount in writing. Most states require your landlord to provide a 30-day notice for rent increases. If the proposed rent is more than a 10 percent annual increase of your current rent, landlords must provide 90-day notice.
If you have a rental agreement that renews month-to-month, landlords can increase the rent for the next month if they provide a 30-day notice.
There may be different specifications for when your landlord can increase the rent laid out in your lease, so read it thoroughly and contact your landlord with any questions.
Take Our Poll: Do You Think You Will Be Able To Retire at Age 65?
Check Local Rent Control Laws
Rent control laws, or rent stabilization, are restrictions on the amount landlords can charge for rent. These laws vary by city and state, and can also outline the certain restrictions for evictions.
Make Your Money Work for You
Some rent control laws have rent caps, which basically put a hard stop on rents increasing past a certain amount statewide. These rent control laws can hinge on the local consumer price index, or CPI. The CPI is the measure of the average change in the prices consumers pay for common goods and services like groceries and fuel. 
One such law is the California Tenant Protection Act, introduced in 2019. This law caps rent increases for qualifying units at either 5 percent plus the increase in the local CPI or 10 percent, whichever is less. That means rents throughout the state cannot be increased by more than 10 percent, in accordance with other municipal laws. 
Calculate how much your rent is increasing and compare it to the rent control laws in your city or state. If there is a rent cap in place, check if your rent increase is higher than what is locally permitted. You may be able to decline the increase.
Negotiate, If Possible
Believe it or not, a good tenant can be hard to find! If you've made your landlord's life a little easier by paying your rent on time every month, keeping your unit in good shape, or making approved improvements on the property, see if you can discuss the possibility of forgoing the proposed rent increase to keep you around.
Make Your Money Work for You
Approach your landlord early, with enough time to have the negotiation before you need to renew the lease. You can also propose options like postponing the rent increase temporarily, or allowing you to pay a lower rent in exchange for signing a longer-term lease.
Although your landlord is the one deciding the rent, they don't have all the power. It's likely they will want to keep a good tenant with longevity around, rather than trying to find a new tenant that can pay the increased rent.
More From GOBankingRates
Make Your Money Work for You